Shiv Nadar founded HCL in 1976, taking advantage of the law passed by the government that discouraged multinational corporations from doing business in India. He environed developing the company into becoming a global leader in the manufacturing of computer systems. However, the sailing wasn't smooth for HCL as the company found it difficult to gain an entry into the global markets.
Consequently, Shiv Nadar reorganized the company and split into two separate companies: HCL Infosystems and HCL Technologies, with the former focusing on the domestic markets and the latter on their international counterparts.
As a whole, HCL focused heavily on R&D and Technology with the belief that the dot-com revolution would take it to the next level. Unfortunately, in doing so, the company missed the opportunities that came with Y2K and Application Development. The 2001 dot-com burst saw the company grappling for a new growth engine, which led to a slew of transformation initiatives. These included a change in focus from single-service to multi-service deals. These changes proved to the shot in the arm and enabled HCL Technologies to transform itself from a marginal IT player to a well differentiated full services player focused on large deals.
Investment Rationale
Three-pronged Transformation
Unlike other IT companies, HCL was heavily dependent on the internet boom and the 2001 dot-com bust saw the company struggle to generate revenues. Other IT companies had already jumped into application development and HCL was left far behind. Then in 2005, the company outlined a three-phase transformation strategy to enhance its overall growth:
Phase 1: Set the house in order - Focus
In this phase, the company's sales and delivery engines were restructured to help the company focus on winning large deals. Processes were put in place and automated. The company decided to focus on uncontested markets and a multi-service delivery unit comprising 200 of its brightest engineers was established.
Phase 2: Forge partnerships - Lead
In this phase, the company focused on building selective partnerships with other companies to jointly offer value-added services. A partnership with Celestica Inc., an electronics manufacturer was forged in 2006 to offer end-to-end solutions from designing to manufacturing. Prior to that, a JV with NEC Japan was formed to offer off-shored software engineering solutions.
Phase 3: Change the business model - Dominate
The third phase has been initiated to radically change the business model and dominate in select market spaces. HCL plans to do this by offering innovative pricing mechanisms.
Financials
FY 06
FY 07
FY 08
Net Sales (Rs cr)
3013.11
3736.83
4605.83
PAT (Rs cr)*
555.85
1011.80
642.60
EPS (Rs)
44.84
16.88
11.75
RONW (%)
20.45
33.72
19.36
ROCE (%)
21.46
37.00
23.69
FY ending June 30 each year
*Net of non-recurring transactions
Transformation Bearing Positive Results
The transformation has geared the company towards large deals, which is evident from the number of total outsourcing deals that the company has bagged over the past two years. The company believes that it has key strengths in infrastructure management space (IMS) and typically approaches large deals with 35-40 per cent of IMS content. The company's key achievements include a 99.999 per cent uptime of IT infrastructure, which facilitates large volume of transactions for one of the largest stock exchanges in the country. Furthermore, apart from large deals, HCL is also bagging a number of multi-service deals, which increases customer stickiness.
Inorganic Transformation of BPO Business
HCL is planning to make an acquisition in the non-voice BPO space. The company currently derives 13 per cent of its revenues from its BPO business. However, the business is largely voice-based (around 70 per cent). Margins in this business are currently high at around 25 per cent and customer concentration is also high at four to five customers accounting for 80 per cent of the business. These two factors pose a considerable risk and in such a scenario, the proposed acquisition should help the company reduce the risk and move up the value chain as well.
Risks & Concerns
Hostile Currency Environment
The rupee has appreciated by 11 per cent since January 2007 and this has impacted earnings of most players in the IT industry. This seems to be a long-term trend with capital inflows in India rising unabated. Even though HCL is a well-hedged company, with forward covers for the next eight quarters to the tune of $1.73 billion, the company still faces long-term concerns.
End of Tax Holiday for STPI Units
This is another systemic risk facing HCL. The company plans to shift the incremental headcount to SEZs and estimates the effective tax rate to be around 20 per cent by FY10 (9.8 per cent currently). This would impact the company's EPS by around 12 per cent and return on equity could fall by 526 bps.
Valuations
With HCL Technologies is likely to enjoy strong revenue growth. However, with the increasing pressure on margins and a challenging currency environment coupled with the impending impact on higher taxes in FY10, the room for outperforming is limited. The company's stock is currently trading at 14.5x its FY09E EPS of Rs 21 and at an EV/EBIDTA of 9.5x FY09E. Downsides are limited from the current price. Factoring the average dollar-rupee exchange rate at Rs. 39 allows the stock to be valued at a price of Rs. 365, discounting its FY09E EPS by 17.4x.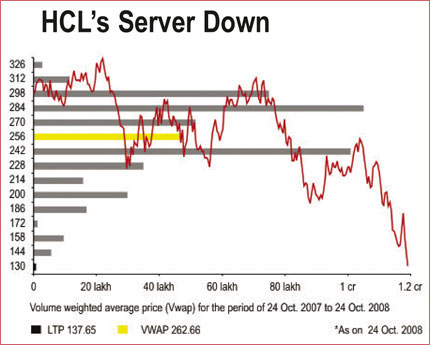 Source: ICICI Direct