We are known for analysing mutual funds and providing data on fund performance and portfolios.
However, a diligent investor might also like to understand the background of his asset management company (AMC). Or may like a general overview on the schemes offered. We have all that information stored in one place. Let us tell you where to access that information on our website, www.valueresearchonline.com.
Once on the website, you can select the tab Funds (the third tab from the left, which is after Home and My Portfolio).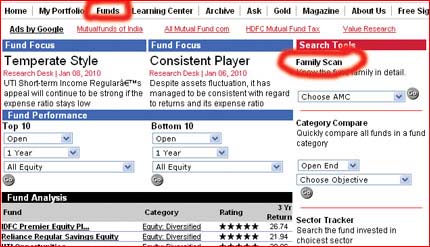 Once you get onto the new page, you will see a section called Search Tools and the first available one will be called Family Scan.
You now choose your AMC and you will instantly be greeted with a snapshot of information.
• Date of incorporation
• Ownership (public/private/foreign)
• Ownership pattern (foreign/ domestic and the breakup)
• Sponsor
• Assets Under Management (AUM)
• Number of schemes under all the different categories
• Select management team: Chief Executive Officer (CEO), Chief Investment Officers (CIO) for equity and debt,investor Relations Officer
• Contact details: Address, phone numbers, fax, website, email
Probably you wanted to check on the AMC before investing in its schemes. Now armed with this information, you can take a look at what is on offer.
On the right hand, you will see a tab called Analyse the Fund Family. Should you click on it, you will get a list of all the various schemes offered by this fund house. On one single page, you will see numerous details concerning each and every scheme.
• Launch Date
• Category it falls under
• Star rating
• Risk grade
• Return grade
• 1-year return
• Expense ratio
Besides this Snapshot there are 6 other tabs that will reveal more about what the fund house has to offer.
• Snapshot (as mentioned above)
• Short-term Performance — a scheme's return and ranking in different time frames ranging from 1 week to 6 months.
• Long-term Performance — a scheme's return and ranking in time frames ranging from 1 year to 10 years.
• Portfolio — Fund style, key ratios, market cap, turnover, assets, average credit quality and maturity, and the percentage allocation to the top 5 holdings.
• Risk & Volatility — Standard deviation, sharpe ratio, beta, alpha, R-Squared, overall risk grade
• Investment Details — portfolio manager, expense ratios, minimum initial investment required.
• NAV Details — current, 52-week high, 52-week low, change from previous.