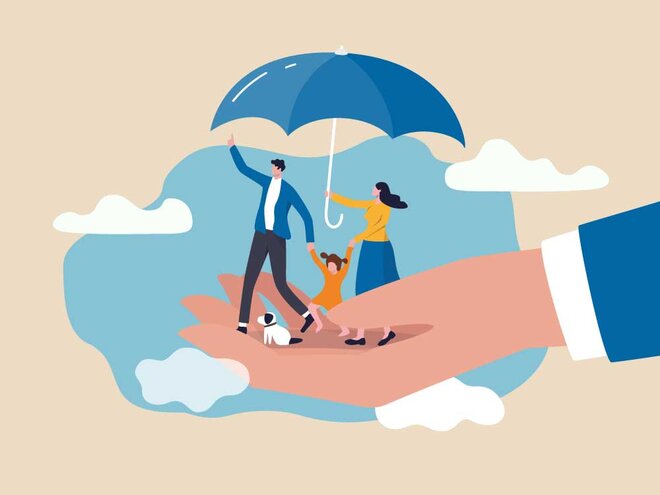 Life insurance is chiefly a risk-management tool meant to offer financial protection to your dependents in the event of your death. If you are adequately insured, your life insurance should enable your dependents - spouse, children or parents - to maintain their current lifestyle and pursue their financial goals.
ASPECTS OF LIFE INSURANCE
Features of life insurance
Eligibility: All citizens of India and persons of Indian origin (PIOs).
Entry age: 18 years and above. This limit varies across insurers and policy types.
Tenure: Typically up to the age of 80 years, depending on the policy type and insurer.
Sum assured: Depends on the policy type, tenure, premium, your health and income.
Premium: Depends on the insured's age, the sum assured, policy type and policy tenure. Premium frequency can be monthly, quarterly, half-yearly, yearly or single (premium).
Policy holding: Individual and joint.
Nomination: Facility is available.
Exit option: Policyholders can terminate their policies at a financial loss.
Types of life insurance
Term plan: This is a no-frills policy in which the nominee gets the sum assured if the policyholder dies during the tenure of the policy. Nothing accrues if you outlive the policy term, though there are some costly policies that pay premiums back. Term insurance premiums are typically low.
Saral Jeevan Bima: This is a standard individual term life insurance policy that IRDAI has mandated all life-insurance companies to provide from January 01, 2021. With a maximum sum assured of Rs 25 lakh, it will have the same features across all insurers (though prices may differ) just like the standard health-insurance product 'Arogya Sanjeevani'.
Endowment plan: If you die during the policy term, your nominee gets the sum assured plus some returns, depending on the policy performance. If you survive the policy term, you still get back the sum assured and returns earned by the policy.
Child plan: Similar to an endowment plan, it is a savings-oriented plan that is used to create savings for a child's education or marriage.
Money-back plan: In this variant of the endowment plan, a part of the sum assured is returned to the policyholder at periodic intervals throughout the policy tenure. The balance, along with profits earned, is returned at the end of the tenure.
Whole-life plan: A variant of the endowment plan, it provides cover to the policy- holder throughout his lifetime and not just over a fixed term.
Pension plan: The policy works in two ways. One, it is an accumulation tool that collects premiums and earns a return. Two, on attaining the vesting age (the year the payout happens), the accumulated fund is paid back as an annuity. Pension plans also offer insurance.
Annuity: In an annuity, the insurer agrees to pay the insured a stipulated sum of money periodically. The purpose of an annuity is to protect against risks as well as provide money in the form of pension at regular intervals.
ULIP (Unit-linked insurance plan): ULIPs combine insurance and investments in equity and debt markets. They are expected to deliver inflation-beating returns in the long term, irrespective of short-term market fluctuations. ULIPs offer several fund-investment options with insurance and leave the asset-allocation decision in the hands of investors.
Investment objective and risks
The only objective of life insurance is protection. There are, of course, life-insurance policies that offer investments, but at Value Research, we ask investors not to mix their insurance and investments and get an adequate term life cover.
Suitability and alternatives
Suitable for those who have financial dependants.
Not suitable for those who do not have financial dependants or those who have sufficient accumulated wealth to provide for the future financial needs of their dependants.
No alternatives.
Capital protection and inflation protection
The sum assured in a life-insurance policy is guaranteed as per the terms of the policy as long as the premiums are paid regularly and the policy is in force. Life insurance is not inflation protected because it is a fixed-cover, fixed-tenure product. However, some policies have started providing an increasing life cover, which increases every year at a fixed percentage.
Guarantees
The sum assured is guaranteed and the premium is fixed for the tenure of the policy. Policies, other than term insurance, may guarantee a minimum return, which varies across insurers and policies. Policies from the Life Insurance Corporation of India carry a sovereign guarantee.
Liquidity
Life-insurance policies (except Term Life Insurance) are liquid, depending on the policy type and the number of years a policy has been in force.
Tax implications
Premiums paid towards a life-insurance policy qualify for tax deductions under Section 80C up to a limit of Rs 1.5 lakh in a financial year.

Where to buy a life policy
Life insurance can be bought from different sales points such as:
Life insurance agents representing a particular insurer
Banks representing a particular insurer
Corporate agents representing a particular insurer
NBFCs representing a particular insurer
Brokers representing many insurers
Directly online from an insurer
Telemarketing
Retail stores and malls
Policies packaged with banking products
NGOs or self-help groups for rural areas
Internet sales through third-party websites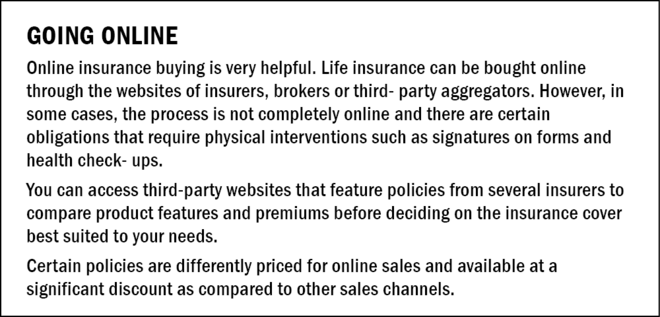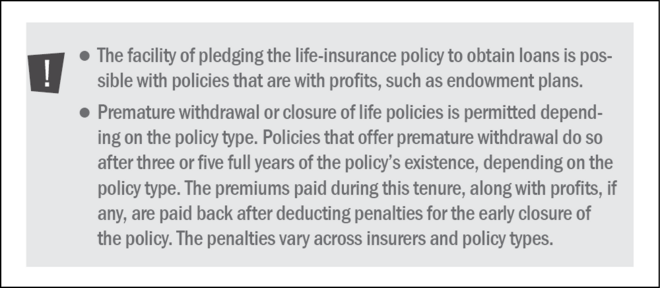 How to buy a policy
Once you have evaluated the amount of insurance you need and the insurer offering the policy, you need to fill the proposal form provided by the insurer and you will need to provide:
Documents that provide your date of birth and identity proof such as Aadhaar card, passport, driving licence or voter ID card. However, Aadhaar card is now mandatory.
Income proof in the case of high-value covers.
A medical examination certificate, depending on your age or the cover.
Nominee details.
How to manage the policy
Premiums can be paid by cash or cheque or electronically.
A policy certificate is issued with details, including your name, premium, policy tenure, and terms and conditions.
All about riders
Riders are additional (protection) benefits attached to the basic (life) insurance policy. They are generally limited in size relative to the base sum assured and may have separate terms and conditions, possibly with additional exclusion clauses. Simply put, riders are options that allow you to enhance your insurance cover, qualitatively and quantitatively.
Critical illness: Added to a life-insurance policy, it provides an additional cover to the insured in the event of a 'critical illness'. In most cases, the extra cover is paid upon the diagnosis of a critical illness. The illnesses covered and the premiums you have to pay vary among insurers, but most insurers cover cancer, coronary artery bypass, kidney or renal failure, major organ transplant, paralytic stroke, etc.
Disability or dismemberment benefit: This rider provides for an additional cover equal to the sum assured on the base policy in the event of disability as a result of an accident. If the accident results in total and permanent disability, the rider provides for other benefits: a proportion of the benefits will be paid to the insured person every year until he recovers. Some insurers provide the 'waiver of premium' benefit as well in the event of a disability.
Waiver of premium: This rider gets activated in the event of a person (who has taken a life-insurance policy) becoming 'completely disabled,' (or loses his ability to earn a living due to the disability) owing to an injury. Even though the premium is not paid during this period, the policy cover is not terminated; it continues as if the premiums were being paid. In other words, this rider acts as 'disability insurance' against your life insurance policy.
Accidental-death benefit rider: This rider comes into effect in the case of death due to an accident during the term of the policy. It adds to the sum assured in the life policy only in the case of death due to an accident.
Level term cover: This rider provides you with an additional life cover for a specific interval, which is less than the tenure of the policy. It is useful when you have additional responsibilities or financial liabilities.
Guaranteed insurability option: In effect, this rider 'ensures your insurability' in the future. It gives you the right to purchase additional insurance (of the nature of your base policy) at different stages in your life without any need to undergo any further medical examination.