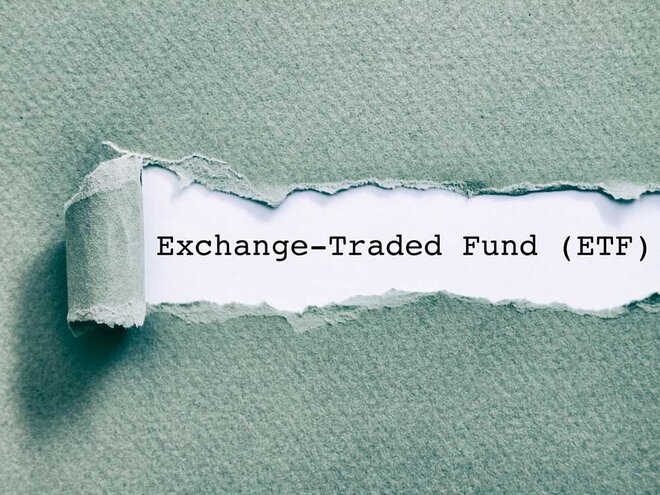 If you are interested in investing, it's likely that you have come across the term 'ETF'. Exchange-traded funds (ETFs) are a basket of stocks that trades just like an individual company's stock. An ETF usually tracks an index, such as the Nifty or the Sensex. Thus, ETFs combine the features of a stock and a fund.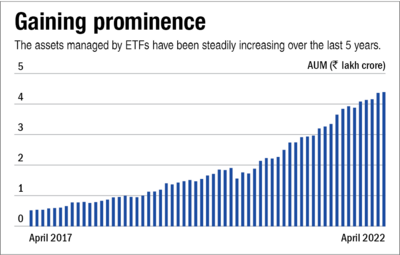 The first ETF was launched in India in 2001, but it was not until 2015 that ETFs started gaining traction. Over the last five years, the assets managed by them has grown at an annual rate of 53 per cent, from over Rs 51,700 crore in April 2017 to over Rs 4.32 lakh crore in April 2022. In August of 2020, assets managed by the ETFs tracking the Nifty 50 Index crossed the milestone of Rs 1 lakh crore.
The Indian mutual fund industry today has 134 ETFs across three different asset classes - equity, debt, silver and gold. Equity ETFs are the most popular and manage assets worth over Rs 3.49 lakh crore across 104 schemes. These are followed by 17 debt ETFs that manage assets of over Rs 62,100 crore, gold ETFs with an AUM of about Rs 20,200 crore across 10 ETFs and silver ETFs managing about Rs 850 crore worth of assets.
Benefits of an ETF
Investing through ETFs has a number of advantages:
Simplicity: Since ETFs track an index, they are a simple way to get market-like returns. If you are positive about the Indian economy and want to profit from its potential, buying a Sensex or Nifty ETF is the simplest way to realise this goal.
Low cost: One of the major advantages of ETFs is their cost efficiency vis-à-vis actively managed funds. Since ETFs just mimic an underlying index, they don't involve any active decision-making by a fund manager. Also, transactions in an ETF are much less as compared to an actively managed fund. Hence, this greatly reduces their cost.
Diversification: If you invest in individual stocks, you will have to buy a sufficient number of companies to achieve optimum diversification. When you invest in an ETF, you instantly get diversification. What's more, you get this diversification irrespective of the amount you invest. With individual stocks, you will need to have a certain scale to reach that level of diversification.
Transparency: ETF prices are available in real time and their portfolios are the same as the underlying index. That helps you know what you are getting and how your investment is doing.
Who should invest in an ETF?
Anyone who wants to profit from the potential of Indian equities over the long term can invest in an ETF. ETFs are a simple, hands-off way to grow your capital. So, if you don't have enough time to manage your portfolio, ETFs could be a possible solution. Also, if you are a new investor who has little idea about stocks or mutual funds, ETFs can be your starting point. If you are a seasoned investor, parking a part of your corpus in ETFs can help you diversify and limit the impact of a bad investing decision.
Disclaimer: Mutual fund investments are subject to market risks, read all scheme related documents carefully.
All Mutual Fund investors have to go through a one-time KYC (Know Your Customer) process. Investors should deal only with Registered Mutual Funds (RMF).
For further information on KYC, RMFs and procedure to lodge a complaint in case of any grievance, you may refer the Knowledge Center section available on the website of Mirae Asset Mutual Fund.