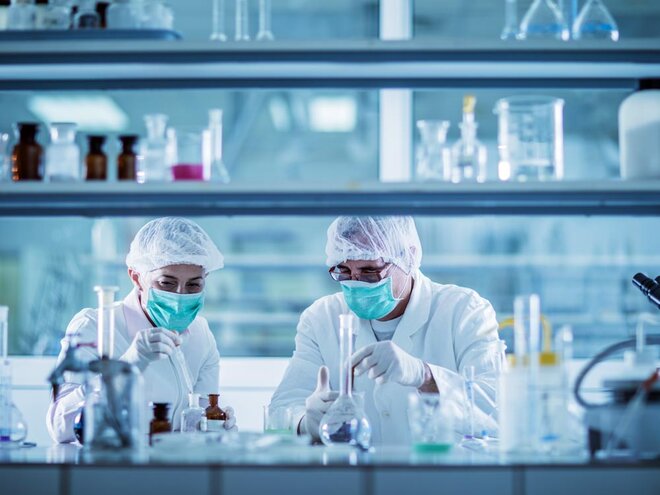 "Innovation distinguishes between a leader and a follower" - Steve Jobs
India's research and development (R&D) expenditure lags far behind that of other countries like China. Listed Indian companies (above the market cap of Rs 500 crore) spent Rs 8,400 cr on R&D (0.65% of the aggregate sales of the companies spending on R&D) in FY18 as against Rs 7,965 cr in FY14 - barely an increase of one per cent year-on-year. The 'Make In India' initiative, coupled with other tax incentives, was expected to boost R&D activities. However, they failed to live up to the expectation.
Nevertheless, bucking the trend, several pharma companies in India have stepped up their spending on R&D. Their continuous investments in R&D resulted in India emerging as the largest provider of generic drugs across the world. At present, India caters to around 50 per cent of the global demand for various vaccines, 40 per cent of generic demand in the US and 25 per cent of all medicines in the UK*.
Here we have delved into the listed universe (above Rs 500-crore market capitalisation) and the five-year aggregated R&D spend as a percentage of aggregated sales. Besides, we have tried to capture if this expenditure has translated into higher sales for these companies.
Our findings have revealed a trend of higher R&D expenditure by pharmaceutical companies, as nine out of 10 on our list of the top 10 R&D spenders are from the pharma sector.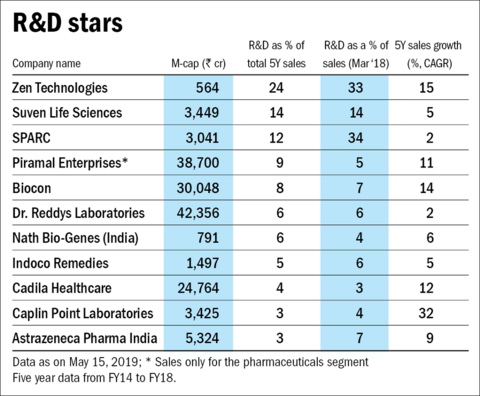 Even though India's R&D expenditure may seem far behind, R&D activities have reaped some rewards, considering that the pharmaceutical industry has been commanding a major share in the world of medicines for quite some time. Although there is enough headroom for improvement, several income tax incentives, including deduction on R&D equipment and deduction on recurring expenses on research, provided by the government are expected to provide a major fillip to R&D activities. In addition, initiatives like the Ucchatar Avishkar Yojana (UAY) (setting up research parks in institutes like IIT), linking teaching with research, were some moves that were better late than never, as countries like the US and China found tremendous success by bridging the gap between academics and actual research.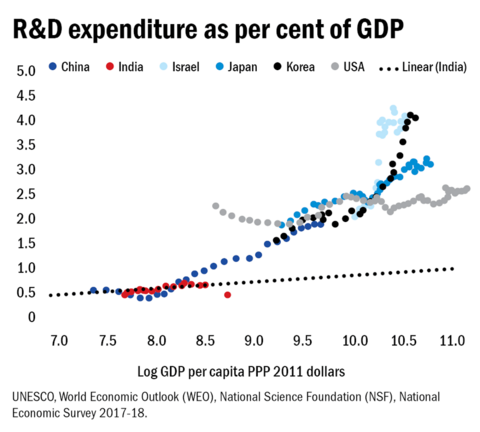 As revealed by the National Economic Survey 2017-18, India's R&D spend has been stagnant at 0.7 per cent GDP for the last two decades. This is in stark contrast to other countries as can be seen in the following figure. The most notable is our neighbour China, which took off after spending less than India at one point, depicting how we have been a net consumer of knowledge rather than net producers. The survey has also reiterated the need for the private sector to increase investments in R&D if we want to compete on a global level.
Source:
*https://www.ibef.org/industry/pharmaceutical-india.aspx
Disclosure: The intent of the article is not to recommend any specific stocks. If you wish to invest in any of the above-mentioned securities, please do thorough research.