In the interview below, Vinit Sambre, Head of Equities, DSP Mutual Fund elaborates on the performance of DSP Small Cap Fund, trends in the small cap space, and his approach to picking small-cap stocks.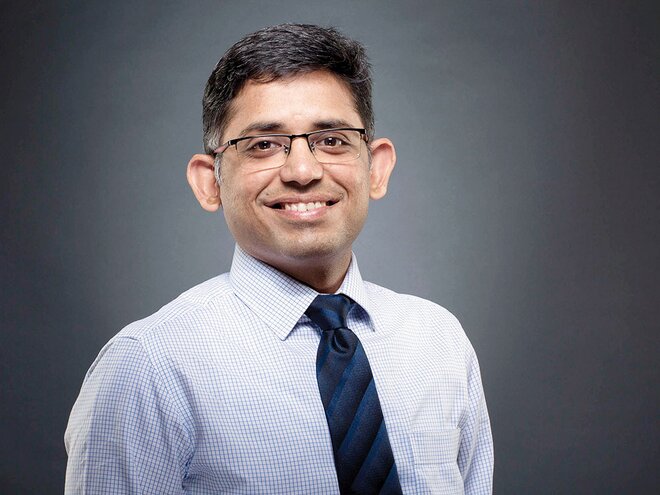 After its terrific performance until 2016, DSP Small Cap Fund had two bad years - 2017, when it underperformed both peers and benchmark in a rising market, and 2018, when it did the same thing in a falling market. What went wrong?
If you go back to our thought process in 2017, small-cap stocks were heading steadily higher and we were getting worried about valuations. We decided that as we were investing someone's hard-earned money, it was better to stop inflows into the fund so that we didn't end up buying stocks at unreasonable prices. We held a high proportion of cash in our portfolio in the beginning of 2017. The cash call wasn't a deliberate strategy but came from our view that we didn't want to buy at hyper valuations. However, small-cap stocks kept rising that year. Good companies did well but there were several inferior businesses that did even better, the typical third phase of a raging bull market. Due to the higher cash position, we underperformed. Even as we gradually deployed the cash, the kind of small caps we owned - in specialty chemicals, textiles, building materials, pharma - didn't perform in that phase of the market.

On the other hand, graphite companies that we didn't own in the portfolio did extremely well. This created a discrepancy between our performance and the benchmark. In the first half of 2018, there were clear signs that the market was topping out, but our specialty chemical, textile and other picks continued to underperform. It is from the end of 2018 that the downfall in small caps began to work in our favour and our stock picks began to turn around on the back of good quarterly numbers. In the last few months, we have covered a lot of the performance gap between our fund and its benchmark and peers.

Have you made portfolio changes or is it your past holdings that have delivered the turnaround?
We have made some changes in the sense that we have consolidated our portfolio. At one point in time, our portfolio featured as many as 88 stocks. But now we have reduced it to 77 odd names and are looking to further reduce this number. It is only in a bear phase that it is easier to do this. In a bear phase, you can get rid of mediocre businesses and accumulate good businesses that you like at cheaper valuations, without worrying about impacting the price.

But I would say that the only part of the recent performance has come from this and the major part has come from good performance from our older holdings.
Is the reopening for SIPs a sign that you again find valuations to be attractive in the small-cap segment? Is this a good time to buy small caps?
With the prices correcting, valuations for small caps have become slightly less expensive. But frankly, I would not say that there are plentiful opportunities. Good companies are still on the expensive side and we would certainly like the markets to correct some more to really buy these companies at attractive valuations. However, we took the call that there has been a significant correction from the top. We also expect volatility to remain high. So, we decided that instead of timing it to the last possible moment, we should re-open the fund to SIPs so that we can deploy the flows gradually. If there is a significant correction from here, we will look to re-open for lump-sum investments as well.

Are you seeing signs of an earnings turnaround in the small-cap space? Getting to double-digit earnings growth has been quite a challenge for large-cap and index stocks.
I can comment on the small-cap universe that we invest in. For the companies in our funds, FY18 saw hardly any growth. But FY19 has started off on a strong footing. In the first nine months, the EPS of our companies has grown by 19 per cent and we expect them to end the year with 21 per cent growth. The set of companies we own are showing improving trends. One reason is that we are invested in specialty chemicals and pharma, which have begun to do well lately.

You've put out a recent note on how you pick small-cap stocks and it mentions filters like a three-year ROE of over 15 per cent and five-year EBITDA growth of 13 per cent. Do you find a lot of small-cap stocks meeting these filters?
These filters are not new. They were always ingrained in our thought process. We have now put them down in black and white. The logic for those numbers is that we expect our companies to outperform the nominal GDP growth of 11-12 per cent. The idea is to look for companies that already meet these filters or will do so in future.

How much do valuations matter in picking small-cap stocks because the denominator - earnings - can scale up manifold over time?
This is a very important question. At the end of the day, value in a stock lies in the eyes of the beholder. The value that an investor attributes to a business depends not just on hard numbers but on many qualitative factors. For instance, if all companies in a sector are performing equally well, we are happy to pay a premium valuation for a company with a quality management. To decide on valuations, you also need to look at the big picture. If we find a company is in an industry which can grow tenfold and we think the company itself is in a unique position to grow 15x, then the EPS of the company can grow manifold in five years and a 50 P/E stock can become a stock with a P/E of just five. For businesses we really like, we do initiate positions at high valuations but accumulate more as stock prices correct.

How do you deal with the fact that mortality rates are so high with small-cap companies? How do you identify companies with moats?
If you find companies that have remained ahead of competition for many years, there is usually a unique feature that has helped them retain their leadership. This is their moat. For instance, in commodity businesses, being the lowest-cost producer can be a source of moat. Or a company may have retained leadership through constant innovation and new product launches. For some companies, distribution penetration and reach can be a moat. In a working-capital-intensive business, if a company is sitting on cash, that can lower the cost of operations and act as a moat. Branding can be a big source of moat, too. The PVC pipes business is commoditised, with over 500 players, but Finolex Industries is able to command an advance from its distributors to supply its products. That is testimony to the strength of its brand, which has farmers asking for the product by brand name.

Many retail investors think that they can identify multi-baggers by investing directly in small- or mid-cap stocks and question why they should invest in a small-cap fund. What is your answer to this?
I get this query from a lot of my school and college friends, too. I always suggest that they invest in mutual funds. In a frenzied bull market, there are always a large number of small caps that race ahead and it is easy to think that they are long-term wealth creators. But there is a high chance of going wrong with these stock picks. When the downfall arrives, it takes a severe toll on these stocks and thus on your portfolio. It is containing downside in market falls that is important to create long-term wealth in the small-cap space. A good fund can help you avoid the traps you see in bull markets.

If you look at our 10- or 12-year track record, except for 2018, DSP Small Cap Fund has always outperformed during falling markets. That is because we have managed to avoid these traps. Yes, we have made mistakes, too, but on an overall basis, our hit ratio has been good and our accidents have been relatively few. Apart from stock selection, there are other nuances to portfolio construction that a fund manager can take care of on your behalf. Finally, to succeed on your own in small-cap investing, you need not just have good analytical skills but also the right temperament.