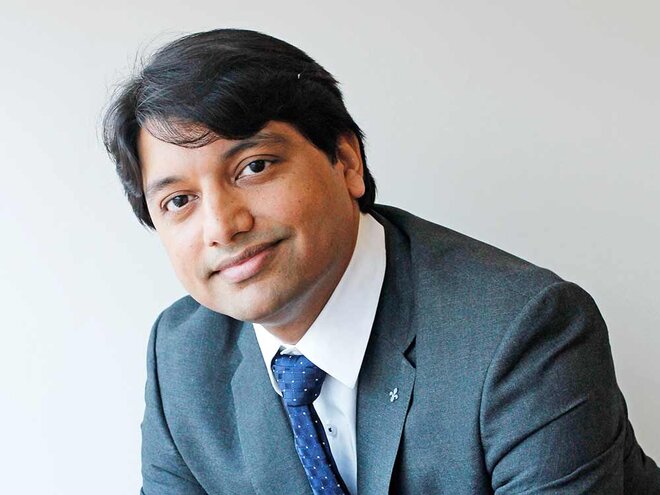 Pharma is one of those sectors that have turned into a nightmare from being a sweet dream. Having been marred by USFDA's scrutiny and bans, many top pharma stocks are still waiting for a turnaround in their fortunes. We speak to Tanmaya Desai, who manages SBI Healthcare Opportunities Fund, about the state of the sector.
The pharma sector has suffered in the last couple of years. What were the reasons for this?
The US is the largest pharmaceuticals market. For Indian pharma companies too, it comprises 40-50 per cent of revenues. Now that the base of Indian pharma companies in the US is larger than earlier, regulatory woes, a heightened price erosion and channel consolidation have been impacting growth for a number of Indian companies in the US. This has led to lower growth and contributed to the poor performance of the pharma sector in the last couple of years.
At the same time, growth in India, which comprises 25-30 per cent of the revenues of Indian pharma companies at an industry level, too has been lower led by lower volume growth, pricing-policy impact and GST-led readjustment of inventory levels.
When do you see the pain ending?
The US, the largest contributor to revenues and profitability for Indian pharma companies, holds the key for better prospects going ahead. While one will have to brace for a lower growth in the US in general, due to our sheer size in the US generics space, most US companies as well as Indian peers have highlighted the need for stabilisation in the pricing environment in the US. They expect that it will not deteriorate further from here.
At the same time, growth in India, too, is expected to pick up on a lower base of the last couple of years. Hence, growth is expected to be better going forward than in the last couple of years.
How do you read the USFDA actions against the Indian pharma sector going forward?
Indian pharma companies form close to 40 per cent share by volume in the US generics space today. Since we form a significant portion of volumes, it is natural to expect more inspections by the USFDA. Dealing with regulatory inspections is an ongoing and evolving process and, in our opinion, companies are learning and improving (from their past experiences and with the help of regulatory consultants). Companies cannot do away with higher scrutiny and they need to imbibe it as part of their culture in doing business in pharmaceuticals.
Have the USFDA's actions been more focused on Indian companies or have you also seen similar pattern in companies from other countries?
As mentioned earlier, Indian companies today form about 40 per cent of the volumes in the US generics space. Hence higher scrutiny shouldn't be seen as a surprise but more as a way of doing business in the US. Also, over the last few years, with the higher work load at the USFDA, it has recruited a significant number of employees. This has also led to increased frequency of regulatory supervision.
At the same time, we have seen higher levels of scrutiny in China. Though China is small in scale in the formulations space today in the US (but trying to make a mark in the US), it is big on API (active pharmaceutical ingredients) and intermediates.
How do you pick stocks in this fund?
We follow a holistic approach to pick stocks. Our stock-selection process comprises (1) meeting with the top management as well as second- and third-line professionals in the company; (2) a check on corporate governance; (3) understanding the DNA of companies' R&D team as that is the heart of pharmaceuticals; (4) visiting manufacturing plants and doing channel checks (speaking with competitors, buyers, suppliers); and (5) financial statement analysis.
Identification of stocks is a function of growth, return on capital, business risks and valuations. The fund has a bias towards certain themes that have a strong growth outlook in the long term.
What are your valuation criteria?
As mentioned above, we follow a bottom-up approach to stock picking. To do the valuations, we use the price-to-earnings multiple as well as the enterprise-value-to-EBITDA multiple. To value certain product-specific opportunities (which could be of a limited nature), which are common in the pharma space, we use the net-present-value method.
What sort of stocks do you avoid?
Companies of questionable corporate governance (we have an internal template to judge the same) and material or frequent issues with regulatory agencies, like the USFDA and UK MHRA, are the ones that we avoid investing in.
With the old model of copying patented products and riding on their success now largely broken, how do you see the Indian generic pharma sector changing?
Product patent regime is in place in India from 2005 and hence we are functioning under the new model for quite some time now. The growth in India is a function of volume growth, pricing growth and growth driven by new product launches. In the last few years, there has been some slowdown in volume growth, which has partially got compensated by pricing growth. New launches continue but we are of the belief that growth from new launches will keep coming down as competition keeps increasing.
Do you see any other geographies holding the potential to do what the US did for the Indian pharma industry a couple of decades ago?
No. US is still the largest and most lucrative market to invest in. Having said that, Europe as a whole too is a large pharmaceutical market but every market brings its own set of challenges in terms of separate product registration, level of generic penetration and product pricing.
What kind of growth do you see in the global contract research and manufacturing space in the next couple of years and what kind of opportunity it could have for Indian players?
Declining R&D productivity, lack of blockbuster launches and growing competition from generics has forced global pharma companies to increase their outsourcing spend in order to remain competitive. Cost containment is the order of the day, which, in a way, is benefiting low-cost countries like India. Focused contract manufacturing players stand a good chance to continue to benefit from this lucrative opportunity not only for the next couple of years but even beyond.
With the Jan Aushadhi scheme aiming to substitute branded medicines with unbranded generics, how do you see the impact on domestic pharma?
Initiatives like Jan Aushadhi scheme are good, especially taking into consideration the low penetration of pharmaceuticals in India. In fact, low penetration is a broad theme for structural growth in India. Such schemes will help further increase penetration of pharmaceuticals and we believe there is a market for both branded and unbranded generics to coexist. However, Jan Aushadhi hasn't seen great success due to a lack of availability of all essential medicines, relatively smaller scale of implementation and a lack of adequate awareness and campaigning.
The NPPA is trying to bring down cost of medicine. What impact can it have on the margins of pharma players?
Under the NPPA, the National List of Essential Medicines (NLEM) covers 20 per cent of the total formulations market. Addition to the list will bring more formulations in the price-control bracket and will have an impact both on growth and margins. However, some part of margins can be recovered as medicines under NLEM are allowed inflation-linked price increase every year while medicines outside the NLEM are allowed up to 10 per cent price hike every year.
With some of the world's biggest pharma companies now looking at acquisitions, do you think such a merger-and-acquisition trend could see Indian pharma sector being snapped up?
Acquisitions by pharma giants have happened because they are either struggling to grow (due to weak future pipeline) or grappling with high costs. Acquisitions are for a pipeline or to realise synergistic benefits from a merger or to enter a domain (speciality/complex areas) traditionally not part of the existing investments and business of big pharma players.
In fact, Indian companies have been acquisitive in the space and have done acquisitions largely to gain entry into a speciality or a new domain. We do not see an M&A trend in the Indian pharma sector, especially considering the level of investments made by Indian companies in regulated geographies and also taking into consideration their balance-sheet strength.
How do you see the MNC pharma industry performing compared to the domestic sector?
Over the years, MNC pharma companies have reported steady growth, around the domestic industry growth. We expect this trend to continue. Some MNCs are more aggressive than others but overall their growth (compared to their Indian counterparts) will be constrained simply because of their presence in a single geography versus Indian peers having presence in multiple geographies. Earnings for MNCs companies will largely track growth in their revenues.
What sort of allocation to pharma and healthcare should investors have in their portfolios?
We continue to advise investors to have a long-term investment horizon for investing in a sectoral fund and have a relatively smaller allocation (5-10 per cent of their portfolio) due to risks associated with investing in a single sector.