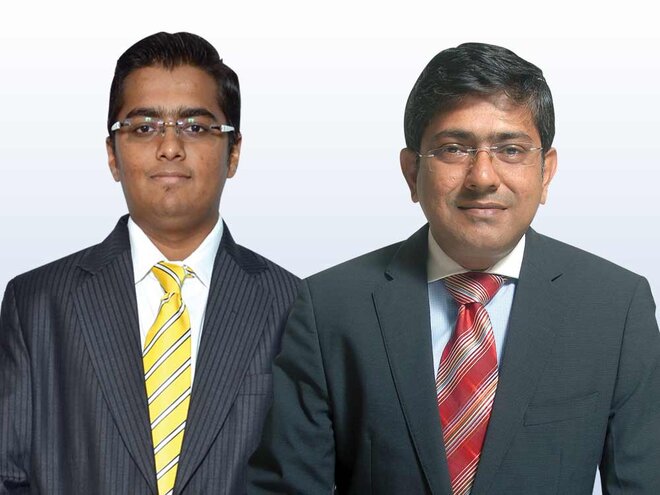 The banking-and-finance sector has never been free from media coverage. The current times are no different. Whether it is the NPA concerns of public-sector banks or the liquidity crunch faced by NBFCs, the sector has been passing through a tumultuous phase. Amidst all this, however, quality stocks in the sector have continued to bring returns to the investor. Aditya Birla SL Banking & Financial Services Fund, which manages over Rs 1,600 crore, is a top-rated fund in its category. We speak to the fund managers of this fund to get an idea about how they pick stocks and what has made their fund virtually immune to the turmoil in the sector.
How do you pick banking stocks for your fund?
Running a bank is always an interplay between attracting low-cost deposits, a diversified loan book and strong risk management. Each of these constitutes a strong competitive moat and emanates from organisational culture, which is very difficult to build. Hence, our large allocations are to banks which have a strong deposit franchise, diversified loan books, and an ability to cross-sell and effectively manage the risks. Our smaller allocations are to play some specific themes - regional banks/small-finance banks or banks focused on SMEs or purely corporate banks.
What attracts you to an NBFC?
NBFCs are generally strong asset franchise. They may not enjoy the borrowing-cost advantage that banks can boast of but they can be nimble-footed and reach sections of population that are traditionally ignored/unbanked.
A dominant product category, an ability to appraise informal/self-employed customer segment, better ability to collect receivables, an ability to reach customers faster and in a better way than banks, low-cost product delivery the are key differentiators of NBFCs vis-a-vis banks.
Our first and foremost criterion in evaluating an NBFC is to understand the opportunity size of the niche segment that the company is operating in and how difficult it is for banks to disrupt the segment. Beyond that, we assign importance to credit underwriting processes, liability management and promoter background in that order. Identifying such NBFCs at an early stage can be very rewarding.
Some analysts believe that housing-finance companies (HFCs) don't have a long-term case because banks can also do what they are doing. How do you see this?
Housing finance is the largest segment within retail financing in India. Companies like HDFC, LIC Housing Finance, Gruh Finance have been in existence for over a few decades now and have delivered steady ROEs. Housing demand or opportunity size for this segment remains large and penetration levels will continue to rise in the years to come.
The housing-finance space, over the years, has attracted massive competition and has now left very thin margins for the companies in this business. The customer profile varies from formal salaried to informal salaried to self-employed. The collateral profile varies widely based on city, town, etc.
Banks have traditionally focused on the salaried segment in top cities. Hence, there is ample opportunity for HFCs but in other segments and micro markets. HFCs which are directly competing with banks may find it difficult to maintain margins. But HFCs focusing on small-ticket housing/semi-urban and rural segment of housing loans still have a good headroom for growth and can deliver sustainable and superior return ratios.
With the advent of discount brokers, full-service brokers are under stress. How do you see the broking industry five to 10 years from now?
Over the past seven years, top 10 brokers have consistently gained market share from the small-time brokers. Active clients as well as trading revenue has witnessed steady growth over the period. There is only one discount broker, called Zerodha, which has made to the top of the list. Other discount brokers are struggling.
Full-scale brokers have also started diversifying their revenue streams to financial-product distribution, wealth management, etc. Bank-based brokers have been able to maintain their cash yields over the past seven years, despite the huge consolidation in the industry.
How do you value a finance stock?
Valuation is determined by interplay of three main aspects: size of the opportunity, promoter's ability to scale up and return on equity. The promoter's ability to scale up enjoys maximum weight. We look at P/BV vs. sustainable RoE. The key is to calculate the right RoE progression of the stock and that will be based on management execution and business-model core competency. Banks with consistent growth and asset quality across cycles tend to get higher P/BV multiple.
What makes a bank better than the other in terms of quality?
While the opportunity size is similar for everyone, the ability to scale up and maintain profitability differs vastly between banks. For example, opportunity for unsecured lending (personal loan and credit cards) has always been huge but only two private-sector banks have been able to build a profitable model of size. To sum up, a stable funding franchise, customer segmentation and under-writing practices are key to any banking business model.
When do you see the NPA problem of public-sector banks getting over?
We think the corporate NPA cycle is nearing an end. Rural lending is a space to watch, but even adjusted for that, one should expect NPA ratios to improve. The only reason why NPAs declined sharply from 2003 to 2008 was the strong global as well as domestic growth cycle. Since then, the growth cycles in India as well as globally have been patchy. Hence, it is very difficult to have a sustained NPA reduction for corporate/PSU banks but that is likely to improve.
When do you realise that it's time to quit a bank or an NBFC?
We keep evaluating the companies we own based on our framework of business, management and valuation (BMV). This means that if there is deterioration with respect to the business model/strategy (this includes assessment of asset quality and growth prospects) or changes in management (execution team and risk-management profile) or there is a valuation mis-mismatch with our expectations, we decide to sell.
The recent crash in housing finance and NBFCs has spooked investors. How is the situation now?
Markets have already started differentiating between the good HFCs and the troubled HFCs. The HFCs that don't have much exposure to large ticket loans against property or developer loans should start seeing normalcy in a few quarters. Competitive intensity has already reduced and pricing power could be back after a long time for HFCs. Liquidity is still tight at the medium end of the curve. Though the situation has improved for good players, we remain cautious and focus on asset-quality trends. If they turn bad, the funding environment can become tough for weaker players.
What's your view on the movement of interest rates in the coming year?
This is not the first or the last time that the interest-rate cycle is on the hardening side. Each such cycle weeds out weak players and strengthens the efficient ones. Our endeavour is to be invested in the efficient players to ensure longevity. NBFCs with pricing power will emerge as the key winners.
What allocation should an investor do towards banking and finance stocks?
Allocation purely depends on individuals risk appetite. Having said that, within an equity portfolio, banking and finance should have decent representation. We believe that BFSI is a secular growth story as penetration levels in most sub-segments remain lower as compared to those in developed countries. In our view, one should be overweight on this sector.
Further, the financial-savings theme will be multi-year story. Life-insurance, asset-management and general-insurance segments will offer structural growth and steady return ratios.