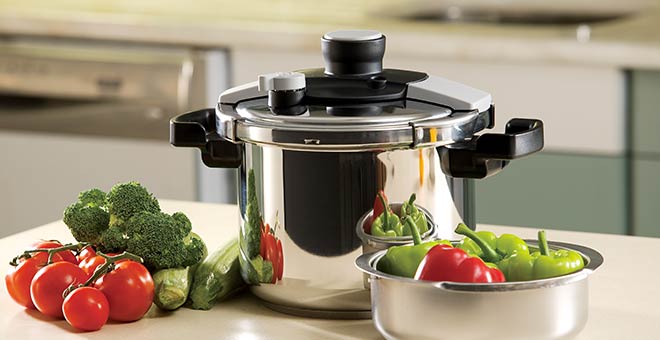 Hawkins Cookers
Hawkins Cookers has been in business since 1959 and exporting its products since 1974. It has sold over 72 million pressure cookers and cookware worldwide. The company has approximately 75 models of pressure cookers in 11 variants and commands a market share of about 32 per cent. Hawkins markets its other cookware under the Futura brand.
TTK Prestige
Operating since 1928, TTK Prestige began manufacturing pressure cookers in 1949. Forty-six per cent of the company's total sales volume comes from appliances, followed by cookers that contribute around 35 per cent. About 16 per cent its sales come from cookware and the remaining from cleaning solutions and other appliances. The company has 556 exclusive retail outlets in 230 towns and cities.
Initiatives in the recent budget such as the Pradhan Mantri Ujjwala Yojana, which has a targeted outlay of Rs 8,000 crore over the next three years, aim to replace open fire in the kitchen with LPG cylinders. This should enhance rural demand for cookers, cookware and cooktops. An increase in urban migration, nuclear families and organised players due to GST will also be positive developments for the industry.