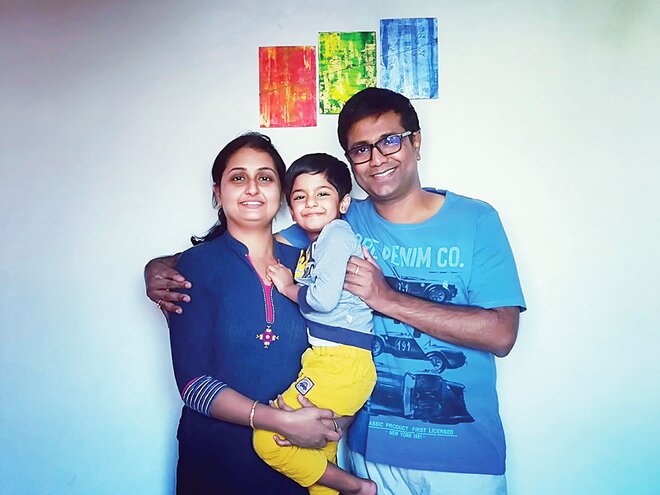 Software engineering is a very focused and disciplined field, much like investments. In software, one needs to be analytical and make informed and logical decision to reach one's goal, says Value Research reader Aritra Ghosh. The 35-year old is a software engineer and works for a well known technology company in Hyderabad, learned the ropes of investing from his mother. Over the years, the computer science expert discovered mutual funds as his perfect investment partner. He has learned that investing through mutual funds is much better than relying on poor quality advice from colleagues or some broker. Let us have a look at Aritra's evolution as an investor.
Start of the investment journey
A bibliophile to the core, Aritra likes to read anything that is interesting. When he is not reading or working, the doting father loves to take up part time fun projects with his son. Work has taken him to different places, but frequent travelling for leisure every now and then with his wife and son takes the edge off the fast life that he leads.
Aritra grew up in a big family with grandparents, uncles, aunts and lots of cousins. His father is a lawyer, but it is his mother, a housewife, who served as an investment inspiration. "I did not have much exposure to investment psyche or strategies from childhood. I learned about the importance of saving from my mother. She used to save a little regularly - via fixed deposits, Kisan Vikas Patra bonds or gold ornaments," says Aritra, who hails from Kolkata.
His first investment was in the PPF. His mother advised him to invest in it right after he had landed a job. He also got advice from his colleagues and broker to buy stocks of certain companies and ULIPs/LIC products. "However, that turned out ugly and I lost money badly. Losing hard earned money made me realise that bad advice could be really harmful and that I had made investment decisions without any knowledge whatsoever of the assets I was investing in," he remarked.
Aritra thinks it is important not to waste hard earned money or any money in general. "Idle money, i.e., money not invested correctly is also wasted - this is another lesson I learned the hard way," he quips.
Aritra also considers the 'self' to be the greatest asset - healthy living and investing in the self will eventually lead to a good life, money and stable investments. His profession, i.e., software engineering helped him evolve, Aritra says. One needs to be analytical and make informed and logical decisions to reach one's goal. In that sense, Aritra thinks his profession has made him more analytical and he now uses that quality in investments also.
Coming across Value Research
After the initial setback, Aritra started looking out for other viable options and came across the Value Research website around 2009. Aritra says, "The sheer amount of information available on the website was mind blowing and after going through some articles, I felt that investing via mutual fund would suit me well. Since then, I religiously follow the articles on the Value Research website. I have also subscribed to its publications. The guidance and articles on the website have helped me to create a viable financial plan."
Before meeting Value Research, Aritra had already made his debut on the mutual fund mart. His very first mutual fund was HSBC Debt Fund, in which he invested Rs 10,000 in 2008. He sold off the fund after four years.
Reading about long-term wealth creation and goal based planning helped Aritra mature as an investor. Focused goal based investments have even helped him achieve small goals, such as creating an emergency fund or saving for yearly travel or purchasing a car and other fancy items. "The big goals are yet to be conquered," Aritra chuckles.
While he is not enrolled in any dedicated financial planning or investment services, Aritra realises that he might need to avail professional investment services. At present, his investment portfolio is distributed over direct equities (5 per cent) and mutual funds (95 per cent). Among his mutual funds, debt funds account for 39 per cent exposure and the rest 61 per cent is equity. He has no love for gold, like many other Value Research readers.
Aritra's investments
Aritra appreciates the power of systematic investment plans (SIPs). He has long-running SIPs since 2012. Apart from ICICI Long Term Equity, he regularly invests in other funds such as Aditya Birla Sunlife Frontline Equity, DSP Blackrock Micro Cap, ICICI Prudential Balanced and ICICI Prudential Value Discovery.
Aritra invests in direct plans. He has also built his stash of 'emergency fund' via debt/ultra short-term funds.
Initially, when Aritra started, he did try to strike it big with equities. "My entire portfolio was in direct equities. After suffering heavy loses in companies such as DLF, Metalyst Forgings, Plethico Pharmaceuticals and more such, I lost my confidence to deal with equities. Instead of selling them off at an early stage, in spite of their value dropping like a stone, I held onto them dearly," rues Aritra. It was really long before he realised it's time to let go and accept the loses and move on. Fortunately, that was a big lesson.
When the market tanks, Aritra takes that up as a buying opportunity to pile onto his portfolio of mutual funds. "I did not make the same mistakes with mutual funds. As I said before, I use VRO as my primary information source to narrow down mutual funds across categories. Once I narrow down the list of selected mutual funds, I dig a little deeper. I go over each mutual fund investment portfolio and fund manager. I check how the fund has performed over market cycles and so forth," says Aritra sharing his approach.
Today, Aritra has 10 funds in his portfolio. He wants to reduce the number of funds to five or six. Some of his big holdings are in Franklin India Ultra Short Bond Super Inst, Mirae Asset Emerging Bluechip and ICICI Prudential Balanced.
Aritra also shares with us a set of his investment principles, which are highly useful for anyone (see the pointers below).
Aritra Ghosh's investment principles:
Before investing, insure yourself and your dependents
Budgeting is really important as it will help to monitor the money flow - what the total expense is and where it goes. This will also help in reducing unwanted expenses. Also, once you have a map of how much money goes where, it acts as an eye-opener
Invest only after you have convinced yourself that you believe in the investment vehicle
Be patient. If one is not patient, the propensity to make errors multiplies
Don't invest in too many funds. It's difficult to manage and keep track of more than three to four funds
Don't try too hard and stress yourself out. Take it easy