After explaining the filters and mentioning which companies were successful in passing through them in the first part, we continue with the series by bringing before you one cash flow leader each day. Today, we bring before you the niche financial consultant--Accelya Kale Solutions.
Promoted by Accelya (an airline software solution provider based in Spain), Accelya Kale solutions was earlier known as Kale Consultants. Unlike other IT companies which cater to banking and financial services, Accelya has created its own niche by catering only to airlines and the travel industry. Its services relate to revenue accounting, audit, recovery, billing, etc. It has patented software which is provided to the customer for a nominal upfront fee and the major part of the revenue is booked on the basis of tickets processed.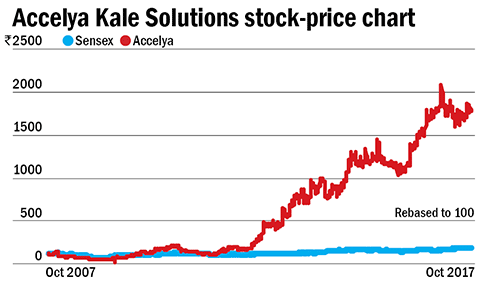 The biggest advantage for Accelya is its long-term contracts of five to eight years with its clients. After such a long period, it's very hard for its clients to shift to a different software. This leads to higher probability of the clients staying with them.
With the growth of the aviation industry, Accelya is likely to witness increasing profitability and cash flows since its costs are fixed and any increase in sales will boost the bottom line. Based on the five year average, Accelya has converted 28 percent of its sales into operating cash flows. In the past five years, it has given dividends of 83 per cent of the operating cash flows. To reduce its dependency on its existing products and to further expand its services it recently entered into analytics and consulting services for the aviation industry. The absence of relevant competition works in its favour.