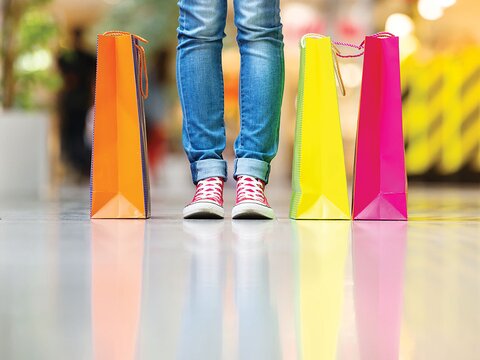 The retail sector is another industry that has traditionally traded at high valuations. The prospects of development of organised retail, especially in urban areas, and a burgeoning young population with higher disposable incomes has kept the sector on a roll. The face of retailing itself is evolving in the country. Improving urban demand, expansion, newer brands and a higher share of private labels has meant that the market's appetite for retail stocks has gone up. This was in full display at the initial public offer of Avenue Supermarts that was oversubscribed 100 times. Compared to their 10-year average valuation of 34x, retail stocks are now commanding a premium valuation of 57x. Figure 4 highlights how retail valuation has moved up in the last 10 years.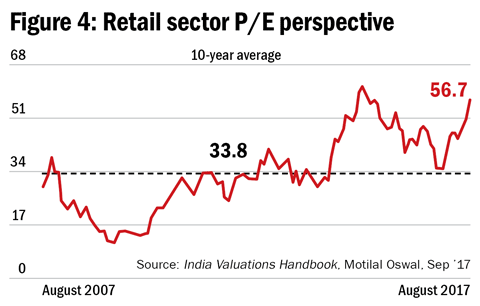 Excluding Aditya Birla Fashion and Avenue Supermarts, which are new listings, the most expensive retail stocks that traditionally traded at a valuation of 35x now command a premium of 76x. Table 4 mentions the top ten most expensive retail stocks. Here are the two most expensive retail stocks.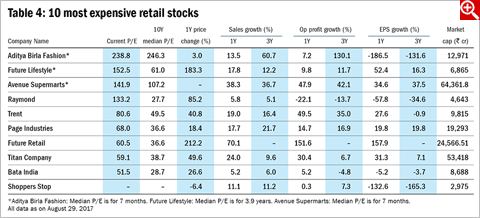 IN VOGUE: ADITYA BIRLA FASHION
Aditya Birla Fashion & Retail was formed this year when the Aditya Birla Group brought together the apparel businesses of Aditya Birla Nuvo and Madura Garments Lifestyle Retail Company into the listed apparel retail company Pantaloons Fashion & Retail.
The strong performance posted by the company is the reason why Aditya Birla Fashion trades at such high valuations. Its revenue growth of 25 per cent (YoY, Q1FY17), margin expansion at Pantaloons and a lower loss at the net level give it a premium position. Some analysts recommend a holding period of at least three-four years in the company as it attains scale and improves margins, cash flows and return ratios. At the moment though, current valuations do not seem to provide easy gains for fresh investors.
THE NEW LEADER: AVENUE SUPERMARTS
Avenue Supermarts may be a new listing, but it has rapidly become the largest retail firm by market capitalisation. It is also one of the most expensive retail companies you can find today. The company appears to be riding high on revenue growth of 36 per cent (YoY, Q1FY17) and operating profit growth of 29 per cent. Avenue saw minor impact of GST transition. It did not see any drop in footfalls or sales during the transition period, indicating that consumer demand has not been impacted much as a result of GST. Avenue's expansion plans are on track, with the company estimated to open around 24 stores in FY18.
Avenue may be one of the most coveted retail company in the Indian markets today with a successful track record. Current valuations though appear to have factored in all the growth that the company could see in the future.