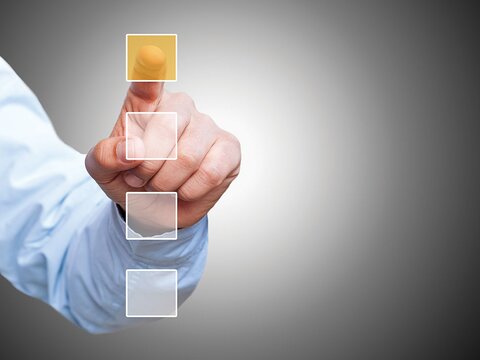 The analysis so far tells you that balanced funds are a great fit for your portfolio, no matter if you are a first timer or a seasoned investor who likes a hands-free approach or a risk-averse one.
But once you make up your mind to own a balanced fund, you're likely to become confused all over again as you are confronted by the 50-odd schemes that today make up the hybrid equity-oriented category.
The quickest way to select the balanced funds you'd like to own is of course to check out the three-, five- and ten-year returns and pick out the funds with good Value Research rankings. But track record apart, it is also necessary to understand the risk profile of the balanced funds you're evaluating to ensure that the fund you're choosing suits your risk appetite; within the balanced-fund universe, there could be wide variations in the schemes. Here are the four checks you need to run to assess the risk profile of a balanced fund.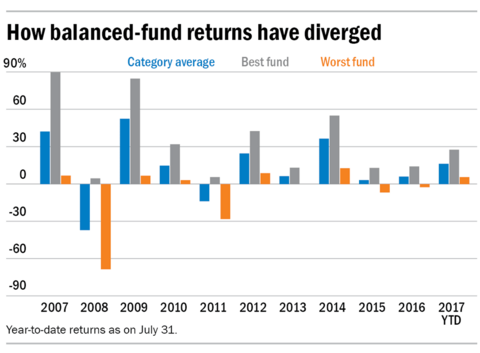 Equity-debt mix
Tax laws only specify a minimum equity allocation that balanced funds need to maintain to bag the tax breaks; they don't set the maximum limit. This results in funds taking considerable liberties with the maximum limits for the equity allocations in their balanced funds. Sifting through the asset-allocation data for the category for end-June 2017 tells us that while the average equity weight for the category was 66 per cent, there were outliers on both sides.
For instance, funds such as Birla Sun Life Balanced 95, DSP BlackRock Balanced, HDFC Prudence had their equity allocations nudging 73-75 per cent. But at the other end of the spectrum, Axis Children's Gift, BNP Paribas Balanced Fund were at barely 60 per cent. Comparing returns on the two sets is clearly not an apples-to-apples comparison. If you're risk averse, check out the fund's mandate on the range of equity exposures it can take.
Tactical or steady state
While tax laws require them to maintain an average equity allocation of 65 per cent, some balanced funds have built-in leeway to vary that by 5-10 per cent on either side, based on their market view. Other balanced funds don't use such 'tactical' changes and stick rigidly to a steady-state allocation.
Birla Sun Life Balanced 95, for instance, usually maintains 70-30 equity-debt mix but retains a 5 per cent leeway to change its equity portion in either direction based on its market view. ICICI Prudential Balanced Fund has also displayed fairly wide swings in its equity component, with its equity portion falling from 78-79 per cent to 66-67 per cent in the last one year.
Other funds such as HDFC Balanced, SBI Magnum Balanced and L&T Prudence prefer steady-state allocations with very minor variations in the equity-debt mix. While investing in trending bull markets, it is necessary to keep in mind that funds which take tactical calls may underperform funds which don't.
Market-cap mix
Allocation apart, the kind of stock and sector choices that a balanced fund makes for its equity portfolio is also a big determinant of returns. In the last three years, mid- and small-cap stocks have delivered a significant outperformance over the large-cap pack, even proving resilient to market dips. Balanced funds which are more aggressive about owning mid- and small-cap exposures in their equity portfolio have, therefore, fared better than those which stick mainly to the safety of large caps.
Running through the portfolio breakdown of balanced funds in June 2017, for instance, Franklin India Balanced Fund (85 per cent of equity portfolio in large caps), HDFC Equity Savings Fund (87 per cent in large caps), ICICI Pru Equity Income Fund (88 per cent) and Reliance Regular Savings - Balanced (85 per cent) were some funds with a high large-cap allocation in their equity portion. However, HDFC Children's Gift (55 per cent in large caps), Baroda Pioneer Balance (59 per cent), ICICI Pru Child Care (40 per cent), Kotak Balance (51 per cent) favoured more aggressive mid-cap allocations.
Should the markets witness a sharp reversal, balanced funds with a large-cap preference may contain losses better. Should the bull run continue, the tables could be turned.
Debt strategy
It is not just on the equity portion of their portfolios that balanced funds have the choice to run with a more or less risky strategy. That can happen with the debt portion, too. Balanced funds may opt to take both duration and credit calls on the debt portion of their assets to bump up their returns. The degree to which they take on such risks can impact the overall risk profile of the fund. L&T Prudence, for instance, maintains a very conservative stance both on duration and lower-rated bonds in the debt portion. Ditto with HDFC Balanced Fund. But Franklin India Balanced and Birla Sun Life Balanced 95 do look to pep up debt returns through some lower-rated paper as well as duration calls that bet on interest-rate direction.
Overall, to assess risk in a balanced fund, check out its best and worst returns during its lifetime for a one-year holding period. If a balanced fund has navigated a bear market like 2008 much better than its peers, that's the best bet for a balanced investor.