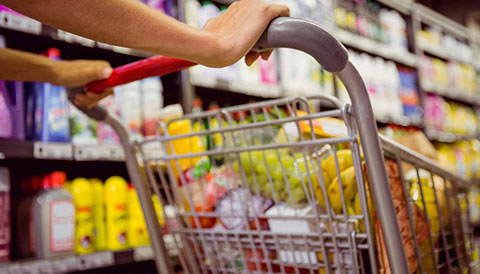 An already-struggling FMCG sector was hit hard by demonetisation. The demonetisation blow came at a time when the sector was already reeling from margin pressures and stagnating volume growth. Demonetisation further accentuated the volume decline for the sector.
Here are some of the top FMCG names that are seeing the greatest volume pressure.
GSK Consumer Healthcare
GSK Consumer Healthcare saw its volumes decline 15 per cent in Q3FY17. The primary factor behind the volume decline was lower consumption offtake as an after-effect of the demonetisation scheme.
The company is expected to see an improvement in volume growth over the next couple of quarters as the effects of demonetisation wear off and the largely under-penetrated North and West India see further recovery. The introduction of value-added products, like Women's Horlicks, Mother's Horlicks and Horlicks Lite, is expected to further boost volume growth over the long term.
The weakness in volume growth over the past couple of quarters has brought GSK's valuation premium down, from its five-year average of 37 times to 32.6 times. Among the companies listed below, GSK has suffered the highest volume decline.
Marico
Marico saw weakness in the volumes of Parachute and value-added hair oils. While Parachute's volumes declined 1 per cent, those of value-added hair oils declined by a sharper 12 per cent. Rural sales fell by 20 per cent in the December 2016 quarter. The management expects the volume to improve in the fourth quarter. In the value-added hair-oil vertical, the recovery seems some time away as the management has indicated that the volume growth would remain flattish or show marginal growth in the fourth quarter.
Marico trades at 44 times its TTM earnings - higher than its five-year average trading multiple of 38 times.
Godrej Consumer Products
Godrej Consumer Products' (GCPL) India business suffered an overall volume decline of 3 per cent. Overall domestic sales were flat. The revenue growth in household insecticides was down 2 per cent (YoY) and that of hair colour was down 2 per cent. Sales of air fresheners and Cinthol deodorants were up 19 per cent.
The soap segment saw a high single-digit fall in volume growth as the company withdrew promotions. In a bid to offset the effects of demonetisation, GCPL extended credit to its distributors.
GCPL trades at 45 times its TTM earnings - higher than its five-year average of 39 times.