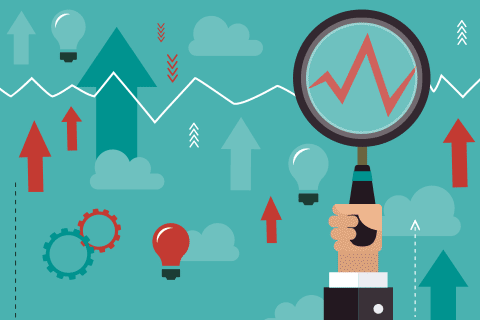 You've done your research and selected a high-quality stock. You are now ready to hit the buy button. But have you looked at the valuations the stock is trading at?
Many investments in quality companies do not produce desired returns if the valuations are steep. Expensive valuations leave little on the table for new investors. This is a big reason why you should not follow the crowd into a market favourite.
Valuations often take a back seat when stocks are market favourites and the only way prices appear to be headed is up.
Take Infosys for example - a high-quality stock with clean management and the darling of the market in the tech boom. If you were like some people who got in late into the party and decided to pick up Infosys in March 2000 at a grand price of around ₹12,000 a piece. At that lofty price, Infosys was commanding a premium P/E of 296 times.
Those who bought Infosys at those levels would have to wait for six years to see their investment price recover. That's not all.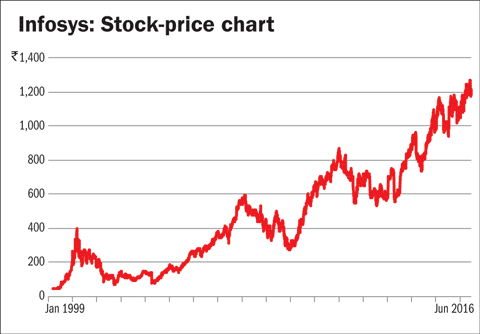 How high valuations can wreck total returns
If an investor bought ten shares of Infosys at ₹12,000 levels and held onto them to date, he would have seen his investment return 7.89 per cent per annum - hardly stellar results by any standards.

The culprit of these poor returns is the high entry valuations leaving little for the investor.
Infosys is not the only one.
Look at the market euphoria in the infrastructure and real-estate sectors, where valuations didn't matter to the markets. The only thing that did was that these companies were stock-market darlings.
Unitech, one such favourite, at one time traded at a P/E of 512 times. The stock today is down 99 per cent from its peak levels.
Jai Corp at one time traded at a P/E of 458 times. Today it is down 95 per cent from peak levels.
Suzlon once traded at 170 times. It is down 95 per cent.
Aban Offshore once traded at 128 times. It is down 95 per cent.
The lesson
Valuations are important for any investment to return decent results. Quality stocks result in outperforming portfolio gains in the long run only when they are purchased at reasonable valuations.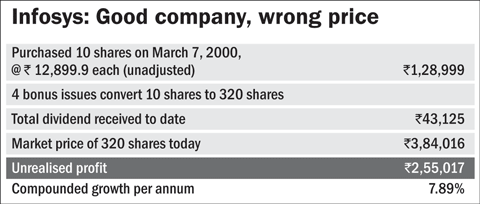 Here you can read about the other articles in this series: