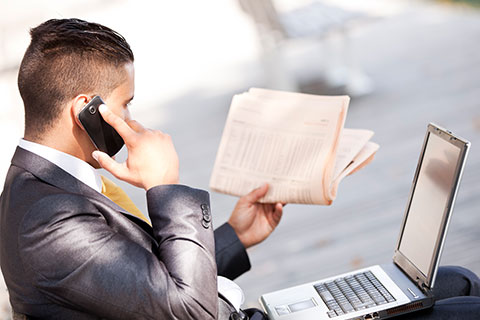 This is the first mistake that a large number of new and novice investors make. The lure of quick money drives these investors into the hands of tipsters - professed market experts who offer stock tips for money.
The problem with such tipsters is that you don't know what you are getting into, and often neither do they. The proliferation of technology has spawned new ways to scam gullible investors. Take a real-life example below in which a scamster duo offered tips on WhatsApp and by email.
Here's how the SEBI found how the scamsters lured clients.
The contents of WhatsApp messages sent by the persons/entities to one of the complainants are reproduced below:
"Sir I give u monthly 4 call 1 week one call 4 day holding call sir. I give you no free trial sir. My company Indian trading company. 25000 deposit payment profit 30% share sir. Monday 10 clock 35 paise call target today 21 target achieved sir 50000 only investment sir. 200% Sure guarantee call.. 1 ₹no loss my company sir"
"Our aim is to provide people with opportunities to make fast money with low risk in a short period of time. Long term future prediction of the market is too tough because, stock market is affected by many factors like foreign Markets, Bank policies, companies results, FII'S trend, domestic mutual funds trend & political behavior, which keep changing."
"₹50000 Registration Charge after Profit 30% Sharing From Profit Daily. Trade in 2 Mcx Lots And Earn Daily ₹25,000/- Profit Or Trade In Option With Investment Of 1 Lac And Earn 9 To 10 Lac Monthly..."
Keep in mind that these are real-life scamming techniques that the SEBI found in its investigations.
While messages like the above are intriguing, the reality about the scamsters is far, far more amusing.
When the SEBI turned the heat on the above-mentioned scamster duo, this is the response that one of the 'experts' gave:
"Right now, my age is 30 years and at the time of starting of business, I was only 28 years old and after getting huge loss in the business, I am facing financial crises. Right now, I am doing brokerage of flats & shops. I have received summons from you. But I have not any kind of documents which have demanded by you, because I did not get success in my business and I have close my business. If you have find any mistake from my side, please forgive me. Right now, health of my mother is continuously not remaining good that is why, I am submitting my reply today."
The other partner professed to "doing brokerage of unstitch cloth in the Shiv Market." These 'market experts' pocketed away `3.83 crore in subscription fees for investment advice.
The lesson here? One of the first and most sure-fire ways to lose your money is to buy stocks on tips. Don't ask your friends, broker or uncle for tips.
What should new investors do? Develop a system, a process for investing. The only way you can do it is by reading how successful investors go about picking stocks. A very good place to start is to read The Warren Buffett Way (2nd ed) by Robert Hagstrom. Read it.
Here you can read about the other articles in this series: