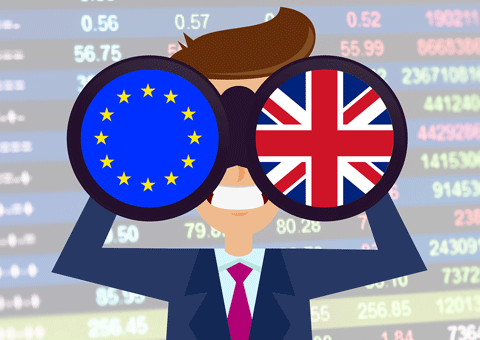 The widely tracked UK referendum has ended with a major negative surprise. The Brexit camp has won the vote. It is important to gauge the impact on stocks exposed to the EU-UK region. As markets slowly grind their way amid volatility, stock market investors are thinking of Brexit-proofing their portfolio. So which are the stocks to watch closely?
Analysts estimate four kinds of impact of the event for Indian stocks. One, companies could face demand weakness on account of the potential slowdown in the EU and the UK. Two, volatility in commodity prices and currency impact on account of the potential depreciation of the Rupee, Euro and the Pound could aggravate. Three, there could be translation losses for companies with significant operations in the UK and the EU. Four, companies that have forex loans could face a balance sheet impact on account of unhedged exposure. Here's their sector wise assessment.
Auto-pilot?
Within the automobile space, component suppliers are expected to be more adversely impacted compared to original equipment manufacturers -- with the exception of the JLR business of Tata Motors. The impact on the JLR business will depend on how trade agreements between the UK and other EU countries are rewritten. On the positive side, a depreciating pound will make JLR's exports from the UK more competitive, at least in the near-term.
"JLR constitutes about 79% and 73% of Tata Motors' consolidated revenues and EBITDA respectively. Any depreciation in the GBP would benefit JLR's revenue/margins. But depreciation of GBP will have a negative impact on $2.3 billion dollar denominated outstanding debt," said ICICI Securities.
Motherson Sumi has one plant in the UK, which supplies to JLR & Nissan. Also, movement in Euro will have a translational impact in consolidated financial statements.
Another stock to watch out for is Bharat Forge. "Exports to the European region contribute about 19% of Bharat Forge's standalone revenues. Any depreciation of the Euro against the rupee will have a negative impact on Bharat Forge's standalone financials", said ICICI Securities. Also, the company's European subsidiaries contribute approximately 60% of total revenue from subsidiaries. Movement in the Euro will have a translational impact on consolidated financial statements.
"Maruti Suzuki could be negatively impacted by a stronger Japanese Yen versus our expectations. A 10% appreciation in JPY versus INR will impact MSIL's EBITDA margin by 90 bps and EPS by 6-7%. Our current estimate for JPY-INR is 0.6 for FY2017 and FY2018," said Kotak Institutional Equities.
Pharma impact
The European market accounts for around 12% of India's total exports of pharmaceuticals. Of this, the share of the UK is 3.5%. Therefore, the sector is unlikely to be significantly affected, but companies such as Aurobindo and Wockhardt, with higher exposure to Europe, will see some impact, said CRISIL.
Another stock being heavily discussed is Ipca. "Brexit led currency volatility should have limited impact on India pharma companies as exposure to the EU is less than 10% barring Torrent and Ipca, and here too the businesses are either loss making or contribute a small chunk to overall profits...Ipca remains the most vulnerable given the approximately15% exposure to UK and a further 12% to Africa and the CIS besides sales in South East Asia and Middle East," said JM Financial Institutional Securities.
Tech that
For IT services, Europe (including the UK) accounts for around 29% of total exports. The UK alone accounts for about 17% of overall exports. The economic uncertainty in the EU and the consequent impact on discretionary spends such as IT would, therefore, hurt domestic software companies. The expenses of these companies may also go up if mobility of professionals between the UK and the EU is restricted. Revenue denominated in Pounds and Euros accounted for only 6.6% and 9.3%, respectively, of Infosys' revenues in fiscal 2016. The corresponding percentages are a tad higher at 13-14% and 7-8% of revenues, respectively, for TCS and Wipro according to CRISIL.
Kotak Institutional Equities feels that for Indian IT, the immediate impact could be through the currency route - weaker Euro and GBP versus the INR although some of it could be offset by stronger USD against the INR. "...the medium-term impact could be through lower revenues as companies, particularly banks, in EU and UK review their growth and investment strategies," it added.
Time to prove mettle?
Metal companies will see some earnings risks from weaker-than-expected metal prices due to poor global demand. Although INR weakness against the USD will partly offset the impact of weaker global metal prices, analysts say a stronger USD is typically bearish for metals. Tata Steel could see medium-term negative impact if and when import duties emerge on trade between the EU and UK, post the UK leaving the EU.
"Currently, about 12% of the steel produced by Tata Steel's UK operations is exported to the other EU members. With Brexit, these exports may face higher import tariffs. Overall European operations contribute about 52% to Tata Steel's consolidated revenues," ICICI Securities said.