R Srinivasan, the fund manager of SBI Small & Midcap Fund, says the willingness of the fund house to spend time and effort the sparsely covered space in search of excess returns helped.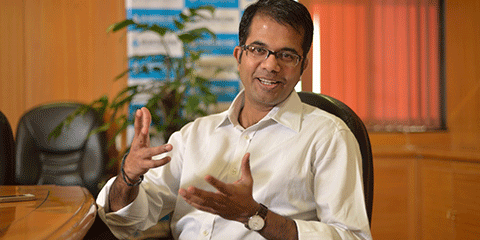 The fund is the top performer over three years in the small-cap category. What has led to this outperformance?
For one, the whole category has done well; there has been some polarisation across the market in favour of small and mid caps and this trend helped us as well. Two, the fund started with a small corpus which enabled it to go lower down the capitalisation curve, where some excellent research-arbitrage opportunities existed. Third and equally important was our willingness, as a house, to spend time and effort on this sparsely covered space in search of excess returns. Specifically, top return contributors (among holdings) over the last 2.3 years, since we started managing it as a small-cap fund, are D-Link India, Relaxo Footwears, Ramkrishna Forgings, Techno Electric and Alembic Pharma, in that order.
The fund has also contained downside well in the last one year. How have you managed this?
This was not driven by any conscious strategy. Investors should view this as a high-risk product.
What kind of stocks enter your portfolio? What kind of stocks never do?
We need to own a minimum of 50 per cent in small caps (400th stock onwards in terms of market-cap rank) and a minimum of 30 per cent in mid caps (100th to the 400th stock in terms of market-cap rank). We are also allowed a maximum of 10 per cent in large caps. That practically means the entire market but within the above-mentioned portfolio construction constraint. Our stock-selection philosophy looks at five factors - competitive advantage, return on capital, growth, management and valuations; the decision to pick a stock is a function of the relative strength of these factors, some of which involve a trade-off.
When do you decide to sell a stock?
Three occasions. One, when there is a better opportunity (since we do not take cash calls). Two, when our investment thesis goes for a toss. And, three, when the stock seems overpriced.
Since small-cap funds are vulnerable to volatility, how do you manage volatility in this fund?
We do not.
How have you positioned your portfolio for the coming times?
We run a bottom-up philosophy agnostic to what we may think about markets in the short term. It will be our endeavour to try and generate a return of 20 per cent over time.
This interview appeared in the April 2016 Issue of Mutual Fund Insight.