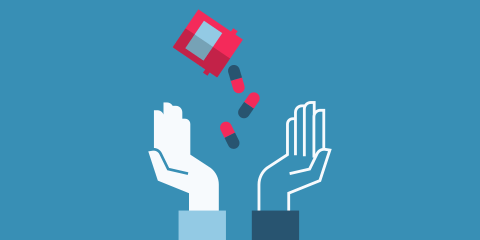 The pharmaceutical sector has had a successful run for quite some time in the markets. A strengthening ANDA (acronym for Abbreviated New Drug Application; an application for generic drug approval in the US) portfolio and higher earnings growth visibility have been the main boosters for the pharma sector's outperformance.
Big pharma companies, like Sun Pharma, Lupin, Dr. Reddy's, have been in high demand and are market favourites. High earnings visibility and secular earnings growth meant that large-cap pharma stocks were preferred over their mid-rung peers. This has taken valuations of large-cap pharma stocks to heated levels.
On the other hand, the often-ignored mid-rung pharma stocks have been chugging along, increasing their earnings visibility with a steady build-up of their ANDA portfolios. A spate of mid-rung pharma companies, in recent times, has seen a higher rate of ANDA approvals as compared to their larger peers. Aurobindo Pharma tops the list of highest ANDA approvals among Indian firms in the first half of this calendar year, with 19 approvals so far. Almebic Pharma is third in the list of highest ANDA approvals this year (behind Lupin) with nine approvals, followed by eight of Glenmark (see the chart below).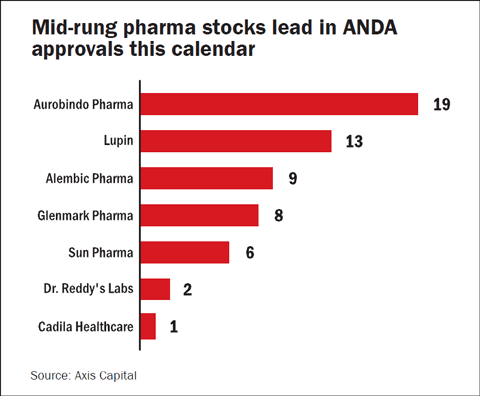 Even cumulatively, mid-rung pharma companies are racing ahead with higher number of ANDA filings - even ahead of larger players. Aurobindo Pharma again tops the list with a pipeline of 178 ANDAs followed by Cadila's 165 (see the second chart below).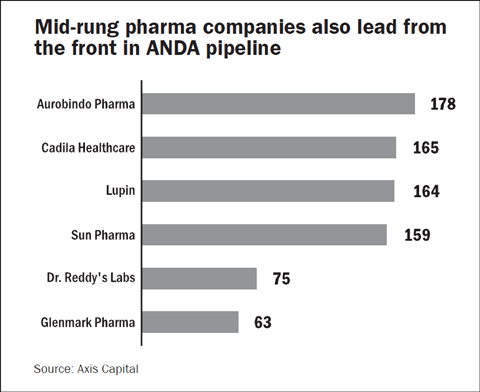 Another advantage going mid-rung pharma companies' way is valuations. S&P BSE Healthcare index trades at 43 times earnings. Large-cap pharma stocks too trade in a similar range. In contrast, Aurobindo Pharma trades at 30.5 times earnings, Cadila at 32 times earnings and Torrent at 28 times earnings. This begs the question: is it the time for mid-rung pharma stocks to take the lead?