Apollo Hospitals Enterprise
The largest listed healthcare company in India runs hospitals, pharmacies and an insurance company. Apollo owns 53 hospitals with a bed capacity of 9,015 beds managed through own, subsidiaries and joint ventures and 1,664 pharmacy stores. The pharmacy business which represented 30 per cent of the revenue in FY-14 had low net margin of 2.2 per cent but a yet fast growing business for Apollo. While hospital has generated a good net margin of 17 per cent.
Fortis Healthcare
An integrated healthcare service provider has presence in 5 countries mainly in Asia. The company operates around 70 healthcare facilities with 5,000 installed beds out which almost 60 per cent has grown from acquisitions. The company has been struggling in the past few years. It has sold many of it international business in the recent past which were incurring losses. India business is better margin business for Fortis.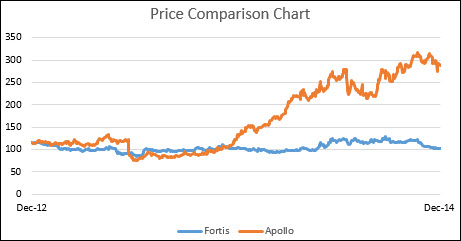 Apollo Hospitals has grown organically by reinvesting in new projects and segments while Fortis Healthcare's growth has come on the back of aggressive acquisitions and therefore has struggled in the recent two years. Apollo is counting on the retail pharmacy and other related business to grow as its hospital business is already doing good. Fortis is trying to improve the margins and grow through restructuring like selling loss making international ventures and recent changes in management.