Sometime before the General Elections earlier this year, a news spoof programme interviewed a make-believe Narendra Modi about his economic model. The impersonator Modi would repeatedly point out: "Roads, Highways, Infrastructure!", "Roads, Highways, Infrastructure!"
The Government will spend over ₹60,000 crores on direct infrastructure investments, ports, special economic zones and subways. Road projects have received special attention. The FM has allocated a whopping ₹37,850 crore for roads that will see a target of 8,500 km of national highways built in the current financial year. 16 new port projects are targeted to come up this year that is likely to bring private investment of close to ₹80,000 crore.
The market is optimistic about infrastructure turning around. The CNX Infrastructure Index has gained 40 per cent in the last six months, beating the benchmark Nifty that is up by 28 per cent. Infrastructure will be among the first gainers in the Government's push to higher growth.
Engineers India
The domestic infrastructure space is littered with companies that have suffered the double-whammy of falling orders and piling up of debts in their books. Engineers India (EIL) is not one of them. EIL builds infrastructure for the oil and gas sector. When EIL faced slowdown in the infrastructure creation in its sector, it decided to expand its services in consultancy especially in international projects. That has helped it stay on top, as consultancy is a much more profitable business with margins of 35 per cent. Consultancy now brings in close to 60 per cent of EIL's revenues.
The Congress-led Government on its last legs gave clearances for investments in the oil and gas sector to the tune of $11.3 billion. That should perk up activity. According to the EIL management, an improvement could be visible by the second half of this year and in the following.
EIL trades close to ₹242 per share. Cash and investments total ₹75 per share (FY14). Exclude cash and investments and the business is available at 11.6x, much lower than the quoted PE of 19.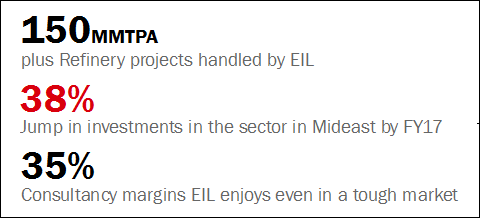 Finolex Cables
Finolex's fortunes are tied to economic activity. Around 85 per cent of demand for its products comes from construction, industrial, power distribution and auto, so any improvement will show in Finolex's sales. The company management has guided 15 per cent volume growth in electrical cables between FY14-16. That is dependent on corporate capex picking up. Finolex will also benefit from the Government's increased focus on power transmission and distribution and better rail connectivity.
Finolex's other strengths are its pricing power (its cables are priced at 3-4 per cent above peers) in a highly commoditised product category, strong brand recognition, high return ratios and low debt-equity ratio.
Its entry into switchgears and CFLs seeks to leverage its brand into newer categories. Finolex has compounded its earnings per share by 36 per cent in the last three years, one of the toughest business environments in recent times. Buy and hold.