Incorporated in 1918 as 'The Behar Journals Limited', Hindustan Media Venture (HMVL) is into print media and is the Hindi division and subsidiary of the HT Media group, publishers of the English daily Hindustan Times. The company publishes 'Hindustan', the second largest daily newspaper in India with four editions and 113 sub editions. HMVL also publishes two hindi magazines: 'Nandan', a children's magazine and 'Kadambini', a general interest magazine. In 2009, the company acquired the Hindi business' from HT Media along with the daily 'Hindustan', besides the two magazines Nandan' and Kadambini. The editions are spread across Delhi, Bihar, Jharkhand, Uttar Pradesh and Chandigarh.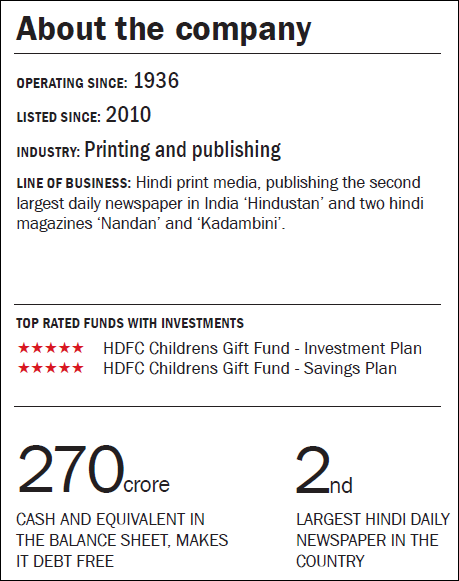 Strength
Hindustan has a strong brand name along with wide presence and popularity. In terms of readership it has maintained the number one spot in Bihar, Jharkhand and Uttarakhand and is on the second spot in Delhi and Uttar Pradesh. According to IRS 2013, Hindustan is the second largest daily Hindi newspaper in India with readership of 14.25 million. The company also leverages from its website www.livehindustan.com to exploit the tech savvy Hindi readers on the web, which has made the website a hit with its focus on regional content.
With its dominant presence in the most populous regions of the country, it also has witnessed a strong double digit growth in the revenues from advertisings. The outcome: HMVL has managed to push up both the advertising volume and the yield. Given the growth phase of the company in Uttar Pradesh and Delhi; this growth is likely to maintain.
The company has a neat, debt free and strong balance sheet with ₹270 crore cash and equivalent. The company has generated free cash flows in the last three years which it can effectively utilise towards capital expansion to venture into new regions to increase its presence.
Growth drivers
Growth in newspaper readership is directly proportional to growth in literacy rate. With relatively low literacy rate, India still has a long way to go. A growing population, rising literacy rate; the scope for growth for newspapers is still immense. Moreover, despite the surge in the usage of smartphones and accessing news on hand-held devices, majority of the population prefers to read the newspaper in physical form. Besides, the industry is still under penetrated as newspaper reach in urban areas is only 42 per cent and in the rural areas 21 per cent, which translates a huge untapped market for HMVL.
HMVL's Hindustan is at number two in Uttar Pradesh and there is room for further growth. The company has started focusing in the state, with new initiatives that are yet to bear fruit. HMVL has achieved breakeven in FY14 and is eying for much better margins in the future, with its focus on brand building. Rise in margins coupled with rising volumes, UP will start contributing heavily to the company's books. The re-launch of the Kanpur edition, is a step towards capturing new territory and strengthening its presence in markets where it is present.
With the overall economy on the path of improvement and consumer goods still driving the markets, advertising business is only going to improve. Advertising wars between consumer-related products will increase advertising volume and also the yield per advertisement.
Concerns
HMVL has witnessed exceptional growth in volume and advertisement yield in Bihar but this may come under pressure due to tough competition by the DB Corp. DB Corp entered the Bihar market a few years back and has started expanding its operations in the state, posing increasing competition to Hindustan.
Further, the cost side can be a concern, due to the rise in the paper cost. The continued rupee depreciation may escalate the cost of newsprint. Lastly, there may be growth in the overall readership due to rise in literacy and up-gradation in lifestyle but there can be a section which may move on to internet-based news reading with the advent of 4G services.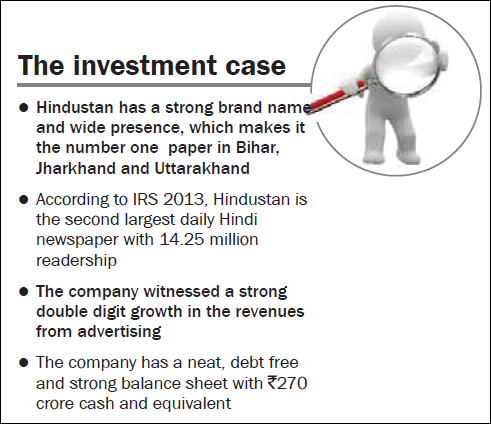 Financials
The company has a rich balance sheet with ₹270 crore cash and equivalent. HMVL has witnessed an exceptional annualised growth in revenues of 45 per cent since FY10 when it took over the Hindi division of its parent company HT Media. Cash inflow from operating activities has grown in line with the operating profit which is a healthy sign. The margins have improved from 9 per cent in FY10 to 15 per cent in FY14 due to better yield on advertising. Receivable days have improved from 82 days in FY10 to 43 days in FY14 but this was compensated by worsening payable days from 144 days to 48 days during the same period.
Valuations
The overall market is at all time high and is at a relatively high valuation but HMVL is still a value stock. The stock is trading at price to earnings multiple of 9.9 which is at 30 per cent discount to its 5-year median of 14 and this is lowest among its peers DB Corp and Jagran Prakashan which have PE of 19 and 17 respectively. Again, current price to book of 1.76 is 25 per cent discount to 5-year average. With an enterprise value of ₹884 crore against its market capitalisation of ₹1,134 crore makes it an attractively valued. HMVL at current valuation is a strong long term buy for the current market situations.