The Jammu and Kashmir Bank (JKB) is a private sector bank which was formed in 1938. The J&K state government holds a majority 53 per cent, yet this bank is classified as a private sector bank, which is one of its kind in the country. The bank functions as a universal bank in J&K and as a specialised bank in the rest of the country.
JKB is also the only private sector bank in India which is designated as RBI's agent for banking business. Headquartered in Srinagar, JKB is the official banking business handler for the state government and also carries out the banking business of the Central Government, besides collecting central taxes for CBDT. JKB operates on the principle of 'socially empowering banking' and seeks to deliver innovative financial solutions for households and small and medium enterprises.
Till the end of FY13, the bank had 689 branches out of which 110 were outside J&K. The branches in JKB account for 64 per cent of the total deposits and 39 per cent of the total advances. The total loan book of the bank stood at ₹39,200 crore and total deposits at ₹64,220 crore as on FY13-end. JKB has a market share of 66 per cent in advance and 64 per cent in deposits in J&K. By the end of Q2 FY13, the number of branches had reached to 754. JKB has an uninterrupted track record of profits and dividends for four decades.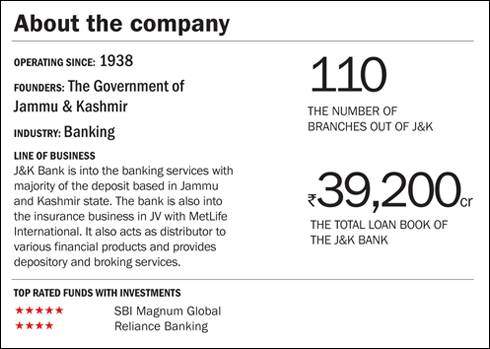 Strengths
JKB has a strategic advantage of being a owned by the Jammu and Kashmir State Government. The bank operates in a region which has always been difficult for other players to enter into, which has helped it capture the largest market share amongst banks in the state. As it performs all the banking business of the state and central government, the bank has build up a strong CASA (Current Account, Saving Account) ratio of 39 per cent. High CASA ratio has ensured to maintain the cost of deposits as low as 6.6 per cent.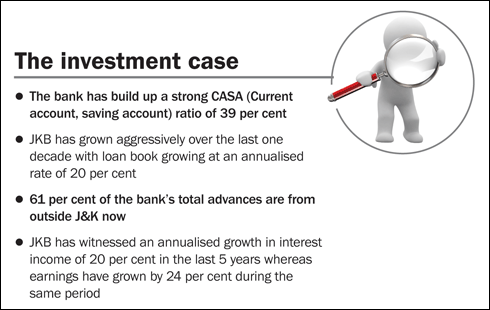 All round growth. JKB has grown aggressively over the last one decade with its loan book growing at an annualised 20 per cent rate. This growth has come with a healthy gross NPA (non performing assets) of 1.7 per cent and net NPA of 0.20 per cent of the advances and is the second lowest in the banking sector. Net Interest Margin (NIM) as per the 2nd quarter of FY13 was at 4.33 per cent which is again the highest in the banking sector, which was possible because of the high CASA ratio of the bank. High NIM coupled with very low cost to income ratio of 35 per cent has led to a wide profit margin of 17 per cent.
Business expansion. JKB has focused on expansion through a rapid increase in multi-delivery channels. The extensive expansion of business units initiated in FY 2012-13 resulted in the addition 82 business units to widen the bank's network to 685 as at the end of March 2013. Similarly, 105 new ATMs were added during the last fiscal to take the total ATM network to 613 on March 31, 2013. Mobile banking services were also introduced during FY 2012-13 to provide customers more accessibility and convenience.
Strategic credit assessment. The bank's credit assessment is commendable as is reflected by the low NPAs. The bank has benefited from small ticket size loan to various small scale industries like the carpet industry, art and crafts, sericulture and apple growers which have grown aggressively because of better productivity. The small loan size with strategic credit assessment has resulted in low defaults for the bank.
Compliant to all norms. JKB is well-equipped with the highest provision coverage ratio amongst banks with 92 per cent and hence it does not face the risk of sudden deterioration of its assets. The capital adequacy ratio, a risk management indicator, is a high at 13.2 per cent, and complies well with the upcoming Basel III norms. This ensures that it will not face equity dilution.
Growth drivers
The state of Jammu and Kashmir is growing with tourism and micro-to-medium scale industries, which will increase and enhance credit growth. The uncertainties of terrorism have gone down significantly in the state, which will encourage industries to expand and grow as peace is maintained in the valley.
Moreover, JKB is growing its network outside J&K and major loan disbursement, accounting for 61 per cent of the bank's total advances, is now coming from outside J&K. The bank is focussing on the comparatively small loan size mainly with spotlight on SME and agricultural loans, short-term working capital loans and corporate loans outside J&K state which is driving the India growth story.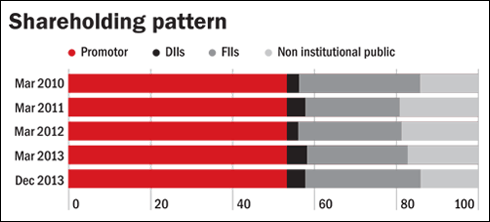 Concerns
One of the major concerns is the high regional exposure to the state of J&K as it accounts for the majority of the business. Any adverse affect on the state such as political instability, natural calamities, and terrorist activities can impact the bank's business.
Like other banks, JKB has concerns over economic slowdown, coupled with high interest rates by the RBI. These sectoral problems can affect JKB which till now has managed to be shielded with high growth.
Another concern includes the penetration of the private players. The presence of other private sector banks has gone up with J&K being one of the most untapped markets in India. Banks like HDFC Bank and ICICI Bank have opened 56 and 15 new branches, respectively, in the past 3 years. However, JKB continues to have enough room to continue its growth pace.
Financials
JKB has witnessed an annualised growth in interest income of 20 per cent in the last 5 years whereas earnings have grown by 24 per cent for the same period. Return on assets has been the highest among its peers with 1.86 per cent and return on net worth has grown by 6.8 per cent point to 24 per cent in FY-13 since FY07.
Valuation
The stock is currently quoting at ₹1,353, which is a drop from its recent all time high price of ₹1,496 in December 2013. Its price to book stands at 1.20 which is close to its 10-year average of 1.18. With dividend share of ₹50 per share, the dividend yield translates to 3.7 per cent and is attractive. Given the cyclicality of the banking sector and regional play of JKB we think the stock has a high-risk high-return aspect. Invest with a long term horizon.