Rashtriya Chemicals and Fertilizers (RCF) operates in two segments: fertilizer and industrial products. The fertilizer segment markets under the trade name NP & NPK complexes under the Suphala 15:15:15 brand, Ujjwala urea, Microla micronutrients and Biola and Sujala brands. The industrial segment produces methanol, methylamines and derivatives, ammonium nitrate, sodium nitrate/nitrite, ammonium bi-carbonate and formic acid. The company has two plants in Maharashtra with an annual installed capacity of manufacturing over 2 MMT of urea, over 1.4 MMT of ammonia, 0.4 MMT of complex fertilizers and 72,600 MT of methanol amongst others.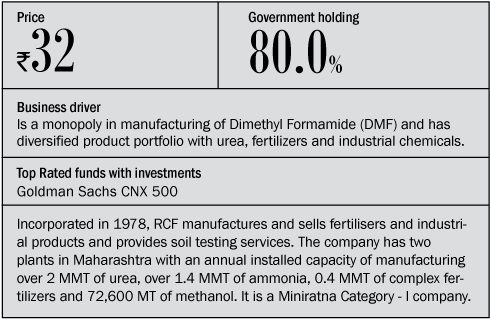 Strengths
RCF has monopoly in manufacturing of Dimethyl Formamide (DMF). The industrial chemicals segment produces basic chemicals such as Methanol, Sodium Nitrate, Sodium Nitrite, Ammonium bicarbonate, Methylamines and Dimethylacetamide.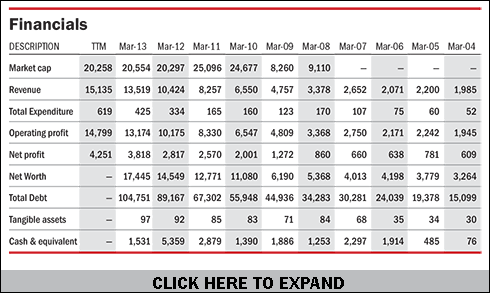 Growth is likely to come from the industrial segment which is growing faster than the fertilizer segment at an annualised rate of 14 per cent in the past 5 years. Moreover, its share to the total revenue has grown to 15 per cent in FY13, unlike the FY04-08 period when it had witnessed a fall. This turnaround is encouraging, though the fertilizer segment contributes around 86 per cent of the total revenue.
The new urea policy offers hope to the company in the backdrop of lack of domestic supply. Also, RCF has revamped its existing capacity of one of its Maharashtra plants from 1.7 million MT to 2 million MT per annum at a cost of ₹489 crore. After the expansion and revamp the production level has reached to a new high and has also reduced the energy consumption. The company will start monetising the full benefit from FY14 onwards. Moreover, the company is setting up a new brown field urea plant at the same site with a capacity of 1.27 million tonne per annum with a capital expenditure of ₹4,113 crore. The project is estimated to be commissioned in FY16.
Concerns
The company is highly dependent on the agriculture sector. Besides, pricing is a subject to regulations by the government. The current pricing model provides very little room to make any exceptional profits and hurts the bottom line.
The use of fertilizers in the later stage of the farming has far reaching consequences, especially in years when there is a draught or the sector witnesses natural calamities, leading to low off-take of fertilizers, leading to poor revenues. The company experienced this last year when the sales volume dipped to 3.24 million MT in FY13 compared to 4.08 million MT in FY12.
Dependence on government subsidies is another concern, which account for over 50 per cent of its revenues. The company faces problem of late subsidy payments by the government, which escalates the working capital requirement and poor cash flows. For instance, by end of November, 2013; ₹1,700 crore subsidy was due from the government.
Moreover, RCF is highly exposed to rupee depreciation risk. For instance, in FY14, bills have inflated more than 50 per cent mainly due to falling rupee and gas prices rising. The company has very large outstanding debtors which also exposes to risk of non realisation of revenues. Debtors amounted to ₹2,579 crore which is 37 per cent of the total revenues in FY13.
Valuation
The stock is trading at its record low valuation due to lack of strong growth factors and lack of short term relief to the sector. At current price of ₹33 price to multiple converts to 7.7 which is 50 per cent lower than its 10 year median. Price to book is 0.76 and is 60 per cent discount to 10 year average but current dividend yield of 4.5 makes it worthwhile. Invest only when the roadmap of the future growth and incentive gets clear and new urea policy starts out working.