Last month, it was the third instance of Sensex touching the 20,000 points mark. The first time it happened was on December 11, 2007. It touched the magical mark the second time after a gap of 3 years in September 2010.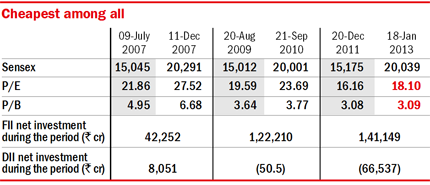 As we all know, such highs are a result of markedly improved performance of some of the companies or sectors. So, we looked at the companies listed on the Sensex to find out which were responsible for the rally during all three instances. Companies that lagged behind were also looked into. We started from the 15,000 points mark.
An interesting fact that came to light was that the current valuations are quite cheap compared to the previous two times when the Sensex reached 20,000 points. The PE of the index currently stands at 18.1 against PEs of 23.69 and 27.52 in September 2010 and December 2007, indicating that there exist more avenues for growth.