How are the valueations of Zydus Wellness?
- Aparna
Zydus Wellness has created a niche segment in the industry by introducing products like Sugar Free, Nutralite, EverYouth and Actilife. It enjoys a commendable market share and presence in this category. Its strategy of launching product extensions, variants and SKUs of already existing brands to fill the product gap and enhance its wider offering has helped in expanding its customer base.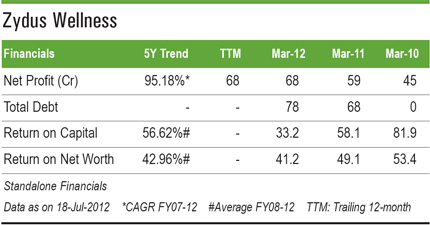 The company has maintained its debt free status over FY04-10 but during the past two years its debt level has risen, though insignificantly, and stands at `78.1 crore in FY11. Its debt-to-equity ratio was at an average of 0.4 times over two years. The return ratios of the company exhibit a great show with return on capital employed (RoCE) and return on net worth (RoNW) averaging around 56.6 per cent and 42.9 per cent, respectively, over five years. A healthy operating profit margin of 24 per cent over the past five years double-checks its sound financial health.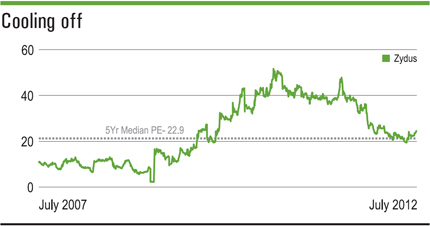 The company has witnessed a subdued performance by its major revenue contributors Sugar Free and Everyouth in the last one year. However, the management is taking corrective measures to arrest the decelerating growth trend in its major products. Currently, the stock is slightly overvalued in terms of its price-to-earnings ratio (P/E) which is trading at a premium of around 7 per cent to its five year median of 22.9.