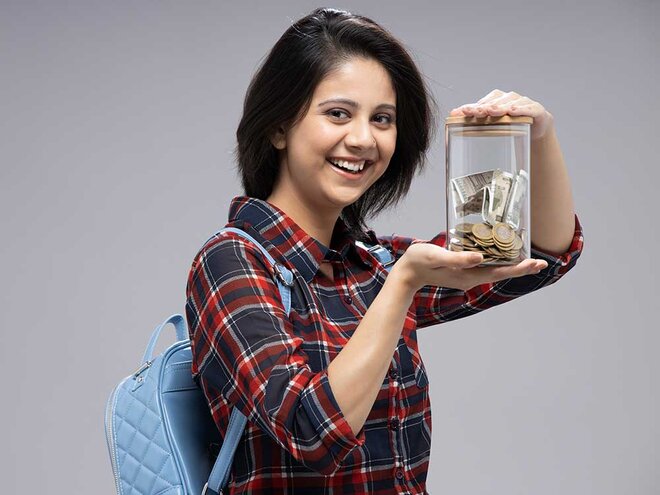 From the kitchen to the boardroom, today's women have come a long way in bridging the gender gap in almost every sphere of life. However, when it comes to investment and money-related matters, women often willingly take the back seat. But why so, readers may wonder? Are men financially more literate?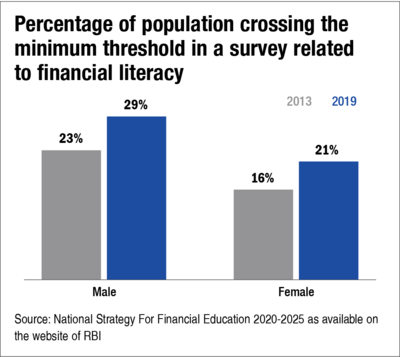 Well, it does not seem to be true, as revealed by the National Strategy For Financial Education 2020-2025 available on the website of the Reserve Bank of India (RBI). According to the paper, in a 2019 survey on assessing the level of financial literacy, only 29 per cent of males could score above the minimum threshold score as against 21 per cent of women. As depicted in the following chart, when it comes to financial literacy, men aren't much ahead of their female counterparts.
Given this, when it comes for women to assume a greater role in personal finance, it's (perhaps) just a matter of breaking some stereotypes. The more they start learning about personal finance, the more they grow in confidence.
Here is an insightful action plan that will guide women on the path of financial empowerment.
Before we begin, we'd admit that you may find us guilty of casting men and women in certain stereotyped moulds based on their financial habits at many places in this story. The idea is to simply pick up some cues from behaviours that (we believe) can commonly be observed as we devise an action plan.
1. Know what you own
How often do you come across women who are well aware of all insurance and investments done by their husbands? In many cases, male members don't share such details proactively but even if they do, women aren't much interested in such discussions. Both men and women need to change this attitude.
The recent pandemic accentuated the need for family members to be aware of all investments and insurance policies of the breadwinner. There are many instances where the earning member died prematurely but the family members couldn't stake a claim to the death benefit of his insurance policy simply because of the lack of awareness. Do you know that Life Insurance Corporation alone holds more than Rs 21,500 crore as the unclaimed money? Clearly, this is a big, burning issue.
So, consider this as the starting point of your financial journey. The first thing you need to do is to sit with your family's financial decision-maker and gain a clear understanding of all investments and insurance your family owns.
2. Organise and update
Women are believed to be better organisers than their male counterparts. They can make the best use of this skill to manage their personal finances as well. For example, many disciplined investors are bad at maintaining neatly organised and readily accessible records of their financial holdings. Therefore, many times, they miss the renewal dates.
While gaining knowledge of your family's insurance and investments, make sure of collecting and organising all the documents together - be it physically or digitally. Also, make note of renewal dates so you don't miss any dates in the future.
Also, it is not a bad idea to flip through the pages to ensure that things are updated. Insurance contracts, for instance, are long term in nature and it's possible that over the years, your address or contact detail has changed or the nomination needs to be updated. Review these details and get them updated if required.
3. Check if you are adequately insured
Simply put, insurance is your financial saviour if anything happens to the breadwinner. Insurance ensures that in case the earning stops because of the demise of the earning member, your essential needs can continue without any disruption.
So, while you organise and update your financial papers, do check the amount of the insurance cover. As a thumb rule, earning member (s) should have term life insurance with a sum assured equal to 10-12 times their annual income. If that's not the case, the insurance cover needs to be increased.
Buying insurance is no rocket science. Rather, it's pretty straightforward. Simply opt for a term-insurance plan that offers a good combination of fairly low annual premium and a high claim-settlement ratio as compared to peers. You can get these details easily on the websites of several insurance aggregators. It's worth repeating that you should opt for only TERM insurance.
4. Build up an emergency fund
An emergency fund refers to the money that you keep aside for any unexpected financial adversary, for instance, a sudden hospitalisation or a job loss. There is no substitute for being prepared for a rainy day. You always maintain some buffers of essential groceries in your house, don't you? You should do the same with money.
So, check whether the cash safely kept in your cupboard and the money parked in the bank account together make up for about eight-12 months of your household expenses. If not, build it up to that level as soon as you can.
By the time you are done with the four tasks mentioned above, you have laid a solid foundation for your personal financial plan. Oftentimes, discussions about money and personal finance directly skateboard to investing and wealth creation. But remember, even the most well-crafted investment plans can unravel in the absence of a strong foundation.
So, once you start getting involved in your family's financial matters, give yourself enough time to accomplish all the above-mentioned tasks and put your house in order. Ultimately, it will pave the way for a great start.
5. Tame your expenses and set a target for monthly savings
Now, it's time to shift your focus towards budgeting and expenditure. Preparing a budget and keeping expenses in check is at the heart of a well-functioning financial plan. In fact, any conversation about investing go in vain until there is a high degree of discipline to control expenses. And here again, the women of the house usually have an upper hand. Since women have been running the household budgets deftly for ages, they should leverage this skill for their overall financial planning.
Sit with your husband and talk about your financial aspirations and goals. There is no dearth of online calculators that will help you estimate the amount that you need to save every month to achieve them. Once you earmark your targeted monthly savings and factor in the essential (non-discretionary) monthly expenses of your house, you'll know how much you can provide for discretionary spending at the maximum.
Check how you are doing currently as against your target allocations for savings, essential expenses and discretionary spending. Identify leakages that need urgent attention and plug them. For instance, running outstandings on a credit card is a clear red flag.
Give yourself about another couple of months to set your monthly budget in order and ensure that you are saving enough.
6. Take your first step towards the world of investments
Accomplishing the first five steps is no mean feat! Your financial-literacy quotient is now much stronger than the majority of men and women.
So, here comes the final step and it is to let your saving discipline bear fruits. To put it simply, it is about putting your savings to good use so that they earn meaningful returns and generate wealth for you.
Let's keep it simple. The idea is to simply nudge you towards your first investment, get a first-hand experience and leave the rest for later. Just remember the following ground rules.
a) Any money you are investing for the next four-five years should be in fixed-income investment avenues (such as fixed deposits and debt mutual funds). That's because the stock markets are a pretty risky place to invest in for such a short duration and you may end up incurring losses. So, go for the safety of fixed-income investments. They offer lower returns but carry much lower risks and that matters a lot for investments over a short time frame.
b) For investments beyond the five-year horizon, equity mutual funds are a good option, as they offer better returns and over a longer time frame, the risk of loss reduces a lot.
So, how to start? Well, for beginners, just pick an index fund, which is a fund that invests in the Nifty 50 Index and start investing small amounts for your long-term goals (more than five years away). Start with a small amount. You can start by investing as low as Rs 500 per month. So, make a humble start and continue it for several months. It will help you understand how things work and how equity markets behave. Once you gain more confidence and develop a better understanding, aim to build a more nuanced investment portfolio. You will understand and appreciate things better by then and be prepared to take bigger investment-related decisions.
The above-mentioned roadmap will help you get started in a methodical way. It will also ensure that even if you make any investment mistakes, they won't cripple your finances. Rather, they turn into great learning experiences.
So, go on, take your first step and develop your financial acumen. There's much more to you than you can think.
Wish you a very Happy Women's Day!