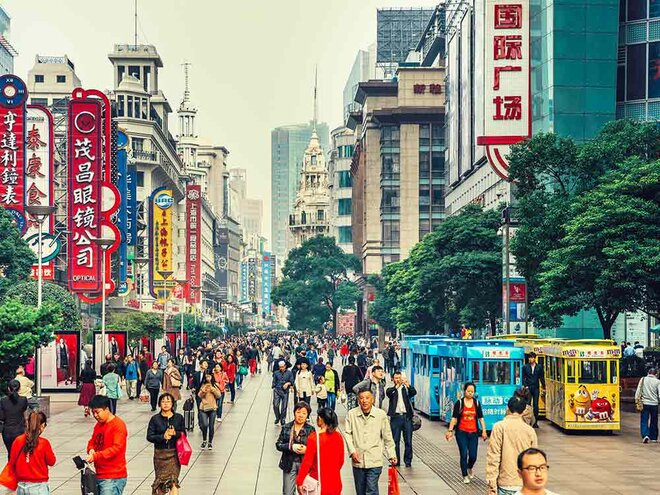 Accounting for about 30 per cent of the global manufacturing output, China has emerged as the manufacturing hub of the world over the last few decades on the back of a good business ecosystem and low labour costs. However, a host of factors, including an increase in labour costs from an initial $0.6 per hour to $4.8 per hour in 2015, a stringent business environment and huge compliance costs, have now cast a shadow on this favourable situation in China. Against this backdrop, multinational companies have come up with the 'China Plus One' strategy to diversify their businesses into other Asian countries, such as India, Bangladesh, Vietnam, Thailand, Malaysia and many more.
The strategy intends to make the global supply chain more efficient. As per a survey conducted by UBS, around 20-30 per cent of manufacturing activities may leave China and India is the primary candidate to capitalise on the situation, owing to low labour costs, a friendly business environment and government incentives.
In a bid to attract foreign investments, the Indian government has provided various incentives to many industries. For example, the PLI scheme for the steel sector is expected to bring investments of Rs 40,000 crore. As revealed by companies from various sectors such as textile, pharmaceuticals, steel and speciality chemicals, the 'China Plus One' strategy acts as a major growth catalyst. Experts have also stated that this will ultimately result in an increase in employment opportunities. Prudent government policies and macroeconomic tailwinds have put India on a solid growth trajectory.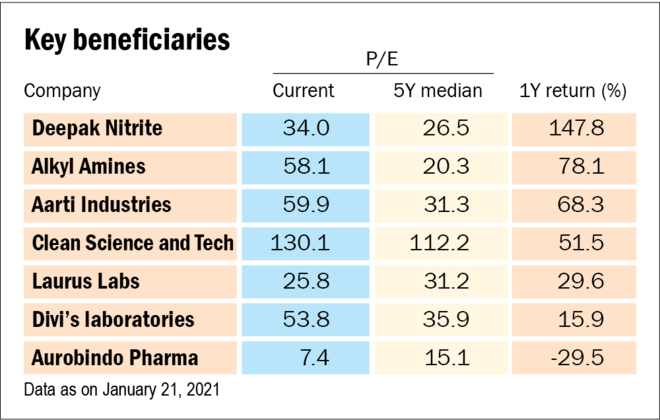 In focus: Aarti Industries
Involved in manufacturing speciality chemicals and pharmaceuticals, Aarti Industries has over 200 products and serves 400 customers worldwide. Of its 20 manufacturing plants, 15 plants manufacture speciality chemicals and five plants manufacture pharmaceuticals. The company is one of the top three global players for Nitro Chloro Benzene (NCB) and Di-chloro Benzenes (DCB). It has backward integration for most of its APIs.
Aarti Industries earned around 83 per cent of its FY21 revenue from speciality chemicals and 17 per cent from pharmaceuticals. Thanks to its global presence, the company earned 44 per cent of its FY21 revenue from exports. Over the last five years, its revenue and profits have grown by 8.4 per cent and 14.8 per cent, respectively, thereby helping its share price grow by a solid 41 per cent.
Given the tailwinds in the speciality-chemical industry, it has planned to invest around Rs 2,500- 3,000 crore in its chemical operations and Rs 350-500 crore in its pharma operations during FY22-FY24 to add over 40 products to its chemicals segment and over 50 products to the pharma segment, thereby increasing its overall operating margin. With China losing its dominance in manufacturing speciality chemicals, Aarti Industries' leadership and scale will help it expand its business rapidly in the next few years.
Also in our 'Top trends to profit from in 2022' series:
Top trends to profit from in 2022: Return to normalcy
Top trends to profit from in 2022: Clean energy & pollution control
Top trends to profit from in 2022: PSU divestment
Top trends to profit from in 2022: Digital disruption
Top trends to profit from in 2022: Electric vehicles
Top trends to profit from in 2022: Artificial intelligence and machine learning
Top trends to profit from in 2022: 5G & Telecom revival
Top trends to profit from in 2022: Ethanol