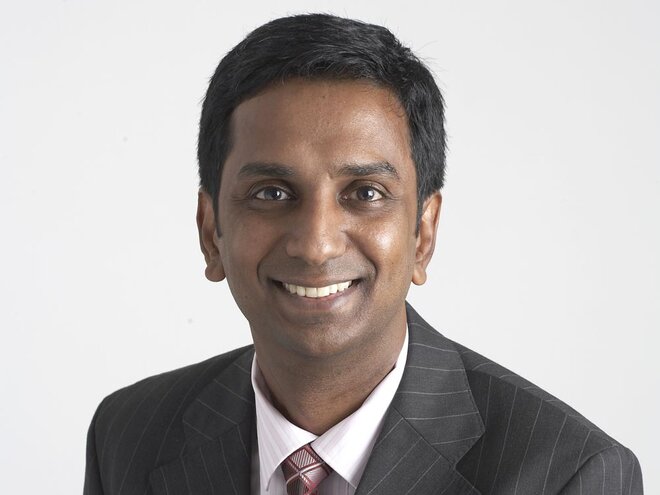 As a fund house, Franklin Templeton has been in the news because of the shutting down of six of its debt funds and the ensuing complications. This has also kept its equity franchise under the radar. We speak with Anand Radhakrishnan about the AMC's equity funds and their performance, along with other current issues.
You've been with Franklin for close to two decades now and played an important role in booting up since the beginning. What have been your learnings, investing or otherwise, as you witnessed the evolution of Indian equity markets all this while? How have they shaped the investing philosophy at Franklin?
Volatility and upheavals that we have experienced in the Indian market have more often been driven by sentiments and news flows rather than changes in fundamentals of the businesses. Markets can be very fickle and following a largely momentum-led investing strategy could promptly backfire when the tides turn. Sticking to the fundamentals of investing is hugely under-rated. We have come to believe that ensuring all the means and inputs to develop a robust investment conviction and then following it up religiously through market cycles mostly works over the long term, provided fundamental premise for that conviction continues to hold true for the investment. Being focused on one's strength, staying flexible to correct one's mistakes and remaining open to new ideas are very important traits for any successful investment team.
In the process of fine-tuning our investment philosophy of balancing growth with reasonable valuation over the years, we have come to place greater emphasis on avoiding error of commission rather than error of omission. Right from gathering information to deriving insights, every step is crucial to investment decision-making. Our investment philosophy warrants stringent quality checks in terms of fundamental strength of the business and long-term visibility and sustainability of growth, relative to the industry.
The US Fed, even though accommodative, has indicated at soaking up liquidity in the near future, as the concerns over inflation continue globally. Even in India, the CPI and WPI numbers had been higher than usual earlier this year, with the interest rate cycle likely to move upwards in the near future. How do you assess the situation and how do you see this impacting the Indian equity markets?
Growth recovery is still nascent and continues to be at the center of MPC (Monetary Policy Committee) deliberations. As reaffirmed in the policy, we continue to believe that the RBI may embark on a gradual exit from the prevailing loose monetary policy by reducing the short-term liquidity through measured increases in the VRRR (variable rate reverse repo) and by discontinuing G-SAP (Government Securities Acquisition Programme). Subsequently, we expect the RBI to narrow the policy-rate corridor through a reverse-repo hike in Q4FY22. Key risk to this assumption is weaker-than-anticipated growth, which may push policy normalisation to a later time.
Higher rates tend to negatively impact earnings. However, the improvement in corporate-earnings growth led by demand growth and economic revival should help to sufficiently offset negative impact of the moderately paced policy-normalisation glide path.
All of your diversified equity funds have made a strong comeback, delivering outstanding returns over the last year without any major overhaul taking place in the portfolio. We see that this has been primarily driven by segments such as construction and healthcare and also to a lesser extent by automobile and engineering. What, according to you, has contributed to this turnaround?
Our endeavour has been to focus on domestic cyclical sectors in our portfolios in anticipation of economic recovery even while the markets were yet to see a broad-based re-rating. The urgency for growth resurrection amid the pandemic-led slowdown accelerated the announcement of policy reform measures in the manufacturing, infrastructure, financial and social sectors, which was a key driver for the broader market rally. Additionally, supportive monetary and fiscal-policy stance and government spending continued to aid growth. Confluence of these factors boded well for market recovery and the portfolio strategy paid off as the skewness in the market reduced in 2020.
Key contribution to turnaround in our portfolio performance has emerged from our holdings in financials, materials, discretionary and industrials. Our holdings in banks, cement, auto and engineering have added to gains in our key diversified portfolios.
We see that some of your portfolios continue to be overweight in cyclicals, such as construction, engineering and automobile. With the interest rate likely to rise in the near future, which in turn affects cyclicals, are there any sectoral shifts on the anvil for your fund portfolios?
The ongoing economic recovery is being led by a mix of long-term-oriented structural policy reforms, improving domestic and global demand, and supportive monetary- and fiscal-policy stance, thereby ensuring sustainability of recovery. Cyclical sectors are at the forefront of growth during economic uptrend, and they tend to perform better during periods of moderate levels of inflation and interest rates. Presently the inflation, caused by transient factors like supply-side bottlenecks, has moderated from recent peaks. The MPC prioritises growth sustainability over inflation concerns, implying a potential delay in policy normalisation/rate hikes. These factors are conducive to domestic cyclicals and give us comfort to stay overweight.
That said, while broad focus remains cyclical sectors, our portfolios adopt a bottom-up stock-picking approach, with valuation levels and growth-sustainability factors playing important role in the investment decisions. Businesses that score well on sustainable growth and profitability form the bedrock of the portfolios. Management quality and their vision for the business are key factors determining this growth trajectory. This bottom-up approach allows identification of effective investment ideas across sectors and helps build robust, long-term-oriented portfolios which could deliver consistent performance.
We see that the weighted average P/E of all of your diversified fund portfolios is one of the lowest among your category peers. Can you please tell us about your approach to valuations?
The FT equity investment philosophy is based on growth at reasonable valuations. While growth is a key focal point, long-term sustainability of that growth is also an important screener. This future-growth factor when compared to current valuation provides a better perspective for evaluating relative expensiveness of businesses and helps filter out extravagantly priced ones during the screening process. Steering clear of high-valuation growth stocks, which offer little potential upside, helps keep portfolio valuation in check. There is also a constant endeavour to review and trim exposure to holdings which no longer fit the GARP (growth at a reasonable price) metric. The key is to ensure that one doesn't end up with a hyper-expensive portfolio where all the future growth is adequately discounted and there is no room for negative surprises. In that context, one can say with some confidence that portfolio valuation is a better predictor of future performance than the most recent period performance.
Even though we see that most of your funds' AUM has increased as a result of topping the performance charts, as per our estimates, they continue to witness net outflows despite most of the equity categories witnessing net inflows since March this year. How challenging has it been to cope with the situation wherein you constantly need to monitor the liquidity requirements while also meeting the expectations to constantly look out for opportunities to invest and deliver competitive returns?
Most of our portfolios are regularly checked/monitored for liquidity and we ensure even our most illiquid portfolios have the ability to withstand unusual client withdrawal. We also try to keep the portfolio rebalancing or other decisions independent of AUM or liquidity flows. In other words, the decisions taken to meet redemptions are intertwined with our larger goal of having a portfolio that is fit for the future.
Having said that, investors should introspect whether such churning has helped them to get better returns or has been detrimental. More often than not, we see investors/advisors redeeming out of laggards and chase performing funds, only to later realise that laggards catch up with the leaders and sometimes do even better. Hence, any decision to switch funds should be backed by forward-looking view instead of immediate past.
Franklin's funds in the mid- and small-cap space continue to lag most of their peers, despite the segment delivering strong performance since the markets recovered last year. Where do you think the funds have lagged? Have the liquidity pressures from outflows had any effect on their performance? What are the changes the funds have made to make a comeback?
Structurally supportive factors that are unfolding in the economy augur well for sustainability of domestic economic growth. The small- and mid-cap segments require a bigger thrust of economic growth for performing well. That said, what is true for domestic cyclical sectors in the large-cap space may not play out exactly that way in the mid- and small-cap segments. While narrative doesn't change in terms of improvement in asset quality for the financial sector, market perception has deterred commensurate re-rating in some of our portfolio holdings. As an example, the re-rating in mid- and small-sized banks and financial institutions did not match that of the broader financial-services sector during the last year-and-a-half. This was on scepticism around higher expected delinquencies for smaller financial institutions due to their predominant exposure to tier 2 and tier 3 region-based borrowers, triggered by the pandemic affecting ability of the small borrowers to service loans. Through the last year after initial nervousness within financials in general, now there is a realisation that uncertainty of resumption of growth is reducing. Also, asset-quality improvement is now incrementally visible in the past few quarters for smaller financial institutions. In the case of the technology sector, the uptrend in the sector has raised valuations across market capitalisations. However, sustainability of the growth uptick could be limited to only few businesses and would warrant further evaluation. The mid- and small-cap portfolios maintain an underweight exposure to the same. Similarly for the healthcare sector, pandemic-related upside for the pharmaceuticals segment was restricted to a few players despite a broader re-rating for the sector. We choose to play the segment through businesses which project a long-term growth visibility, not restricted to pandemic-related gains alone. Incremental demand improvement in the real-estate sector, along with a low-interest-rate regime and policy initiatives (RERA, tax incentives), has provided impetus to larger players. We find interesting opportunities in this space.
In conclusion, the portfolios continue to follow a bottom-up stock-selection approach with high conviction on businesses that display medium-to long-term growth sustainability. This is aimed at enhancing consistency of portfolio returns over the long term, staying put through the interim volatilities in portfolio performance.
We understand that Roshi Jain, one of your senior fund managers, has left Franklin due to some personal reasons. In that context, what was her role in the equity team management and how big a void does her departure create at the AMC?
Roshi Jain was managing some of the key equity funds on the large-cap and diversified space as well as thematic funds. Roshi joined the firm as analyst and over a period of time scaled up to manage money for investors and did that successfully. Losing an experienced team member always poses a challenge. Our team-based approach and strong investment moorings should hold us steady during such times. More importantly, we have hired two experienced fund managers, Ajay Argal and Venkatesh Sanjeevi, and they will take over the funds previously managed by Roshi. The transition in portfolio responsibility has been done smoothly and we don't see investment outcomes to be impacted negatively due to this. We also expect that the rich experience of Ajay and Venkatesh will not only benefit the funds they directly manage but the entire investment team.