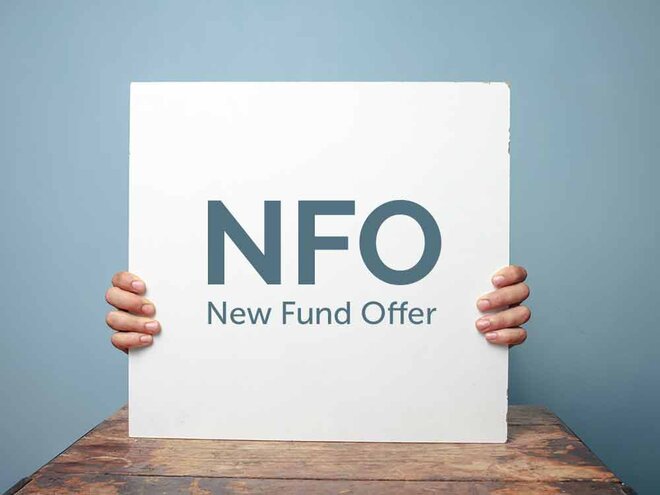 ICICI Prudential Mutual Fund came out with a new fund offer (NFO) on September 01, 2021, in the smart beta-index-fund space. Smart beta is a fusion of active and passive investing strategies wherein an index is altered by deleting or knocking off something based on one or more fundamental, technical or other filters. Globally, smart-beta products have been around for a fairly long period of time but they have recently started to catch Indian investors' attention. This mode of investing is also known as 'factor investing' because it relies on identifying the key factors and then using them to build portfolios.
"Investors looking to create wealth over the long term via multi-style factor strategy may opt to invest in ICICI Prudential Alpha Low Vol 30 ETF FOF," said Chintan Haria, Head- Product Development & Strategy, ICICI Prudential AMC.
The strategy of the new fund
While the name of the new scheme ICICI Prudential Alpha Low Vol 30 ETF FOF is long-winded for valid reasons, we break down what it really signifies in terms of the fund's objective. So, this NFO is a fund of funds (FOF) that would invest in units of ICICI Prudential Alpha Low Vol 30 ETF, an exchange-traded fund (ETF) launched in August, 2020. The latter mimics the 'Nifty Alpha Low Volatility 30 Index', a portfolio of 30 stocks selected from the Nifty 100 and the Nifty Midcap 50 indices based on two equally weighted factors - alpha (excess return) and low volatility (lower variation in price). The underlying index comprises the stocks weighted by their factor scores, with individual stock weight being capped at 5 per cent. It was largely dominated by three sectors - consumer goods (40.22), IT (23.29) and pharma (16.10) as of August, 2021 and is subject to semi-annual rebalancing.
With the FOF variant, the AMC seeks to cater to those investors who may not prefer the demat route of ETF or may not even have a demat account. But here the costs will be notably higher than those of more mainstream passive funds such as those tracking the Nifty 50. The existing ETF that comprises this fund's portfolio itself charges an expense ratio of 0.40 per cent and the expenses of the FOF will be over and above that. For your reference, the average expense ratios of the Nifty 50 ETFs and Index funds (direct plan) are only 0.08 per cent and 0.23 per cent, respectively (as of July, 2021). Thus, in terms of costs, the new fund would fare somewhere in between mainstream passive and actively managed funds.
In terms of performance, the Nifty Alpha Low Volatility 30 Index stands out as compared to bellwether indices. This, combined with a lower drawdown during the big market falls, justifies the factors that drive stock selection. However, investors should note that past performance does not guarantee future returns.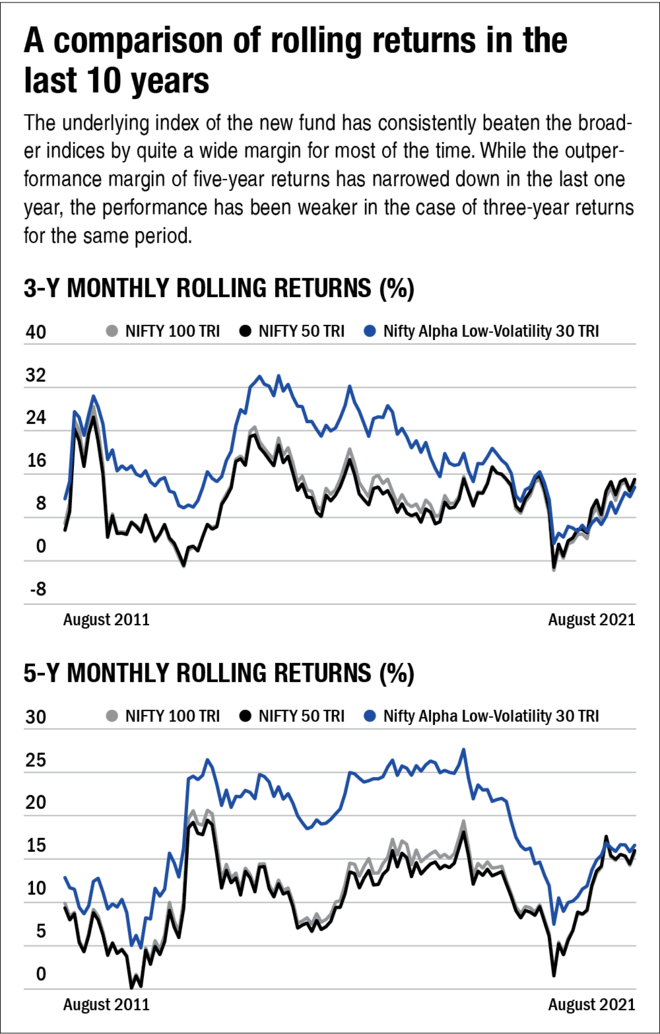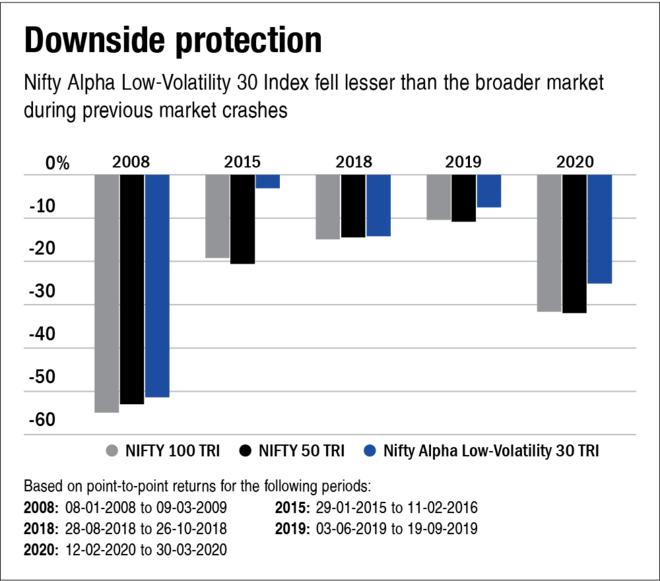 Since you will get a large-cap-heavy portfolio with this fund, replicability of the index should not be a problem. This is further validated by the fact that the target ETF of this ongoing offer has a modest one-year tracking error of 0.11 per cent. Apart from this, there is no other fund that tracks the index - Nifty Alpha Low Volatility 30. These kinds of niche strategy indices are relatively new to the Indian investing arena. Only a small number of mutual funds, managing a pretty modest amount of money, are tracking them.
About the AMC
As of July 2021, ICICI Prudential AMC had equity assets of over 1,18,000 crore spread across 25 actively managed funds. The fund house also has quite a big basket of passive funds, with the AUM totalling around Rs 22,000 crore, making it the fourth-largest AMC in the realm of passive equity funds. Most of these passive funds have been launched in the last four-five years out of which, only two funds track a strategy-based index (excluding the ETF launched last year wherein the new fund would be investing). In fact, one of these two funds,ICICI Prudential Nifty Low Vol 30 ETF - which made its debut in 2017 - is by far the biggest fund (in terms of the AUM) among all the passive funds tracking strategy indices and the lone fund as of now that tracks its target index.
The expense ratio and tracking error are two competitive edges of ICICI Prudential. The AMC has done a decent job on both the parameters, being lower than the average of other funds tracking the same index.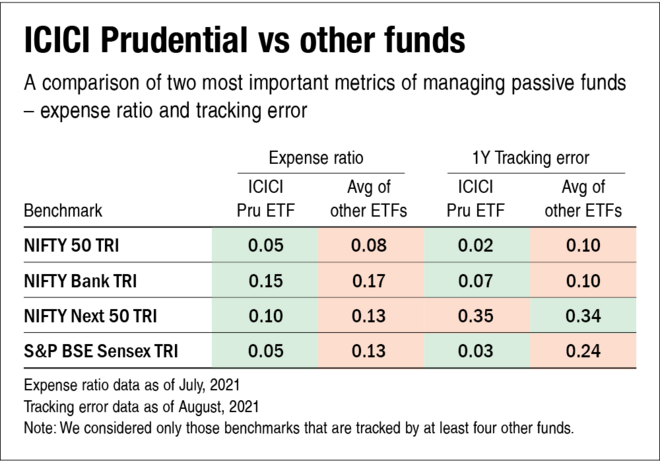 Here are the key details of the new fund offer: