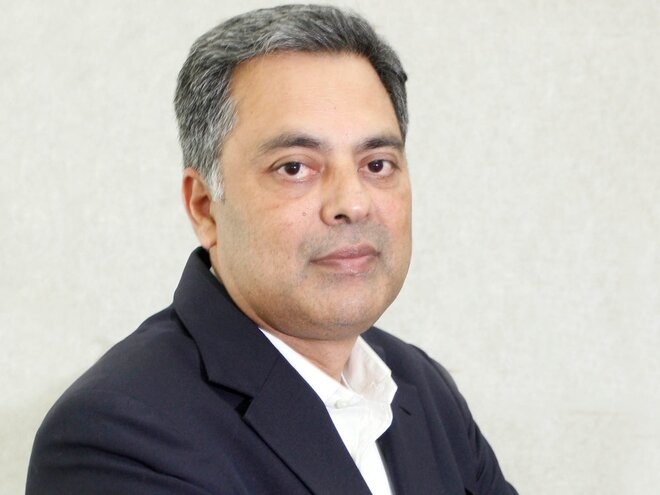 With S&P BSE Small Cap Index sporting one-year returns of over 88 per cent (as on September 6, 2021), this tricky space has again attracted investors' attention. We speak with Anoop Bhaskar, Head - Equities, IDFC AMC, about the outlook for small caps, along with how severely small businesses have been hit by the pandemic. Bhaskar also shares his assessment of the economic scenario and his investing philosophy.
Small caps have raced over the last year amid challenging times due to the pandemic. In your view, what's responsible for this?
Post a severe market correction, as we saw in March 2020, it is the segment which is the cheapest or which has fallen the most that tends to lead in the market rebound. Whether it was the market rebound in March 2009 post the Global Financial Crisis (GFC) or the pre-election rally from September 2013 and even the March 2020 rally, the small-cap segment has always led the market rebound. On a sobering note, this segment has also experienced the deepest fall during the market meltdown preceding the rally!
Given the steep rally, what's the outlook for the market and small-cap stocks in particular? How do you see their valuations?
Valuations are trending at an elevated level across all segments: large, mid and small as well as globally. As has been well discussed, central bankers, combined with governments, across the developed world had announced strong fiscal stimuli, along with monetary easing. This has been the bedrock of the current upsurge across most global markets since April 2020.
While index P/E for the small-cap segment may be high, it is also being estimated to deliver the highest growth in profitability as compared to Nifty or the mid-cap indices for FY21-23. However, in the past, when the small-cap index's trailing P/E has become higher than that of the Nifty, then danger signals of overheating of the segment have been evident. The current elevated level of the small-cap index is close to the December 2017 levels. We believe that it is surely a sign for a near-term correction vis-a-vis the large and mid-cap segments. However, for the medium term, a broad-based economic revival is expected to boost the earnings growth of the index during FY21-23. The delivery of such high-growth expectations will be a key pivot for sustaining this segment's elevated valuations going forward.
How do you assess the economic scenario currently? Is it conducive to continued growth in earnings?
The current pandemic continues to impact economies globally. As a larger share of the population gets vaccinated and as most of the COVID-related restrictions on travel, hospitality and sporting events are removed, it has shown a much-needed respite in death rates despite the rising number of cases. US, UK and most parts of continental Europe have opened and are 'demasking'. These regions are also being forecasted to report a better-than-expected pace of economic recovery. Boosted by the strong fiscal stimulus, household savings across the developed world have risen during the last 15 months, unlike the GFC when household balance sheets needed to be repaired. In addition, there has been focus on building /repairing infrastructure as well as financing new capacity build-up across sectors like semiconductors. The dual combination of strong consumer-led revival and a resurgent investment cycle is being viewed by some experts as having the potential to spark a global growth resurgence similar to the 2003-09 period. However, on the negative side, inflation fears continue to remain high. Driven by supply-chain logjams, prices across categories have risen. Whether such price inflation will manifest itself in wage inflation and bring a repeat of 1970s style inflation is a concern highlighted by other experts. China, the world's second-largest economy, is registering slowing demand and the People's Bank of China (China's central bank) is softening its liquidity stance to support stalling economic growth, in direct contrast to the developed world!
The developing world, on the other hand, faces the challenge of vaccine availability and a more restricted room for the government to offer a developed-nation-sized fiscal stimuli. India stands somewhere in the middle. With improving vaccine availability, we expect that by January to March 2022, over 70 per cent of the population should be vaccinated. Interestingly, the top 15-20 cities could reach such levels of vaccination by November-December 2021. This could boost a revival in services, the segment most impacted by the pandemic within the country and also the segment with most employment potential.
Coming to earnings growth, FY21 has been a watershed, driven by strong cost-cutting and focus on profitability. In FY21 corporate profits reached all-time highs despite negative GDP growth! The stand-out factors were a sharp improvement in margins, strong cash flow generation and record level of deleveraging. However, a bevy of factors - rising commodity prices, wage hikes, normalisation of advertising, sales promotion and inventory build-up could impact margins going forward. Clearly, sales growth will assume greater significance as life 'normalises' as fears of a third wave of the pandemic recede. Corporate-focused banks, oil and gas, and metals were the sectors that drove profit growth in FY21. The second wave has impacted individuals and MSME/SME rather than listed corporates. We believe that this could pose a temporary hiccup, though the bulge in NPAs for the banking sector could be muted in FY22 and FY23. Going forward, banks, metals to be joined by automobiles and IT services are sectors that will drive profit growth for FY21-23 period. The revival in the US and Europe also bodes well for a revival in manufacturing exports, as these regions have been traditional markets for such exports. The China+1 underlying sentiment could also boost exports. Such an uplift from exports hasn't been factored in earnings forecast across most sectors and could be a source of earnings surprise in the coming quarters.
What's your assessment of the impact of the pandemic on mid-size and small companies? Which type of companies have been worst affected? Which have been relatively resilient?
Despite the pandemic, FY21 results signalled that corporate-sector health was robust. Listed companies - large/mid or small - have been more effective in navigating the pandemic as compared to unlisted MSMEs/SMEs. Manufacturing-based MSMEs/SMEs have generally reported different degrees of revival, with most working towards normalcy. However, a substantial portion of these MSMEs/SMEs is services-based - trading, hospitality, transportation, especially school and passenger bus services, have reported a much lower degree of revival. Segments like standalone restaurants have been the worst-hit. As per some reports, almost 45-50 per cent of such eateries have closed or will close down. However, this could be a temporary phenomenon, as the real estate occupied by these will be taken up by new players post the pandemic.
Manufacturing-based businesses have generally been faster to recover than services-based companies. Segments like microfinance institutions, travel, tourism, malls and multiplexes continue to be impacted by the ongoing pandemic.
What's your stock-selection criteria? What safeguards do you apply to navigate this tricky space?
The FY18-20 period has taught us to be more circumspect on corporate turnarounds and investing in companies which are followers with no clear cost advantage. Markets and investors have punished earnings disappointment in these pockets sharply, while rewarding stable segments with steady earnings growth. Narrative building - industry structure, right to win, long runway of growth - have become common parlance with investors who primarily focus on high-quality/steady earnings (HQ/SE) segment of the market. Valuations, it appears, have become a non-issue. Every public investor wants to hold such companies forever, with little regard for the overall liquidity of the underlying portfolio. Given the strong inflows such funds have received, such a stance appears to be correct!
However, for lesser mortals, who try to balance business prospects with valuations and face uneven fund inflows, a key learning of past three years has been to keep a laser focus on the balance sheet; companies or businesses which are deleveraging have emerged as a key criterion. We view the inherent profitability and the ensuing return on invested capital (RoIC) in the context of valuations. According to us, businesses with inherently weaker RoIC (as compared to HQ/SE) would qualify for investment if they are available at reasonable valuations (below tangible book value), provided they meet the following criteria: improving trend of RoIC over the next two years with clearly identifiable drivers for the same, improving corporate governance, and steady de-leveraging with positive cash generation over the near term. Hence, for us a portfolio should mix and match between high-quality, stable-sector companies and improving metrics available in select cyclical sectors.
Earnings downgrades have been a key driver for stock underperformance. While this is tracked actively, timely action on the same is an area for improvement.
Which sectors are you bullish/bearish on? Please share with us your rationale.
Corporate-focused banks, automobile and ancillaries, metal and IT services are sectors where we have overweight across several funds. The recent disappointing results of pharmaceutical companies, driven by softness in the US generic business, is a near-term worry, while medium to longer term, we remain positive on the sector.
Corporate-focused banks have experienced less stress in their corporate book than was estimated, but exposure to MSME/SME remains an area of concern. Unsecured retail loans are another area of caution. However, strong capitalisation and revival in loan-book growth could boost profitability even after a strong FY21.
The automobile sector is going through a regulatory/technology upheaval. As such, the sector is at a crossroads. After two years of sales decline, we expect consumer demand to be strong, driven by a new cycle of product launches over the next 12-15 months. For ancillaries, exports have become an attractive option and could supplement domestic demand.
How has the last one year changed your investment worldview? What are the lessons to be drawn to deal with black swans and extreme volatility?
Investing in a pandemic, especially in the early stages, during March-April 2020 appeared unreal. While the fall during February-March appears overdone, the unpredictability of how the pandemic would play out kept one undecided to make drastic changes to the underlying portfolio.
There are a few lessons to be learnt in every crisis. However, what is learnt during a crisis, rarely, if ever, works during 'normal' times. Investing at the bottom is a skill that few amongst us possess. For others, safeguarding one's portfolio by deferring selling could itself lead to significant portfolio gains! The key learning across 2008-09 and 2020-21 has been banking and NBFCs are the most vulnerable in any crisis and one needs to be ahead of the curve to reduce them in one's portfolio rather than reacting after they have fallen.
What would be your advice to a budding investor who wants to build a portfolio of mid/small caps for the long term? What would be your list of dos and don'ts?
Small-cap outperformance is an urban legend. The lure of investing in an acorn that became the mighty oak tree is a convincing and compelling reason to spend disproportionate time in this segment. However, ignoring large caps is a mistake most investors make following the above pursuit. Large caps offer more reasonable and repeatable returns over the medium to long term. While investing in small caps, put more focus on the balance sheet than on the P&L. This will be the difference for the stock to sustain outperformance over time. Also, identifying businesses with a scale to grow is important. Despite growing, some businesses rarely move out of the small-cap segment. Lastly, do not let the size of your bets increase as the stock market moves up. The most dangerous 'influence' of the stock market - at the highest valuation/market levels drives the highest level of conviction and vice versa! Remember, the pandemic will not stay forever, so take precautions. But markets will be there, forever.