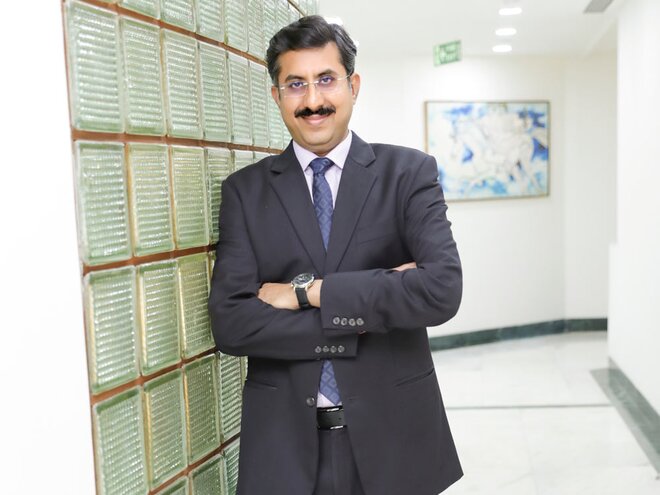 We speak with Ajay Tyagi, Executive Vice President & Fund Manager - Equity at UTI AMC, to understand what he thinks about the Union Budget and the current market scenario. He also shares with us his investment philosophy and the reason why his Flexi Cap Fund has been overweight on pharma.
Global equity markets are jittery amid rising bond yields and inflationary pressures. How do you read the situation in the Indian context?
Markets globally are highly interlinked. So, the fear of rising interest rates on account of a rising inflation and therefore its impact on equity is something which is being felt here in India as well. We have also seen our 10-year G-sec yields going up, and therefore, we are also looking at baking that into the required rate of return. So, it will ultimately have some impact on the equity markets.
But that's just one part of it. The broad theme that we all have to look at is the fact that if inflation is coming back into different economies, whether it is the US, other western economies or emerging markets, it is a positive signal for growth. And while on one side, higher inflation will lead to an impact on interest rates, it also signifies that the economies are getting back into shape.
Don't forget, the very low interest rates of the last 12 months were administered to the economies worldwide as if the economies were in the ICU. And at some stage, the patient has to come out of the ICU and start recovering. To my mind, rising interest rates are a sign of that recovery. Equity markets are basically a growth-chasing asset class and therefore if growth revives, it is a net positive for the markets even if the interest rates continue to rise.
Let's not forget the period of 2003 to 2008, one of the finest and strongest bull markets that India has witnessed in the last three decades. If you look at the beginning of that period, we were at the lowest point on our 10-year G-sec yield, at less than 5 per cent. Interest rates kept increasing through that period. Inflation also kept increasing through that period and yet we experienced one of the finest bull markets because the economy continued to grow very strongly. Therefore, while rising interest rates could be an intermediate cause of concern for the markets, if this hardening of interest rates is happening on account of strengthening of growth, I am not so worried.
Though the market reacted positively on the Union Budget, how do you see the Budget's impact over the next two to three years? Which sectors look most promising to you, keeping in mind the growth potential versus how much of that is already priced in?
That is always very difficult to say in terms of what is priced in and what is not. I would just comment here that it is almost impossible to even figure out with any amount of certainty what the markets are building in or discounting in terms of the immediate future.
Specifically on the Budget, I can say that it basically gave a ray of hope for the economy at large in terms of the government being ready to run a fairly loose fiscal policy. The present government under Mr Narendra Modi has been extremely conscious about fiscal prudence over the last six years. This is the first time that they have given space to themselves and, without worrying too much about the global rating agencies, decided to use fiscal expansion to prime the pump and kickstart growth in the economy by attacking on sectors which have a significant multiplier effect.
Although the Budget has given a clear push to the infrastructure sector, we will still not invest in this sector or the various sub sectors that are part of this theme. Our philosophy is to basically buy businesses that have the ability to create strong economic value. Such businesses typically have characteristics of high return on capital, high cash-flow generation and low-to-no debt on the balance sheet. It is our belief that persistent wealth gets created only when you're buying businesses with such economic characteristics and we don't want to dilute this focus.
If you look at the businesses in the infrastructure sector, the characteristics that I mentioned above are very rare. For this reason, even if we feel that the Budget will positively impact few of the companies in such sectors and the companies there will grow at a significant pace for a few quarters, we will still not invest in them because of their inability to create sustainable wealth.
How much do the current market valuations worry you? At a P/E ratio of well over 40, UTI Flexi Cap Fund has the most richly valued portfolio among its peers. Isn't that too expensive?
The markets are clearly trading at around 25-30 per cent higher than the average valuations of the last 10-15 years. So, to that extent, the markets are expensive. And I would say, almost every sector in the market is expensive.
Our fund itself is expensive but there are a few things that one needs to know and understand when we talk about the valuations of our fund. Our portfolio has always looked more expensive than the market when compared on a measure like P/E. And there is a fundamental reason for it. Businesses that demonstrate high ROCEs (return on capital employed) and high growth with a high degree of persistence will always command a high P/E. If you deconstruct the P/E multiple, it is a measure which primarily depends on just two factors, ROCE and growth. If these two factors are high, the P/E multiple of that business will be high and vice versa. While studying our portfolio, you would realise that the businesses which we hold are certainly in the top quartile and possibly in the top decile in terms of growth and ROCE. Therefore, they will have a high P/E multiple.
But let me tell you that businesses which have a high return on capital also generate very high cash flows. And because they generate very strong cash flows, one should measure them on price-to-cash flows instead of price-to-earnings. If you calculate the price-to-cash flow multiple for our portfolio, it is comparable to the market. The equation suddenly changes.
I believe what drives the value for any business is its cash flows and not its accounting earnings, which are often vulnerable to manipulation. So, it is because of this very strong cash-generating ability of the businesses that they look expensive on the P/E multiple but they are actually not expensive on the price-to-cash-flow multiple.
It is often said that the risk emanates from the unexpected because you aren't prepared for it. What are the potential risk factors that worry you the most in the current context?
I will leave aside the often-talked factor, which is the second wave of COVID-19 infections. It is a risk which all investors already have in mind.
The one factor that can be disruptive for the Indian economy is a persistent increase in commodity prices across the board - not just crude-oil prices but other commodities as well. Since India is a big importer of many commodities, a spike in global commodity prices upset India's external balances. It basically disrupts our trade balance and can lead to currency depreciation. Inflation also goes up in such a scenario, both on account of the rising commodity prices and also the double whammy of falling currency. And finally, high inflation may lead to rising interest rates.
Now all of this is fine if commodity prices keep moving up in a measured manner. So, if inflation keeps moving up in a narrow band and let's say the global commodity prices keep moving up slowly and gradually, then it's all fine. But if it's a sudden spike - let's say hypothetically if the crude oil price suddenly jumps to $80 or $90 - it will have a significant negative impact on India.
That's the kind of scenario which I always feel is extremely negative for India. Of course, it is a low-probability event right now, but if it were to happen, then it's bad for a net importer like India.
You took charge of UTI Flexi Cap at the start of 2016 and the first two years didn't turn out to be very good on the performance front. But the fund made a strong comeback in 2018 and has been performing well since then. Tell us about the misses of those two years and what helped you turn the tables?
There are two things here. One is that when I took charge in 2016, for the first few quarters, we were trying to restructure the portfolio. The portfolio had to be moved from how it was managed pre-2016 towards the current set of philosophy and it took its own time.
The second reason is that 2016 and 2017 were also the years of a very sharp rally in value-oriented stocks and in mid caps and small caps. Whenever the market starts to reward poor-quality businesses or whenever there is a bit of irrational rally in certain parts of the market, which was seen in 2016 and 2017 in case of small and mid caps, we will underperform. This is because we never buy stocks or invest in sectors just because there is an expectation that they would do well over the next few months and quarters. On the contrary, we are extremely long-term-oriented in our thinking and all that matters to us is understanding and building conviction around a company's growth and sustenance of strong ROCE and cash flows over the medium to long term. Our strategy is completely bottom-up and is driven by the ability of businesses to create economic value, which in turn is the source of sustainable wealth creation.
You had been overweight on the healthcare sector even before the pandemic. What attracts you to it so much? Are you still bullish after a huge rally last year?
Healthcare is a broad industry which covers businesses across a wide spectrum like pharmaceuticals, hospitals, diagnostics, etc. Our per-capita spend on pharmaceuticals is just $20 per annum. The same number for the US is about $1,100 per annum; for developed markets, it is about $800 per annum; and for emerging markets, $200 per annum. So, we are a fraction of the emerging market and a fraction of a fraction of the developed market. And that is why we keep hearing stories of many people being unable to afford medication and/ or hospitalisation.
But the good news is as we have seen the per-capita income and the disposable income rising, spend towards healthcare is also rising. Don't forget that all of us want to live long and live healthy. So, all of us have a very high propensity to spend on our health. I would conjecture that as the per-capita income increases, spend towards healthcare would increase disproportionately, and it will continue to do so for at least a couple of decades to come, at least till the time our trends are comparable to that of the emerging markets at the very least. This makes us very bullish on healthcare as a theme. That is why we have a very high exposure to pharmaceuticals and we also have an exposure to healthcare services, where we are basically investing in diagnostic companies.
What's your opinion on cryptocurrencies as an investment alternative? Do they have a place in an investor's portfolio?
I don't understand cryptocurrencies at all. I believe that the surest way to value any asset class is to look at the cash flows that it is expected to generate over the life of that asset. So, if you ask me to value a cryptocurrency or a piece of art, I just wouldn't know how to value it. Therefore, it's difficult for me to even offer an opinion on cryptos.
The portfolio turnover ratio of your fund is among the lowest in the category. What excites you the most about a stock and from where do you derive your conviction to hold onto it?
As I mentioned, we populate our portfolio not on the basis of the broad trends in the market as they may unfold over the next few quarters but on the basis of the outcomes of businesses over the next three to five years. Our ability to construct our portfolio after looking at the characteristics of the business and thinking like the owner of the business rather than somebody who's looking at buying the stock and flipping it over in some time is a key reason for a very low portfolio-turnover ratio.
So, what excites us and what gives us conviction is the durability of economic value creation and sustenance of long-term growth. And we want both of them, not just either one of them. If these factors are there in the business, we would typically start building exposure slowly and gradually. We stay convinced by rechecking our hypothesis every now and then. And if we remain convinced, we do not try to sell out or book profits, we will simply continue holding that business for a fairly long period of time.
Though your fund is among the oldest in the category, significant growth in its AUM - over three times since January 2016 - has been seen only during the last five years since you started managing it. How challenging has it become to manage a Rs 15,000 crore fund?
We always have our focus on being able to scale up the AUM of the fund without compromising on our core philosophy. Our core philosophy is about owning a business rather than owning stocks. It is about wealth creation happening on account of the underlying economic value getting created in the business. It is not about buying cheap and selling high. It is also not about rotating sectors or finding the next turnaround story or figuring out which sectors would do well in the next few quarters. And therefore, our churn ratio remains very low.
If the churn ratio is very low, the ability to scale up the strategy increases manifold. And I think this is giving us the strength to scale up the AUM without compromising on our philosophy and without losing sleep.
What's your opinion on cryptocurrencies as an investment alternative? Do they have a place in an investor's portfolio?
I don't understand cryptocurrencies at all. I believe that the surest way to value any asset class is to look at the cash flows that it is expected to generate over the life of that asset. So, if you ask me to value a cryptocurrency or a piece of art, I just wouldn't know how to value it. Therefore, it's difficult for me to even offer an opinion on cryptos.