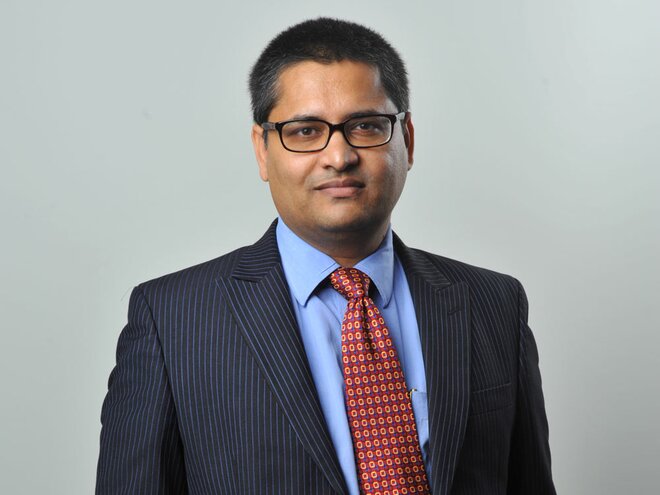 The recent market rally has given mid and small caps a new lease of life. We speak to Anupam Tiwari, Fund Manager, Axis Small Cap Fund about the sustainability of the rally. He also tells us how he manages this fund, why he is bullish on construction and how the pandemic has impacted smaller companies.
With the BSE Small Cap index gaining over 17 per cent in three months, how worried are you about the market running up too fast, too soon? How do you see the current valuations in the mid- and small-cap space?
Markets have seen a stellar recovery over the last six months as concerns over the impact of the coronavirus have dissipated and markets look forward to a strong recovery across the board. What's adding to much of the euphoria in the current rally is the massive liquidity from all quarters, FPIs, institutions and retail.
Mid and small caps have seen more stock-selective moves driven by inherent fundamentals and their ability to thrive in adverse market conditions. Companies that have been able to weather challenges despite smaller balance sheets have seen quick recoveries. Current valuations, especially on earnings-based metrics, show a distorted picture.
Please decode the impact of the pandemic on smaller companies. What are the major threats and silver linings for them?
Rather than identify companies on their size, it would be prudent to talk about sectors. Sectors which cater to essential items, including pharma and consumer goods, have seen a limited impact. Rather these companies have been able to adapt and cater to the special needs of consumers during these times through innovation and flexibility of their business operations. Companies with high-legacy debt and rigid business models have been the biggest losers over the last six months.
With SEBI revising the criteria for multi-cap funds, what sort of impact do you see on the mid- and small-cap space? There are concerns around there not being enough opportunities.
The circular on multi-cap funds has placed quite a few fund managers on tenterhooks, given the sheer quantum of funds they manage. The cause of concern remains on largely how these portfolios would pivot to meaningful mid- and small-cap allocations while remaining liquid enough. The number one problem in mid and small caps is that when the going gets tough, large investors get stuck because of the lack of liquidity. SEBI is yet to address that issue. We will wait and see the developments in this space and communicate to investors further when the time is right.
How do you pick stocks for your fund? What sort of companies do you avoid?
We believe India is a growth market. However, within the broad market, only 'quality' companies are able to sustain profitable growth and generate long-term returns for shareholders. The fundamental investment approach focused on identifying such sustainable businesses while controlling risk is the best way to deliver returns in the Indian equity market over the long term.
The key components of the investment philosophy are as follows:

Long-term focus: Research stocks on the basis of their potential over market cycles (over three to five years)
Fundamentals-based: Utilises a 'bottom-up' approach to identify fundamentally sound companies, while being agnostic of the benchmark constituents
Quality assets: Rigorous search for quality companies with long-term sustainable growth and management track record
High-conviction investing: A compact portfolio of stocks that reflects the fund manager's best ideas
Active management: Exploit opportunities such that portfolios reflect the best investment possible at all times within the ambit of the mandate and strategy
Integrated risk management: Risk management embedded within the investment process
You are significantly overweight on the construction space. What makes you bullish about it?
Our allocation strategy towards the construction sector has been very stock-specific. The names we hold in our portfolios today offer opportunities in niche businesses which have remained resilient to the external environment and have robust balance sheets to manage the upcoming return of construction projects and expansion plans. We have also seen some of these companies raising fresh capital as they look to fund future growth and invest in capex to cater to the likely growth that will come as the economy reopens.
How would you advise a stock investor who wants to build and manage a portfolio of quality mid and small caps for the long term? What would be your key dos and don'ts?
The misconception remains that mid and small caps are inherently more volatile as compared to their large-cap counterparts. The fact of the matter is that unlike in the large caps, the probability of going wrong is far higher and that's where investors should remain vigilant and patient. If you can't do that, then you should consider mutual funds. All you need to give the fund manager is time. For mid and small caps, the consensus view on time is five years.
The large-cap space today has 100 companies, midcap another 150 and small-cap has about 3,000 listed names, of which about 500 are investable. India is a stock picker's market and this fact resonates more so when it comes to the mid- and small-cap space. Active management plays a vital role in weeding out stocks that do not meet essential long-term investing criteria. Our quality bias helps us navigate the minefield of companies where investors often get trapped due to short-term performance.
Given the inherent volatility in mid and small caps, what do you do to stay calm and composed amid turbulent times? How do you convince your investors to stay put?
As I said earlier, as a category, mid and small caps are as volatile as their large-cap peers. It is individual stocks in the small-cap space that are volatile for a variety of reasons, including low float, unproven track records, future expectations and even the breadth of ownership by institutions and coverage. Turbulent times are when investors make money if they invest right. We have seen this time and time again in 2013, 2018 and today. Investors who invested when the times were tough came out as winners when the recovery took place. The easiest way to play the mid- and small-cap space is to keep that SIP going and top up when the markets correct.
Picture this, say you like a company which is growing at 100 per cent a year, trading at a P/E of 100. In one year, that P/E would drop to 50, assuming the price remains unchanged and the company meets earnings estimates. As fund managers, our job is to identify companies, business models and managements that are capable of meeting analyst expectations and invest in those companies. If you do a good enough job of identifying 25-50 names and build a portfolio around them, you, as a fund manager, have succeeded in building a true wealth-creation portfolio for your investors.