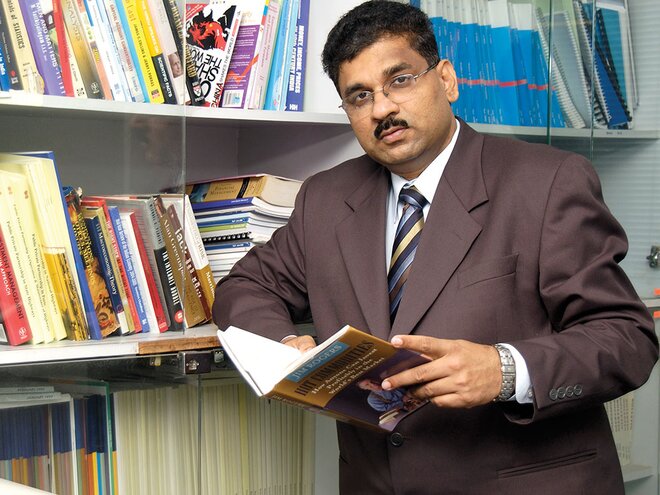 The COVID pandemic has proved to be a big disruption for the economy. It's likely that its impact will be felt for long across sectors. Amid the breakout, the quarterly results of Indian companies show the stress they are facing. We speak to S Krishnakumar, CIO - Equity, Sundaram Mutual Fund about the outlook of various sectors. He also shares with us his stock-selection framework and his best investing lessons.
Based on Q4FY20 and Q1FY21 results, what's your assessment of the impact of Covid on Indian companies? When do you see India Inc's performance going back to pre-Covid levels?
The impact of COVID and the subsequent re-opening phase is varied across sectors, with certain segments normalising quickly on the back of pent-up demand. With easing of lockdown restrictions, production levels by the end of Q1FY21 reached 83 per cent of the levels last year, led by manufacturing, commodities and electricity. An expansion was witnessed for consumer non-durables, with a boost in pharma production. Labour market indicators continued to improve, with CMIE (a think tank) unemployment rate reducing to 7.2 per cent as of 2nd August. Unemployment rates are now below pre-COVID levels in both rural and urban areas.
During Q1FY21, most companies were nimble to save costs amidst weaker volumes. Notable amongst these were sectors such as consumer, cement and software. Added to this, benign input prices aided them to manage operating margins reasonably despite adverse operating leverage.
The flattening of the number of active cases and increasing number of recovered cases raise hopes of improved activity levels and economic outlook. Should current trends continue, the state governments will presumably be encouraged to continue with steps to reopen the economy. With normal monsoons and stable prices, farm incomes are expected to improve and provide a fillip to rural demand in the current year, partially offsetting the weakness in urban demand due to lockdowns. We expect a large part of the economy to normalise to pre-COVID levels towards the second half of the current fiscal and accelerate on growth from FY22.
How effective has the government's stimulus been in fighting the COVID crisis? What are the major pain points in the economy currently?
The focus of the government and RBI measures has been to address the immediate pain on the ground while also keeping in mind the structural reforms required. The measures have helped cash-starved businesses greatly tide over the current disruption through tax relief, waivers, interest subvention, cash transfers, food and financial support. Since the announcement of the package, the system has witnessed an appreciable drop in the banks' deposits with the RBI, reflecting a pickup in risk perception. The government's measure through the RBI approving a liquidity scheme for NBFCs and HFCs through an SPV has witnessed improved sentiment and has led to a contraction in the spreads for NBFCs.
A recent example of the response to the government measures is the PM SVANidhi, aiming to provide loans to street vendors. The scheme has received five lakh applications. The key concerns currently revolve around the Centre and state revenue shortfall and the resulting impact on government spending programs. The current year could be a tight walk on balancing between the fiscal health and stimulating growth through targeted spends. A few sectors like automobiles, trucks, real estate, hotels and textiles seem to be needing a focused support, which is an area to watch out.
IT companies have proved to be highly resilient to the crisis. What's responsible for this? What's the outlook for Indian IT now?
The results of IT companies have been encouraging through this period of economic disruption. Despite GDP of many economies declining during this intermittent period, IT spending has been resilient. A sharp increase in online adoption across verticals has opened up growth levers for this sector. Online penetration in many countries has been pulled forward by five to 10 years, which necessitates investment in digital technologies for seamless customer experience and data analytics. Also, the adoption of cloud has accelerated as clients look to reduce costs and capture the benefits of cloud in terms of better access to data. The recent announcements of a few large cloud deals by Indian companies reflect this.
Enhanced participation in digital programmes and core transformation deals have been the key drivers for the growth of Indian IT companies during the last five years. Industry analysts such as Gartner project CY2021-24E IT services spending growth at 5-8 per cent compared to the average of 4.2 per cent achieved during 2010-19. Post COVID, the outlook for Indian IT companies remains encouraging as these underlying drivers have strengthened.
The pharma sector has witnessed a resurgence in investor interest. How good does the story appear?
We remain positive on the growth outlook of the Indian pharma sector. Stable demand in the domestic market and surging export markets, led by a growing need for chronic therapies and newer launches, has kept the pharmaceuticals sector on a steady growth path. Post the pandemic, the incremental demand growth is expected to be driven largely by higher exports to the developed markets. The recent increase in resolution of USFDA issues of various plants in India also kickstarts the growth engine where investments are already done. Post the COVID event and the resulting disruptions in China, opportunities have opened up significantly for Indian pharmaceutical companies to establish themselves as end-to-end manufacturers in the pharma supply chain. Additionally, the government's focus on reducing dependence on imports from China and boosting indigenous manufacturing through schemes for the creation of bulk-drug parks and production-linked incentives for key drugs provide a medium-term growth road map for domestic pharmaceutical companies.
On capabilities, the shift towards complex products and bio-similars should augur well for Indian pharma companies in the medium term. The consumer spend on speciality products in developed markets is expected to reach 52 per cent of the total pharmaceutical expenditure in 2024 from 44 per cent currently. Also, with a renewed global focus on costs, there has been an increasing trend across global pharmaceutical companies to outsource development and manufacturing of new products, thus saving capital costs and gaining access to capacity. Indian contract development and manufacturing organisations could build on these increasing opportunities, given the established capabilities and relationships with their customers.
What's your take on banks and NBFCs as far as their assets and liquidity woes are concerned?
Post the pandemic event, we've witnessed a spate of measures announced by the RBI and the government towards liquidity support and guarantees. The outcome of these schemes could result in improved system liquidity, normalisation of the economy and could either delay or reduce the stress in the system. The pace of economic recovery would dictate the assetquality trends for financials stocks and any swift recovery could undermine the relevance of resolution frameworks. In the short term, with the moratoriums and restructuring guidelines being announced, the magnitude and duration of stress remains an uncertain variable.
For banks and NBFCs, we expect this year to be largely marked by efforts on bolstering equity capital, ensuring adequate liquidity to tide over short-term delays in collections, building up coverage cushion and managing recoveries efficiently. In the last two quarters, banks have been creating specific provisions towards the COVID event in anticipation of possible increase in higher credit costs apart from raising capital to comfortable levels. With liquidity issues getting addressed through consistent intervention of the central bank, the focus largely shifts to asset quality, where normalised levels could largely be assessed from the end of the current fiscal. Against this backdrop, the recovery in growth could be gradual and lenders well-positioned on the above parameters could have a head start on growth.
How do you see the revival in demand for auto and consumer goods? Is the trend sustainable or is it just a blip before a prolonged slowdown?
Consumer demand is expected to recover gradually through the current fiscal. Localised lockdowns in various states continue to be a supply-side factor that can constrain growth temporarily. Nevertheless, the benefits of a normal monsoon and improved rural spend should help demand growth in foods and consumer durables.
Post COVID, initial trends point to a positive ruboff on demand for certain categories. Passenger vehicles and two-wheelers have seen a sharp recovery in demand to pre-COVID levels as a preference for personal mobility increases, while packaged-food companies continue to see tailwinds from consumer shift to established brands in this phase. The long-term thesis for consumption growth is very much intact. Several categories within consumption are still marked by low market penetration, thereby presenting a significant opportunity for long-term growth. The structural drivers behind consumption growth include increasing working-age population, a rising mix of affluent households, increased financial penetration and emergence of tier-2 cities as consumption hubs. Several of these undercurrents are very much at play. With major reforms being initiated in the agri sector, the drivers for rural demand growth get strengthened in the medium term.
What's your stock-selection framework? How do you avoid wealth-destroying stocks?
Rigorous research remains the cornerstone of good investments. Stocks are analysed from the perspective of our in-house 5S model, which stands for identifying and filtering companies with simple businesses, scalable opportunities, sound promoters, sustainable competitive advantages and steady cash flows. Emphasis is on understanding the business dynamics, key drivers, structural changes, if any, competitive environment, underlying government policies and regulation. This process includes meeting company managements, making plant visits, interacting with vendors as well as peers to help understand the business dynamics beyond the financials, such as product quality, plant efficiency, skills of key personnel and distribution network, to name a few. Such inputs enable the formation of a more holistic view of a company.
The research process involves reviewing investments rigorously through the lens of the 5S framework, and any change to long-term investment thesis triggers a hard review of the investments. The key to successful investing is to dispassionately review decisions, back conviction ideas with ground checks and accept with humility the calls that haven't played as per expectations. As Peter Lynch says, in this business, if you're good, you're right six times out of 10.
The crash in March and then the swift recovery have baffled investors. What would be your advice to them to stand such volatility?
The current phase of disruption across global markets is an unprecedented event and was bound to evoke sharp response in investor behaviour. Unlike earlier cycles, the coordinated central-bank action across markets have been far quicker on response timelines and larger on quantum, thereby triggering a quick shift in expectations. The fiscal stimulus from governments have also been very effective to help businesses and society at large to weather the shock. With the risk of a systemic standstill behind and central banks in full action to avert the same, the markets have rebounded sharply, overlooking short-term impact of the event and focusing back on longer-term drivers that support economy and earnings under normalised conditions.
We remain constructive on India and equities as an asset class. While this event has created a growth scare, we do see a silver lining. India has seen improved competitiveness on corporate taxes, accommodative monetary policy, ample skilled labour supply, stable currency and is the most improved over the last five years on the ease of doing business. Global manufacturing companies are therefore increasingly considering India as an investment destination to relocate a part of their China operations. A disciplined asset allocation and investment approach of buying through the dips would be essential to see through the volatility arising out of such events. Trying times present great opportunities to invest at great prices. Historically, equity-market returns have been quite good post decadal events like the Global Financial Crisis, demonetisation or COVID. Equities are a long-term asset class and require patience from investors to reap the benefits of longterm compounding stories.