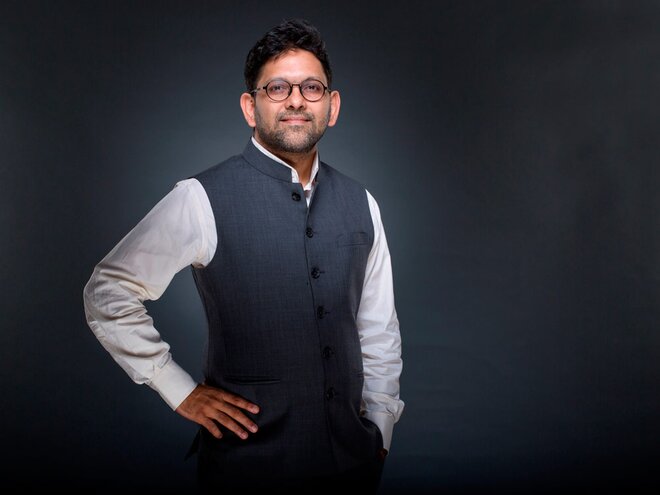 With the markets witnessing huge upheaval in the last few months, both individual investors and mutual fund houses have had to grapple with the fact that predicting the future is harder than ever before. For mutual funds, dealing with the crisis has meant not only taking a closer look at their underlying investments and grabbing the right opportunities, but also communicating to anxious investors and helping them make good decisions. In this interview, Kalpen Parekh, President, DSP Mutual Fund talks about the impact the fund has witnessed on flows, the heightened interest in international funds among investors, and the kind of returns we can now expect going forward.
What kind of impact have you seen on flows in the last three months, both in equity and debt segments?
Equity Fund flows have slowed, whereas our flows in all debt funds have gone up. I have observed that flows are a function of recent one-year returns. As interest rates are falling, bond prices are rising and returns of debt funds look good. On the other hand, equity markets have fallen due to fear of Covid and worries on economy due to the lockdown. Thus, the last year returns are negative and so seems to be view of the near future. Hence, investors are more comfortable buying the high past returns of these asset classes. This is in line with trends seen in the rising growth of fixed deposits of solid banks, hinting that consumers are seeking safety first.
How worried are your investors? What steps are you taking to address their anxieties?
Investors are as worried as all of us are. There are worries on account of the sharp fall in NAVs as well as the future outlook. A lot of investors have bigger issues to grapple with - health, their cash flows in businesses, salaries and outlook on their careers. These worries are much bigger than the worries we have on valuations and opportunities.
Team DSP has been extensively talking to our investors and distributors via two themes - Lighthouse and Lockdown Pathshala. These two aim to address all concerns about the current investment environment, how to deal with an uncertain future and some rules for building a personal investment framework which helps in lifelong investment decisions. We have been sharing our own personal investing approach in these volatile times as it's important to tell investors we are in the same boat and this is how we are investing our personal money.
It is easy to say invest when there is blood on the street but not easy when it's our own blood and when we still don't know how much more there is to come or is it over. Our stance is to explain the economic environment and the possibilities in the future (good and bad) and help investors take prudent investment decisions. We don't hesitate in telling them to take their money if they need it in the next six months (very short horizons) or if their cash flows and salaries have got impacted (Pause SIPs for few months) or move to lesser volatile hybrid funds (if they don't have appetite for sharp NAV moves) or do nothing (if they don't need money for many years in the future).
We are keeping our communication simple, honest and objective and at times even telling our investors that we don't have all answers to the short-term future. However, reinforcing long term investment principles of asset allocation, diversification, buying low v/s selling at lows, and time diversification using SIPs have helped many successful investors navigate such phases in the past is helping us give a framework of decision making for our investors and distributors.
We are likely to be in a low interest rate environment for a fairly long time, and the economic impact of the current crisis is still unfolding. Against this backdrop, do you think equity and fixed income investors need to reset their expectations? What kind of return expectations would you have from your equity and fixed income allocations over the next two to three years?
Interest rates in India have moved between five to nine per cent (10-year GoI Bonds). Currently we are closer to the six per cent mark. Future returns in debt are largely closer to the starting bond yields. Returns in Equities are driven by change in valuations, earnings growth and dividend yields in the asset class. Valuations are not low (post the April rally), earnings continue to be slower than the last decade and also dividend yields. So returns could be lower than what we saw in 2000-2010 and similar to 2010 - 2020. I say this because the last decade was a decade of significant moderation with very low overall earnings growth and currently lot of euphoria in prices has subsided.
At the same time, we were used to 8-10 per cent inflation and eight per cent in FDs and RBI Bonds. Both have come down. So, while absolute returns will be lower than before, the relative return v/s FDs/Bonds/ Inflation should be similar to the past.
Lastly, I would discourage any investment with a view of two to three years. The returns in such a short period, especially in equity, is like a coin toss. I wish to encourage equity investing with a ten-year time horizon.
With a sharp drop in equity markets, even SIPs running since the last four to five years went into the red. Do you think there is a need to revisit what is a good enough time horizon to invest in equity?
Equity investing is like buying a business. Compounding wealth is a function of time more than the rate of returns. Real money is made after investing for 15-20 years. It is important we help our investors frame the right time horizons for real wealth compounding. The design of SIPs is to suit the cash flows for 90 per cent of investors in India who earn money every month.
Also, SIP needs to be understood better. For example, the SIP wave in India started since 2015. Let's see the journey of a SIP in these five years. Two years of flat markets, then three years of rising NAV and only in last three months, the NAVs have fallen and hence more units acquired. The best result for a SIP investor is to acquire units when NAV falls and hope NAV is higher over time. So in this cycle, SIP returns look poor as 95 per cent units have been acquired in rising NAVs and they need a much higher NAV on exit for good returns.
In summary, SIPs work best when NAV falls and that phase has just begun. Typically, SIPs done in bear markets earn the best returns in the next ten years, provided we are patient to earn these returns. Most investors feel disappointed in such temporary phases when Equity fund NAVs fall sharply and SIP returns tend to zero.
The solution lies in SIP in Dynamic Asset Allocation Fund (DAAF) products. As an example, SIP returns in Nifty for last five years is two per cent versus 5.5 per cent in DAAF funds. DAAFs work because they avoid sharp falls and an important rule in making money is to not lose big money.
International diversification has become the buzzword. In your opinion, how should one approach international diversification? What's a suitable allocation to have? Are there any broad principles one can follow to decide how much to allocate to international equity?
Generally, whatever is a buzz word doesn't make money. The concept of diversification is universally sensible, but unfortunately, we remember it after accidents. One reason everyone is talking of global diversification is because US markets have made money in the last 10 years. Would we have spoken about it in 2010 when returns from US markets were lesser than Indian markets? The buzzword then was the India Story. While I do believe in international diversification, I feel the reasons used are wrong today. The reasons are purely past performance. What if the next decade reverses and India does better than US. We would return back to say if India has growth, why go anywhere else.
Finally, we need to understand whether global equities or domestic, all are driven by same principles of future profit growth rate + starting valuations. Keeping in mind, Indian markets are sharply lower whereas currently USA markets are back to highs. I would add international funds gradually using SIPs and investing more aggressively when valuations fall. Also, my reason to invest would be the need to add an asset class which is inherently good and has lower correlation to Indian Equities. My investment framework would be to diversify always across equities - India and US/Global, Debt and Gold. The ratio should be a function of more money in the asset class that's cheaper. Unfortunately, nothing is cheap today hence I may do 25 per cent each, though I must admit currently I am 50 per cent in Indian Equities, 30 per cent in Debt and 20 per cent in Global Gold, Energy and US Funds.

Tell us a bit about the workings of your relatively new offering - DSP Quant Fund. It has performed better than the markets in the current market crash.
The DSP Quant fund is designed on very fundamental principles Team DSP believes in - Good companies, Good prices and Do nothing. Our active funds are managed on similar lines. IN DSP Quant fund, we have hard coded the rules and then we have no human intervention. We also were inspired by what Charlie Munger says - 'Tell me where will I die, so I don't go there'. Thus, we start the portfolio construction by

a) Eliminating all companies that demonstrate poor performance over time - companies with poor management, higher beta in stock prices, high leverage, red flags on governance, etc from the BSE 200.
b) We now score remaining companies on three factors. Quality (measured via ROE and stable EPS growth), Value (high Free Cash Flow yield and high Dividend Yield) and Growth (Future EPS growth expectations). Companies with the highest score across these three factors are then the universe for the portfolio
c) We assign weights to each of the above ~ 50 companies basis their weights in Benchmark and Liquidity.
Thus, the portfolio is diversified across three styles of Quality, Value and Growth and this allows it to be consistent across market cycles.
I would like to highlight that there are phases in time when the eliminated bucket does very well when markets are euphoric and led by easy flows and everything moves up. Such periods would disappoint the Quant fund investor. However such phases are temporary. While it has done well in 11 out of its 12-month existence, in the last month's sharp bounce back, it has underperformed. I am sharing such small tenor performance to give a real picture of what to expect from a rules-based disciplined fund that's designed for long-term wealth creation.
Who should invest in the Quant Fund vis-à-vis the mainstream DSP Equity Fund? In which of the two would Kalpen Parekh, the investor, put his money?
I have invested slowly in the Quant fund over the last one year since launch as quality stocks have been very expensive. Thankfully, the March correction has made the portfolio cheaper. Currently, for every rupee in the quant fund, I have three in DSP Equity Fund. Both funds have a reasonable overlap in principles and a disciplined investment framework.
Your online investment interface comes across as one of the better ones in the industry in terms of simplicity and ease of use. How important have the digital modes become in your business? What proportion of your incremental flows is coming in digitally?
I am happy you like our digital apps. Both our apps - IFAXpress for distributors and the consumer app are designed for transaction ease and insights that can help us become better investors. For example, we give notifications showing risks in thematic funds. We help investors to visualise their long term SIP returns, if they stop them just because of NAV falls. We show worst returns for each scheme, so investors know the risk upfront, however short-lived that may be.
IFAXpress enables distributors with analytics that can help them sharp shoot with their investors and nudge them towards becoming better investors. We share the investment behaviour of our senior management. We run polls to get consumer insights. I am a firm believer that the fund industry has no choice but to become 100 per cent digital in the coming years to increase reach and operate at scale while managing costs. We don't need hundreds of branches as the mobile phone in the hands of every distributor and investor becomes our branch. In this lockdown stage, 100 per cent of our flows are digital.
As a business, you have some of those essential variables in place - a good brand, a diversified product basket and decent performance records. What are your growth ambitions for your business and what strategies are you implementing to achieve them?
We are a family-owned, professionally run investment firm. This combination allows us to be long term ambitious and build a durable business over cycles. We have no other lines of business and aspire to be a fund house that makes consistent long term returns for our investors and be a valuable partner to our distributors. Our strategy is driven around:

Being Digital - to raise money in scale across the country as well as leverage technology to manage money more scientifically
Being Simple - so investors understand how mutual funds can add value to their money and what are good principles of behaviour
Being Performance & Process-driven - to ensure we have well-defined investment frameworks across all our products, that are communicated transparently and blend art (wisdom and experience of our team) and science (of the investment rules we have tested over times that create alpha).
These are the inputs I believe that will help us become more relevant to our investors and distributors.