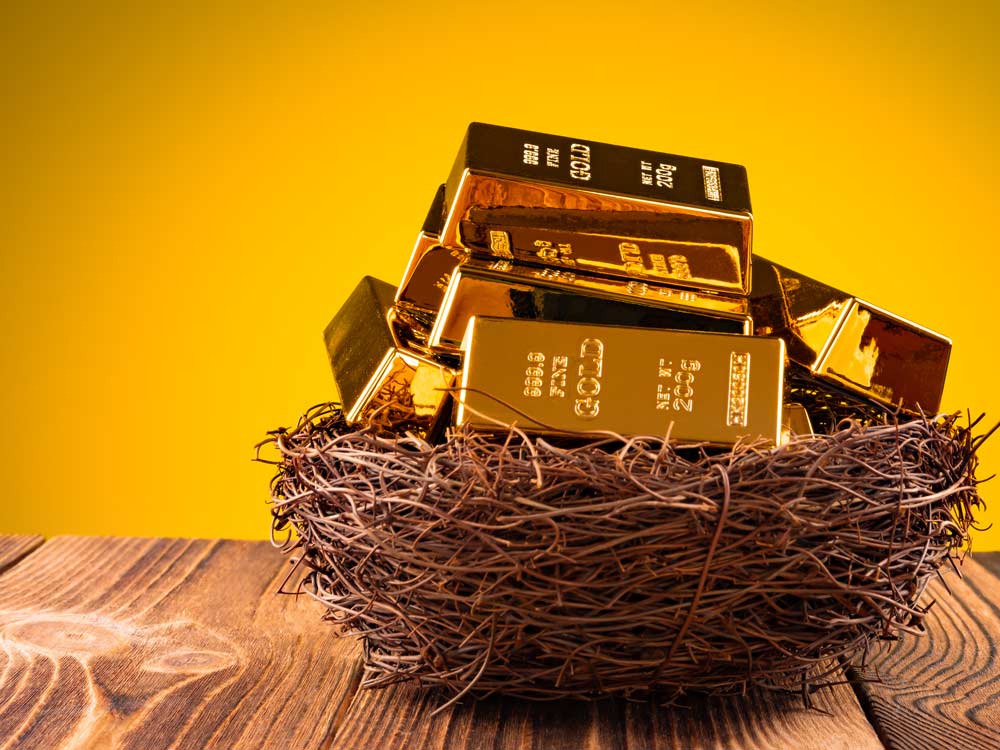 The government has decided to come up with a fresh issue of Sovereign Gold Bonds (SGBs) in the first half of this fiscal year. The bonds will be available in six tranches, with the first one being available for subscription from April 20, 2020. Here are the details of all the tranches: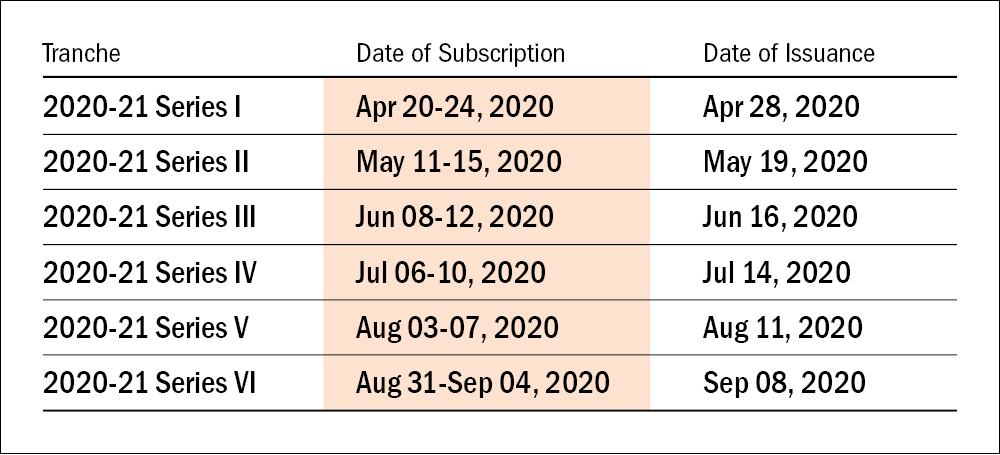 The bonds will be available for subscription only to resident individuals, HUFs, trusts, universities and charitable institutions, with a minimum permissible investment of 1 gram gold and a maximum subscription limit per fiscal being 4 kg for individuals and HUFs and 20 kg for trusts and similar entities.
These bonds will be sold through Scheduled Commercial banks (except Small Finance Banks and Payment Banks), Stock Holding Corporation of India Limited (SHCIL), designated post offices and recognised stock exchanges, such as NSE and BSE. You can also buy them online through the websites of these agencies. Online purchases carry a discount of Rs50 per gram.
The tenor of the bond will be eight years, with the exit option after the fifth year to be exercised on the interest payment dates. Investors of these bonds will be provided with a fixed interest of 2.5 per cent per annum, to be paid semi-annually on the nominal value.
Should you invest in them?
Amid the current meltdown in the equity market, the shiny metal stands out for its strong performance. Gold funds have delivered 52 per cent returns over the last one year, whereas an average multi-cap equity fund has been down more than 19 per cent during the same period. This is because gold, as an asset class, is considered a safe haven during turbulent times. Whenever the equity markets go through a crisis, the price of gold tends to increase, as people flock to it. This can be seen in the graph titled 'Gold Vs Equity - Calendar year returns (%),' which depicts that in every calendar year, when the equity markets were down, gold performed handsomely.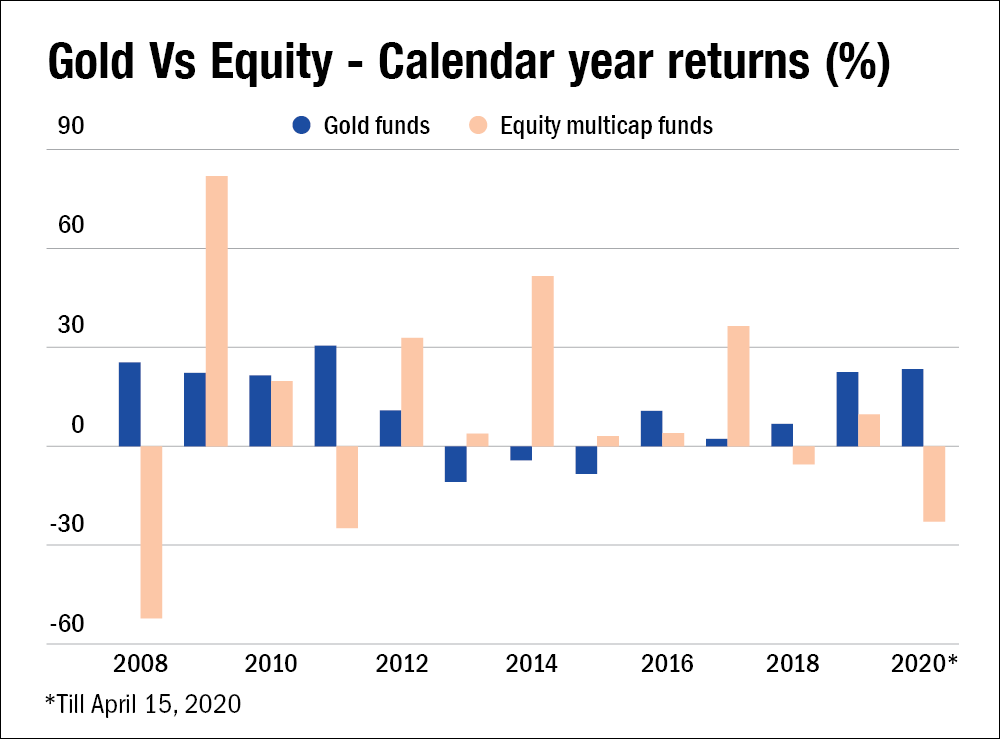 However, when you look at the performance records in a longer time frame, the appeal of gold as an investment alternative pales. See the graph titled 'Gold vs Equity - Rolling 10-year returns (%),' which shows that over a period of 10 years, equity has outperformed gold by a wide margin. Equity has underperformed only during volatile periods.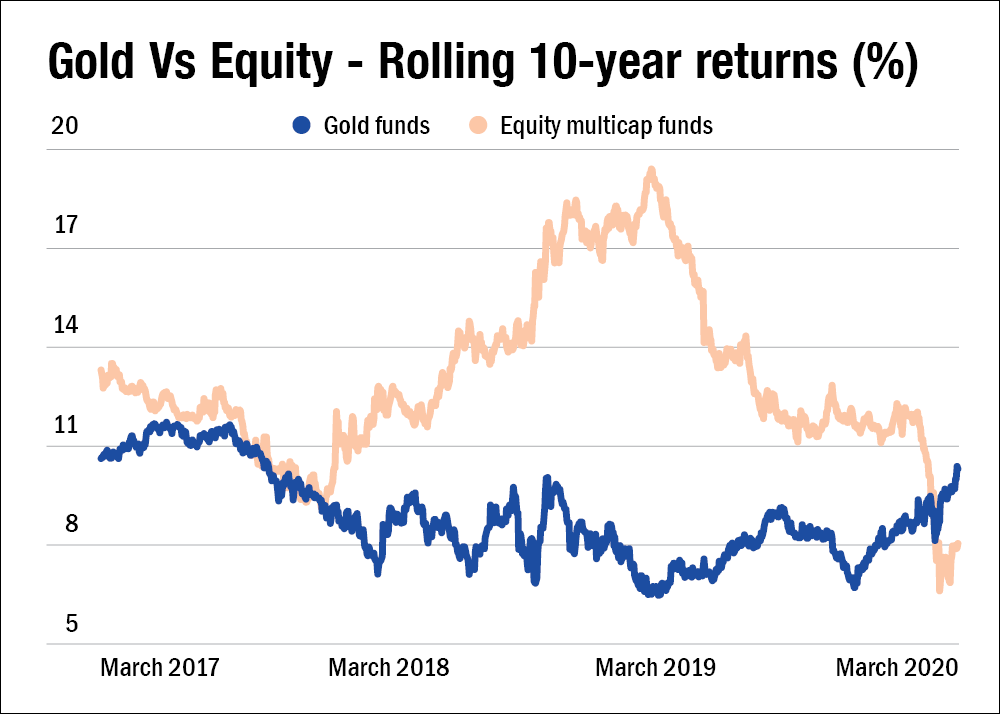 Thus, if we look beyond the current market volatility, gold doesn't live up to the hype. That's because gold belongs to a class of investments that do not actually produce anything or create any value. Unlike equity or bonds or deposits, the money that you invest in gold does not contribute to economic growth. Hence, we don't consider gold as a suitable asset class for wealth creation.
But many people prefer investing at least some portions of their accumulation in gold for its ability to act as a hedge against rough weathers. If you fall into this category, it is better for you to buy SGBs rather than buying physical gold or ETFs.
A comparison of the three main modes of holding gold on the key parameters of returns, taxation, cost of ownership and liquidity shows why SGBs are the preferred option.