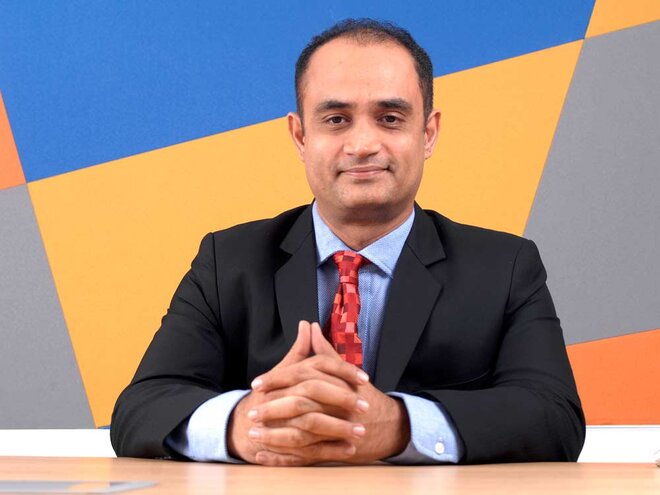 What's your stock selection strategy to generate alpha from the limited, widely-tracked universe of large-cap stocks?
As you said, the addressable market is very well known - the top hundred stocks, and large-cap funds have to be at least 80% in those hundred names. So how do you differentiate, be consistently in the higher quartiles, and create alpha?
The foremost is that I spend a lot of time trying to understand the direction in which a business is headed, both over the short term as well as in the medium term. You need to have a good understanding of the key drivers of sales and margins, and how the business is likely to do over the next one to three years. It helps generate valuable inputs for your overall financial and valuation framework. Besides the inputs generated by our in-house analysts, I do additional diligence through sell-side research community as well as using industry relationships to develop additional layers of conviction.
So the first point is a disproportionate focus on understanding where the business is headed over the next one to three years. It also helps you avoid mistakes. For instance, I've stayed away from pharma in the last two years because based on my understanding I saw their business outlook deteriorating, both on a bottom-up and a top-down basis.
Secondly, sizing is very critical. The names are quite common in different large-cap funds but how do you size those same stocks makes a difference. For example, you will see ICICI Bank in so many portfolios but in my case it has been at 9 per cent, being a very high conviction investment, and it has worked very well. So I think sizing plays a very critical role.
A combination of these two I think is what helps you create alpha in the large-cap universe.
What's your view on the raging active versus passive debate?
The challenge for all fund managers is not just to be consistently in high quartiles relative to peers, but also to create alpha over medium to long term. You may have short term phases of underperformance vis-a-vis the benchmark, but over a three, five, seven year basis it is imperative to create alpha. Otherwise this debate around passives will clearly get stronger.
At an industry level across various market-cap segments, I think a lot of fund managers have been delivering alpha over three, five and seven years. But clearly the pressure is on them to keep doing that consistently. But so far, I think the track record is still very much in favor of active products.
Sundaram Select Focus has done well in the recent past. What changes have you brought about after taking over in 2016?
Some of my calls have gone well, both on a bottom-up and a top-down basis. I combine both in my investment approach. For one, having a core portfolio of private banks like HDFC Bank and Kotak Mahindra Bank has provided stability to the portfolio and worked well. Identifying a turnaround story such as ICICI Bank early in the curve has also helped. Private banking as a theme has been core to the portfolio and I think it should continue over the medium term as well. Secondly, select picks in the discretionary consumer space has also played out well. Also, the fund was early and well positioned in the general and life insurance space. And finally, being absent from segments such as the US pharma in the last two years has helped avoid the under-performers.
Have you made any changes to the internal processes, they way the research is conducted or the way companies are tracked, which has also contributed?
I made some tweaks initially. Every fund manager has his own style and approach. We did some re-alignments to how the internal product notes are generated and we now have more interactive discussions around large-cap ideas. We also made some changes to how the analysts are measured in terms of contribution to ideas, thereby introducing more quantified measurement of their performances.
I think these changes have contributed towards strengthening the stock picking environment in the large-cap space.
You run the portfolio with a focused style of investing . The number of holdings are about 30 on a regular basis . What's the thinking behind that?
The focused approach requires you to have a high hit rate of consistency and accuracy. Along with that, as long as you can avoid or make very less mistakes, you can achieve high returns with consistency.
This approach is more achievable in the large-cap space as the companies here are well established and the business risks or the management-related risks are much lower. This is unlike the mid and small-cap space where every once in a while, there can be a company going down because of corporate governance or business model issues. Therefore, a diversified style suits them more.
A concentrated style is quite optimal in large-caps if executed well.
Besides private banks which you've already talked about, what other pockets of the market look attractive to you?
A new theme which has emerged, and has done well for the fund, is the non-lending financial space. I think some of the life insurance and the general insurance players are compounders in the making. Some of them have got listed over the last three years and I believe more such listings will happen, especially in the general insurance space, over the next two years. I think you'd see good compounders coming out of this segment over the next 7-10 years.
At 40-45% of the fund's AUM, your exposure to the financial services sector is very high. Despite your optimism on this sector, doesn't it make the fund a quasi financial services fund instead of a diversified one? How do you counter that?
The benchmark itself is made up of ~39 percent of BFSI. But if you dig in deep you will find that the BFSI sector comprises of various sub-sectors such as Banks, NBFCs, non-lending financials such as insurers and asset management companies. All these sub-sectors have different business cycles and hence are reasonably different from each other. Therefore, the concentration risk, which is perceived to be high, is actually not so because of the diversification at the level of business models and the high weight in the benchmark.
You have been investing more in mid caps lately. Is that a tactical move?
Yes, the investment into the mid-cap space is a tactical call. We aim to keep shifting it within the allowed 0-20 percent range depending upon the market conditions and is currently at about 10% of the fund.