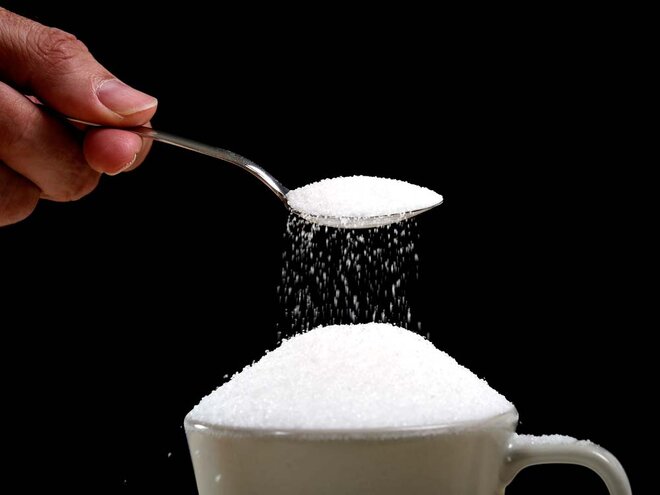 The popularity of SIPs (systematic investment plan) continues unabated, with around 9.54 lakh SIP accounts added monthly in FY19-20. It is the simplicity of SIPs that fuels its popularity. But do you give your SIP investment the attention it deserves? Has your SIP kept pace with your yearly salary increment? You may wonder why it should keep pace with your yearly appraisal. Here are the reasons.
Consider this. Two friends, A and B, started investing 20 years ago to accumulate Rs 2 crore for their retirement. Both of them started a monthly SIP of Rs 10,000 in an average multi-cap equity fund. While A opted for a 10 per cent annual increase in SIP, B wasn't convinced of periodic increases in SIP and continued with his constant Rs 10,000 SIP. While Person A was able to achieve her goal within 17 years, the final corpus at the end of 20 years stood at Rs 2.5 crore. On the other hand, B, who did not opt for annual increases in SIP, was able to accumulate just Rs 1.5 crore after 20 years. Thus, a 10 per cent annual increase in SIP can help grow your wealth by 1.5 times in 20 years!
The alongside graph shows the comparison between the growth of person A's and B's final corpus and the amount invested over their investment horizon.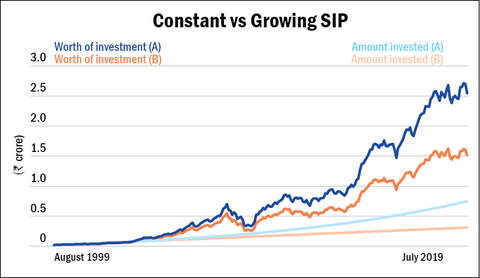 Based on the basic premise of investing fixed amounts at regular intervals over a long period of time, an SIP imparts discipline to your savings. Known best for its ability to build long-term wealth, an equity mutual fund SIP is one of the best bets towards achieving one's goals.
Undoubtedly, regularity and consistency are the basic tenets of an SIP. However, to make it work best for you, periodic increases in your SIP amount is paramount.
Raising your SIP amounts helps in many ways. It can make a significant impact on your investment outcomes both in terms of time and corpus. It also helps in creating an opportunity to build more wealth and fulfil your wishes much faster. Attaining your goal before its due through such little enhancements also brings a kind of freedom to your investments. At the same time, accumulating a large corpus helps better tackle the inflation monster.
Long-term investors, generally, start their SIPs and just forget about it. Are you one of those? Don't be. Instead, make sure that you revisit your investments at least once a year to evaluate how much more you can save and accordingly, increase your SIPs.
Having said that, an investor who is sure of the amount/percentage of increase in his SIP can also opt for the top-up SIP from the very beginning to put periodic enhancements to SIP contributions on autopilot.
To put it in a nutshell, over a long period of time, if you want to build a financial buffer for your future, increasing your SIP in line with the increase in your income is the right step for you.