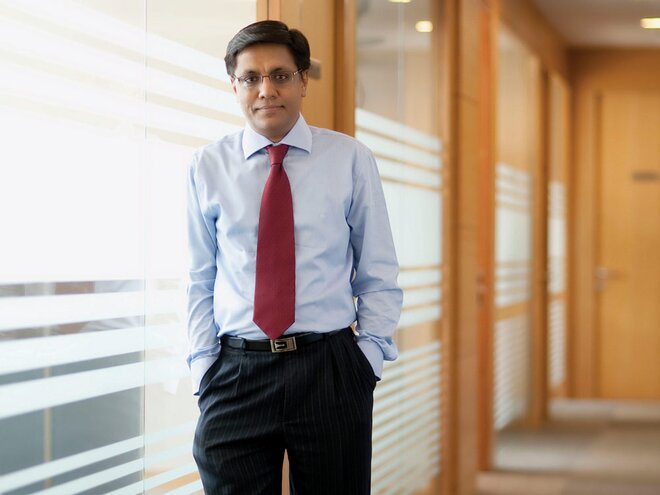 In this brief chat, Neelesh Surana, CIO, Mirae Asset Mutual Fund, discusses his fund's outperformance in the past year, the stock selection process, the current market valuations and more.
What has resulted in the outperformance by your Mirae Asset Emerging Bluechip fund in the last one year?
Disciplined approach to investing, with a focus on 'quality up to a reasonable price', has helped us deliver a satisfactory track record. Our attribution analysis suggests that at an aggregate level, alpha generation has been from stock selection rather than sectoral calls. For example, within financials during the last one year, we were overweight on private corporate banks with retail franchise and had no exposure to weaker NBFCs.
The fund continues to prohibit lump-sum investments. What are the reasons for it?
The fund continues to attract regular SIP flows and has the highest AUM in the 'large- and mid-cap' category. Large lump-sum flows are restricted to maintain agility while investing in mid caps, which are about 50 per cent of current AUM of about Rs 7,200 crore.
How do you pick stocks for the Mirae Asset Emerging Bluechip fund?
Our stock-selection process has three aspects: business selection, management analysis and valuation. We look for quality businesses with decent growth prospects and return on capital employed. The second filter is with respect to management analysis, which is a bit subjective. You have to look at the track record, corporate governance, etc. The last factor is to arrive at a particular value. Value has to be more than the market price, so that there is enough 'margin of safety'. The idea is not to buy cheap companies but good companies at reasonable valuations.
When do you sell a stock?
Selling a stock is done in three circumstances: (a) when price and value meet; (b) when the assumption goes wrong as businesses are dynamic; (c) when we have to switch to a better stock.
What kind of stocks never enter your portfolio?
We avoid companies which give a sub-optimal return on capital employed and lack basic quality of management with respect to governance, capital allocation, etc. In addition, we try to avoid companies which lack minimum size of, say, about Rs 100 crore operating profit.
How do you allocate the remaining 30 per cent after investing 35 per cent each in large and mid caps?
The allocation will be 50 per cent in favour of large and mid caps each (plus/minus 5 per cent).
What do you do to contain volatility in your mid-cap holdings?
While individual stocks can be volatile, volatility can be mitigated by a combination of three factors: (a) selection of good businesses at reasonable valuations; (b) diversification of the portfolio across sectors and stocks; (c) holding for the long term as with time, volatility reduces.
How do you see the current market valuations, especially those of large and mid caps?
We do not believe that the markets are overvalued, particularly mid caps. Mid caps are now at a good discount to the Nifty as well as their historic long-term averages. Investors should maintain an appropriate allocation, say, 25-30 per cent to mid-cap funds.
Given that the election uncertainty is behind us, how are you positioning your portfolio now?
We remain positive on financials and consumption-oriented businesses, subject to valuation filters. It's always better to pick stocks when the going is tough (e.g., consumer discretionary now) as the valuations are in favour.
What can investors expect from your Mirae Asset Emerging Bluechip fund in the next one-year?
We are positive on the markets as earnings would recover. We expect returns of around 13-15 per cent per annum over the next three years from this fund.