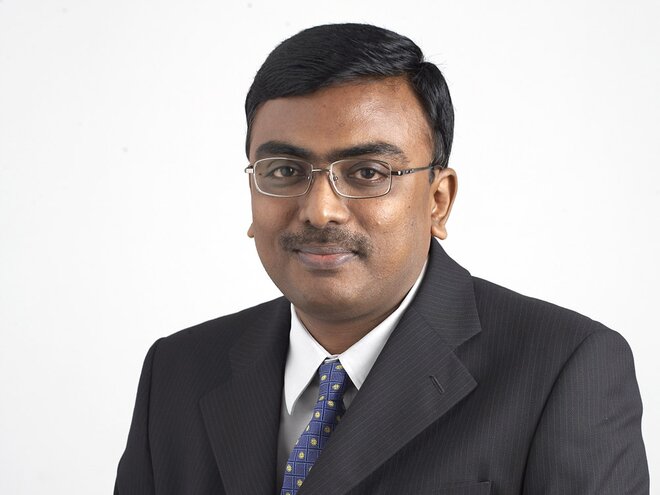 On May 20, 2019, the Nifty 50 reached the all-time high of 11,828. And to think that just a couple of months ago, the broader markets were falling like there was no tomorrow. But this sharp recovery in the index is attributed to just a few stocks. The broader markets - mid and small caps, especially - have yet to show a meaningful recovery. The elections make their outlook uncertain at best. So, what is R Janakiraman, who manages the star mid-cap fund Franklin India Prima, doing? In this interview, he responds to questions that most mid- and small-cap investors' desperately want answered.
The markets are touching new highs but many mid caps have yet to show a meaningful recovery. When do you see that happening?
The underperformance of mid caps from the end of 2017 was brought about by their overvaluation vis-a-vis large caps. The correction over the past year in the mid-cap segment has moderated the premium commanded by the mid-cap index over large caps. The risk of overvaluation in mid caps has largely been corrected.
While we have multiple global and domestic factors propping the equity markets at this juncture, earnings recovery remains the fundamental driver for sustainable growth in domestic equities. The current domestic macroeconomic scenario paints a mixed picture, with moderation in industrial production, concerning fiscal situation and trade gap. There has been a visible slowdown in consumer discretionary and rural demand. On the positive side, private capex and investment indicators such as credit growth show some encouraging signs. This, along with the impact of policy reforms, should aid meaningful growth recovery in the economy going forward.
We expect the recovery in consumption and a pick-up in private capex to drive the next round of domestic growth. Once the trend begins to unveil, especially in the corporate earnings, we can expect the mid-cap equities to stage a meaningful recovery.
How do you pick stocks?
The fund focuses on investing in businesses with an acceptable level of quality, growth and sustainability. These are businesses that are characterised by an attractive return on capital, relatively lower capital intensity, ability to generate free cash flows, attractive growth potential and capable management. This list is not exhaustive but illustrates the idea adequately. The attraction of such businesses is that they compound their earnings steadily over a long period of time at a relatively lower degree of risk. The exception to this preference happens on a tactical basis; in general, the 'quality compounders' account for a large part of the portfolio.
It is our view that such companies tend to compound their earnings better than their peers through a business cycle. Importantly, for investors, such businesses are also characterised by a lower degree of volatility in business metrics.
What sort of stocks do you stay away from?
In general, the fund selects businesses with a combination of good ROCE, free cash flow, consistent execution and attractive growth. In a small number of cases though, we have compromised on growth.
The fund tries to avoid businesses that do not share the above-mentioned traits. In the portfolio, some companies may not appear to meet these criteria. Very likely, these are businesses going through a short-term challenge and our view is influenced by the expected improvements over the medium term.
A segment the fund tries to avoid is good-quality businesses at very expensive valuations. In most such cases, the implied growth rate in earnings is very unrealistic even for high-quality businesses to deliver.
Given that mid caps are emerging companies, do they have sustainable moats?
Today's mid-cap universe reaches all the way up to a market cap of Rs 28,000 crore. The space comprises a number of established businesses with a stable business model. Many of these companies are leaders in their categories. A number of such companies have built reasonably sustainable moats, especially the companies that share the attributes that have listed in an earlier answer.
The mid-cap space offers a diverse universe of companies in terms of sectors they operate in, the segments they cater to and offerings they provide. Operating in niche segments, mid-cap companies can offer differentiated products and unique solutions for larger sector players. Their size, and hence the flexibility they bring along, allows these mid-cap companies to adapt to changing conditions in the sector and position themselves to take advantage of specific opportunities which may elude or not attract bigger players. We identify such key differentiators as effective moats for mid-cap companies.
Quality mid caps tend to trade at high valuations. How do you determine when they have become overpriced?
Comparison of current valuation with its past trend, estimation of market-implied growth rate in earnings to justify the current valuation are two approaches to assess the extent of overvaluation. I do admit that individual bias plays a role in this analysis, though the attempt is to keep it as objective as possible.
In most such overvaluation cases, the implied growth rate in earnings is very unrealistic even for high-quality businesses to deliver. In a competitive economy, like India, a business without a strong intellectual-property advantage will find it difficult to deliver above-average earnings over the long term.
At Franklin Templeton, we follow well-defined sell discipline, which includes factors that will lead to a review of an existing holding with respect to deterioration in fundamentals, attaining price target, more attractive alternatives, etc., to name a few. Based on the internal valuation parameters, if the stock becomes overvalued, then the event triggers a sell on the stock. However, if the stock fundamentals and future growth visibility justify price appreciation, the stock may continue to be a part of the portfolio.
You have the highest allocations in financial, engineering, auto, chemical and energy sectors and low allocations in FMCG, metals and technology? What's happening in these sectors which makes you bullish/bearish on them?
Sustainable and good-quality growth is the common thread that links most of the portfolio companies. It is clearer to use this prism rather than an industry-classification approach. Very infrequently do I use a sector-level top-down approach to construct a portfolio.
As a group, the investments in consumer cyclicals and technology have been fruitful. Consistent contributors to the portfolio have emerged from auto, auto components and household-durables segments within the consumer-discretionary sector. Long-term holdings in the electrical equipment and construction/engineering segments come across as predominant contributors to portfolio outperformance within the industrial sector. Within the financial sector, long-term holdings in banks have been consistent outperformers, lending to portfolio gains.
Please comment on the information asymmetry prevalent in the mid-cap space.
Today, there is as much information asymmetry in mid caps as is there in large caps; it is practically absent. The internet has successfully democratised flow of information. An individual investor has at his command the same level of information that an institutional investor has. Documents like results, annual reports, conference calls, transcripts, webcasts, etc., are all available on the internet and offer equal access to all investors. What differentiates the outcome is the manner in which this information is processed and analysed.
Towards the bottom end of the market-cap curve, one may find companies where information asymmetry may exist in a meaningful form. But these are very small businesses; even in such cases, the asymmetry does not sustain for long.
What are your most important investment lessons learnt over the year, especially regarding mid caps.
A consistent investment framework has worked quite well for me. This framework, evolved over the past two decades, helps to identify businesses that are attractive on the dimensions of growth, quality and sustainability. Quite a few investors use such an approach; in fact, many of Franklin's equity products have a similar construct.
While such a framework will have its good and not-so-good phases in terms of generating alpha, this appears to be most capable of delivering better risk-adjusted returns over a business cycle. The longer the time frame, the relative attraction of this approach gets even better.
Taking the eye off one or more of the dimensions mentioned earlier has cost me dearly. For example, the past cycle threw up quite a few businesses that were attractive from a growth perspective but lacked the ability to sustain such a performance. Such cases have hurt the performance of the portfolio. Staying true to such a disciplined framework becomes challenging sometimes, especially during risk-on phases of the market. In such instances, the environment of long-term focus at Franklin Templeton is a big advantage for investment professionals like me.
If a promising mid-cap stock is in a free-fall mode, how do you ascertain when to pick it? Inversely, if a mid-cap stock you are holding starts to collapse, how do you determine whether to sell it or buy more of it?
As long as the business is doing well, I have no issue with the stock. But there have been instances where the underlying business is doing well and the stock is not performing. In such cases, it's very clear that we will hold onto the stock and we add to the position if the valuations become more attractive. So, our decision of holding onto a stock is completely driven by the underlying business.
When the valuation becomes expensive, we try to reduce the exposure to that stock. We consider both absolute valuation and relative valuation. We also want to reduce the exposure when there is a fundamental deterioration in the underlying business. If you can identify the deterioration earlier than others, you will be able to come out in a more elegant manner. But if you are late, you will be forced to sell the stock.
How can an individual investor pick quality mid caps?
A business with a satisfactory track record in ROCE, free cash flow and growth, bought at a reasonably fair valuation, gives an investor very favourable odds of making attractive long-term returns.
Mid-cap companies offer better growth opportunities. A smaller size is a key reason for this advantage. In this cycle, the relatively larger exposure to domestic demand also helps growth. A drawback is that mid caps are characterised by a higher degree of volatility in their operating performance. This leads to commensurate volatility in their asset prices as well.
Relative to large caps, the mid-cap universe has a higher degree of variation in the quality of business. This leads to a higher risk in stock selection. A long-term investment horizon helps an investor to absorb this higher volatility and reap a potentially higher return. A disciplined and consistent investment philosophy helps in exploiting this combination of better growth, higher volatility and a more heterogeneous mix.