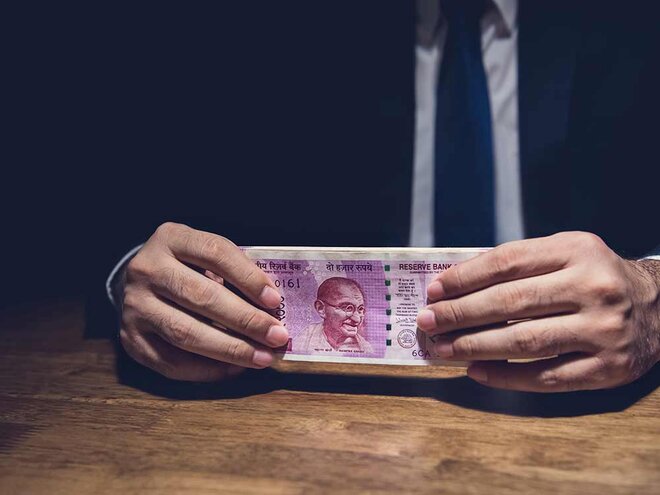 "Buy when there's blood in the streets" is often considered as the success mantra in equity investing. In the second half of 2018, the Indian stocks market bled, while the stocks of smaller companies bled heavier. But even under these circumstances, fund managers of several mid-cap and small-cap funds seem reluctant to buy. See the graph to get an idea.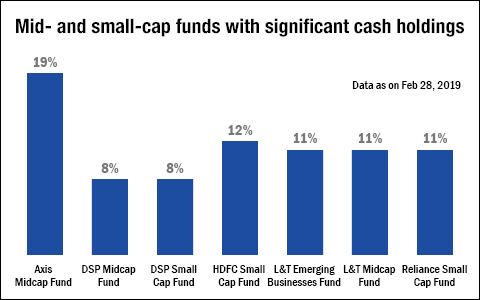 In the graph titled 'Small-cap funds sitting on cash', you will see how the amount of cash lying with small-cap funds as a percentage of their total assets has grown over the recent months, even though the small-cap index has corrected sharply.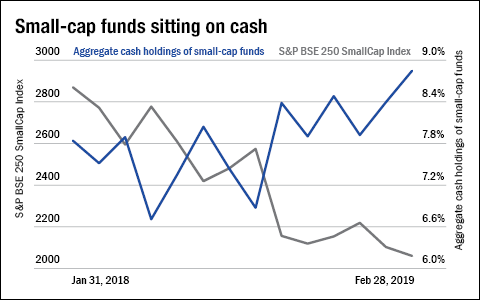 So, what made the fund managers of mid- and small-cap funds hold on to their cash despite this market correction?
Several funds in these segments generally tend to hold four to five per cent of their assets in cash to maintain liquidity and derive benefits from any unexpected investment opportunities that the markets may present.
But beyond that, many fund managers are seeking long-term buying opportunities at better valuations. As opined by Ashish Mishra and Uma Venkatraman of IDBI Asset Management Limited, "In the month of February, we increased the cash level as we were rotating out of over-valued companies and moving into better opportunities." While shedding light on IDBI Mid-Cap Fund, they added, "2018 was a very volatile year, and the focus was on capital preservation over capital growth (due to several global and domestic events). Cash was held in the absence of suitable replacements, which met our selection criteria. Valuations were also not in our comfort zone. This cash holding now gives us the firepower to buy high-quality companies which are available at attractive valuations."
Another challenge in the mid- and small-cap space is to get a piece of the most sought-after stocks at the right prices. While getting these market segments at lower valuations is one thing, getting the investment-worthy ones at mouth-watering prices is a whole new ballgame. According to Soumendra Nath Lahiri, Chief Investment Officer - Investment Management, L&T Financial Services, "We tend to increase our position in strong companies with each fall or add a new position based on our conviction. The cash position in our funds is not always a matter of where the index is but it is subject to pure valuations of strong companies as we are bottom-up stock pickers."
Also, fund managers are keeping a close eye on the forthcoming general election. Samir Rachh, Fund manager, Reliance Small Cap Fund, expects this market volatility to play in their stride. "(As) we are entering elections, we expect the markets to be slightly volatile and thus throw out opportunities. That's why we've been conscious and held extra three to four per cent in cash (in our portfolio)," said the fund manager of the largest scheme in the small-cap space.
Given these, when it comes to devising their strategy to re-enter the market, some fund managers consider cash deployment as an ongoing process, while others specifically plan to deploy the high-cash holdings gradually over the next few months.