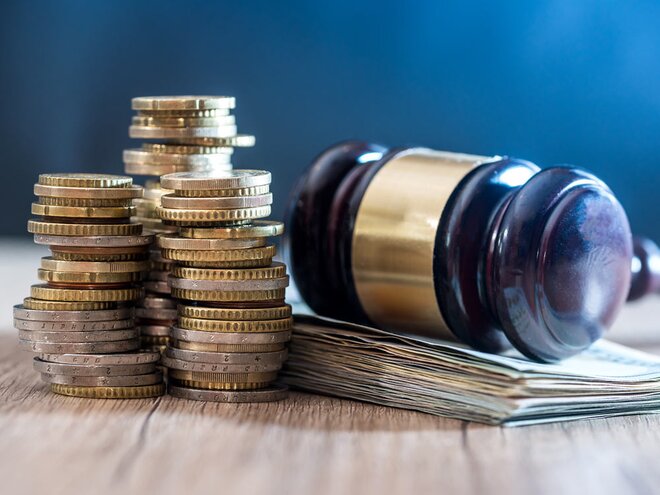 A press release issued by Securities Exchange Board of India (SEBI) on September 18 has brought in some changes to the existing rules on how fund houses can charge their cost from the investors in the form of Total Expense Ratio (TER). Here is a set of questions and answers which will help you understand the new regulations.
What is Total Expense Ratio?
In simple terms, TER can be stated as the cost of investing in mutual fund schemes. It is expressed as a per cent of the total assets under management (AUM) and directly charged from the amount invested. The expense ratio is inclusive of all the recurring and non-recurring expenses incurred by the fund house. This includes fund manager's fee, administration charges, commission paid to the mutual fund agent (for regular plans), etc.
What do the new regulations say about TER?
Two things.
1. Reduction in Total Expense Ratio: The new regulations have reduced the maximum permissible limit of the Total Expense Ratio by 25 basis points. Earlier, the fund house could charge a maximum of 2.50 per cent as the expense ratio in case of open-ended equity funds. It has now been capped at 2.25 per cent. The tables below summarise the new permissible TER for different slabs of AUM.
2. No upfront commission: So far, fund houses provided an upfront commission to the agent on new investment followed by a trail commission till the time an investor stays invested. Now, the fund house cannot pay an upfront commission on new investment. Only trail commission is allowed according to the new regulations.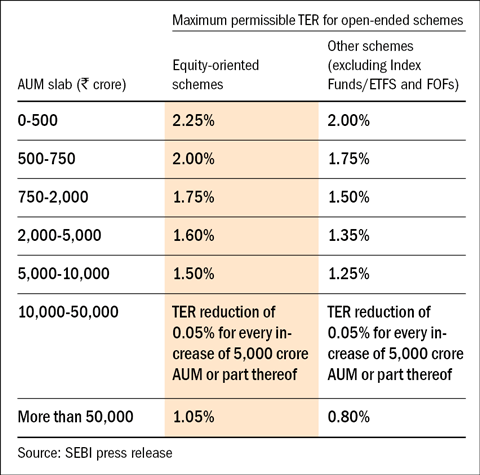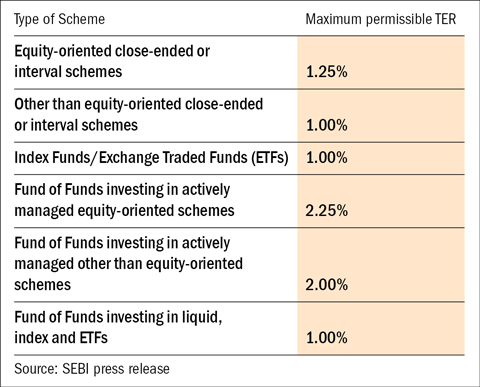 What does this mean for an investor?
A decrease in the expense ratio means a reduction in the cost of investment for mutual fund investors. Lower cost would mean higher returns.
What other changes have been introduced?
1. More transparency:In order to promote more transparency, all commission shall necessarily be paid from the mutual fund scheme only. Paying commission from the fund house/sponsor or any other channel is not allowed. Also, category-wise returns of all mutual fund schemes with their benchmark returns shall now be made available on AMFI's website.
2. Incentive for B-30 cities: 30 additional basis points permitted for selling mutual fund schemes in B-30 cities should be based on inflows from retail investors only.