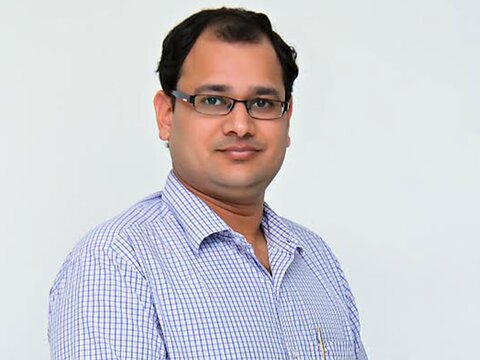 Gilt fund investors have spent sleepless nights for many months due to the excessive volatility. But one debt fund manager feels that long-term investors have nothing to worry about. Sudhir Agrawal, Executive Vice President & Fund Manager - Fixed Income, UTI AMC feels that the investment prospects of such products are intact and investors should be guided by asset allocation goals, rather than short-term performance. In an interview with Kumar Shankar Roy, the fund manager who oversees over Rs 31,000 core assets, talks about where interest rates are headed, sheds light on the ideal way to approach debt MF investing and much more.
Tell us about the funds you manage
I manage the ultra short-term and short-term category of funds, such as UTI Treasury Advantage fund, UTI Floating Rate Fund, UTI Short Term Income Fund, UTI Banking & PSU Debt Fund. Apart from this, I am assisting Amandeep Chopra in co-managing other funds such as the long duration funds - UTI Bond Fund, UTI Dynamic Bond Fund and UTI Gilt Advantage Fund. The directly managed funds' AUM is Rs 28,000 crore and the co-managed funds' AUM is Rs 3500 crore approximately.
G-Sec yields hardened recently. Why did this happen?
We have seen the 10-year benchmark yield moving up significantly in the last 8 to 10 months from almost 6.4 per cent level to as high as 7.8 per cent Most of this yield movement has happened because of a combination of various factors starting with the concerns that began in August-September last year on the possible breach of the fiscal deficit target. This was followed by the up move in the oil prices from close to around $45 to $50/barrel to around $75/barrel.
We have seen inflation recovering sharply from the lows of 1.5 per cent in June last year. The sharp uptick has been probably much higher than expected, which has also impacted the market sentiments. Apart from this, expectations of higher MSP announcement coupled with the possibility of other populist measures ahead of general elections next year are keeping the market worried on the inflation front.
Also, there have been few technical factors, the nationalized banks (who are the biggest buyers of G-secs) post-demonetization have bought a large amount of G-Secs. There are huge MTM losses on most of that holding. Hence, we see the risk appetite of these nationalized banks going down significantly. Most of these nationalized banks are now sitting on almost 8 to10 per cent excess SLR and with the recent uptick in credit growth, demand for additional G-Sec is low from this category of investors. So, we are not seeing very active participation from that category.
What is your sense of how yields will move over next 6 to 12 months?
Going forward, a lot of these concerns continue to exist. For instance, oil prices continue to be at higher levels, the risk appetite of nationalized banks continue to remain low because of the kind of losses they are facing since the last couple of months. Another concern is the uncertainty related to announcement of MSP (Minimum Support Price) hikes, which might be higher than what it used to be in the last three to four years.
All these factors bring forth a lot of uncertainties in the market and hence that is one of the reasons we are seeing the 10-year yield being high.
From now onwards, it depends on how the MSP price hikes unfold and if the government announces further measures to support the rural economy. If at all they move aggressively on the food policy side then that might result in higher food inflation. Apart from this, recent dollar strength and resulting FII outflows from emerging markets should also be carefully monitored.
From the investors' perspective, we have been advising them to be more focused towards the short end of the curve because of higher accrual as two to three year segment of AAA bonds are offering close to 8 per cent level which is almost 2 per cent higher than RBI repo rate. Secondly, the volatility is going to be low in this segment because of the lower duration and that makes sense for the retail investor. Hence, they should target funds which are accrual oriented such as short-term income fund, or the ultra short-term category of funds.
Gilt funds have taken a beating. Should investors who have borne the brunt of losses exit now, or should they now take a relook and incrementally buy more of these funds?
This depends on the investment horizon of the investors. If someone invests in gilt funds as part of asset allocation with a slightly longer-term investment horizon, there is no reason to be worried about. If we look at the long-term performance of gilt funds - UTI Gilt fund over the last five years has been able to deliver a CAGR of 9.2 per cent approximately despite the recent uptick in the yields. We have achieved this through active duration management. At the same time if you look at the near term (six months or one year return) that has not been very impressive due to the reason that there will always be phases where you will see a sharp rise in the yield once the rate cycle changes.
While fund manager may try and manage this volatility by altering duration across cycles, investors might see a bit of under performance whenever the rate cut cycle gets over.
From an investors' perspective, if it is a part of your long-term asset allocation where you continue with these funds for the next five or ten years, there are no reasons for the investor to drop that kind of asset allocation. However, few of the investors may have entered the duration funds to make some quick MTM gains because of expectations of fall in yield. With this being an election year, there are chances that the government may have to take care of the rural part of the economy by announcing MSP hikes and other food policy changes which may be higher than what the market is expecting. Hence, it may be difficult for yields to fall significantly from here on and tactically it makes sense to focus more on accrual, rather than long duration funds.
The 10-year G-Sec spread over the repo rate has been above the long-term average spread. Is this indicating the market is already discounting multiple rate hikes by the RBI?
Current spread of approximately 170 bps is due to a combination of factors. This kind of higher term-premia is prevailing due to unfavourable demand supply scenario along with expectations of one to two hikes by RBI in the next three to four quarters driven by higher inflation expectations. Increased macro risks such as higher CAD (due to higher oil prices) and fear of fiscal slippage due to lower GST revenues are also adding to the concerns.
For somebody new to debt MFs, how should she/he approach debt investing if they have short-term, medium and long-term goals?
Firstly, it is very important for an investor, to know their investment horizon rather than getting carried away by what has delivered highest returns recently. On the debt side of the mutual fund, we offer products for every kind of investment horizon.
If an investor has the money to invest for one day to one month, we have liquid funds.
If an investor has money to invest for minimum two to three months, then we offer the ultra short-term and low duration category of funds.
If the investment tenure is one year or higher, we have accrual funds such as short-term income fund, medium duration fund, banking and PSU fund, credit risk fund etc.
If someone wants to invest from a debt asset allocation perspective, we offer long duration funds such as gilt fund or long-term income fund, these are funds where an investor can put money from a slightly long-term perspective say for five to ten years.
These factors are very important for an investor to understand, a lot of investors commit this mistake to make quick money. They might try and capture a sharp fall in the yields by investing their short-term money in long-duration funds and if things don't work as per their expectation, then it backfires.
We have a dynamic bond fund which is kind of an all-weather fund. This is generally unconstrained fund and can increase or decrease duration depending upon fund manager's view. These are also one good category of funds if investors have belief in the fund manager's ability to manage duration actively. In case of UTI Dynamic Bond Fund, long-term history of the five year returns have been close to around 9.7 per cent, which is on the higher side when compared to other dynamic bond funds.
When it comes to selecting equity funds there are a lot of different trackers and ratings mechanisms, but in case of debt funds, what should an investor look at when they are considering debt funds and now they have similar sounding products also because of the SEBI categorization?
There are two to three things which they should decide before investing in any of the funds.
One of the most important parts is he/she should be clear about what is going to be their investment horizon, is it one day or one year or five years. Once they are clear about the investment horizon, then there are funds in each category. After SEBI MF categorization, there will be a clear cut limit on the minimum and maximum duration of funds which a particular category of the fund can have.
The second step is selecting the category based on your time horizon and this can be done with the help of scheme categorization.
The third step is selecting the fund within that category. For that a few things need to be kept in mind. One should not get swayed by what has been the last five to six months or a year's performance. I will suggest he/she should look at the slightly longer term track record of any fund house which can be two to five years kind of performance track record of the fund house. That will show the kind of consistency that fund house has been maintaining.
Once the investor selects or shortlists a fund based on this, then they should also try and have a look at what is the credit profile of the fund i.e. what per cent of the portfolio is invested in AAA or AA or A rated papers. The credit profile of the fund should match the investors' credit risk appetite.