At one time, the Hybrid: Equity Oriented category comprised mostly of 65-35 hybrid funds. It has lately morphed into a complex one featuring a wide variety of hybrid funds. Apart from funds that stick to a fixed equity-debt allocation, it now features some equity-savings funds (which use arbitrage as surrogate for equities). Some funds in the category stick to a steady-state asset allocation between equity and debt, while others practise tactical allocations based on in-house models. This has made comparisons across the category quite difficult.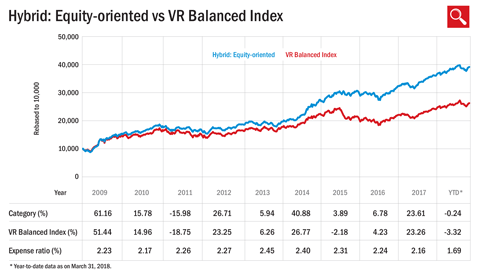 Value Research, however, believes that the simplest products in this category, those with a 65-35 equity-debt mix without arbitrage, are now best suited to investors. In our selection, therefore, we feature only these funds. Investors, though, have to temper their return expectations from these funds after an exceptional five-year run, where both equity and debt markets were extremely conducive. Most funds in this category are now finding it harder to deliver bumper returns as the easy duration-based gains on the debt portfolios have evaporated. A more volatile equity market has also prompted most funds to up the large-cap weights.
The three-year SIP returns now stand at 11.75 per cent and five-year SIP returns at 13.57 per cent for this category. Trailing returns are at 10.26 and nearly 16.46 per cent, respectively. The high returns and immense popularity of the category in the last couple of years has seen assets swell, taking the total AUM in this class to Rs 2.35 lakh crore.
We will recommend some Hybrid: Equity-oriented funds over the course of the week.
Aditya Birla Sun Life Balanced '95 Fund
Franklin India Balanced Fund
HDFC Balanced Fund
ICICI Prudential Balanced Fund
L&T India Prudence Fund