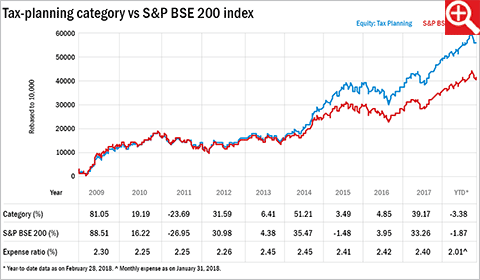 Helped by their multi-cap flavour, equity-linked savings schemes or tax-planning schemes have delivered good returns to their investors in the last three and five years. On a trailing basis, the three year CAGR is 10.93 per cent and the five year CAGR is 19.73 per cent for the category as a whole. However, SIPs have made the most of market volatility in this period and delivered returns of 20 per cent IRR over three and five years, doing better than lump sum investments. In recent years, the good performance from tax saving funds has attracted SIP investors to the category. The category managed assets of Rs 81,028 crore by January 2018.
Given the three year lock-in period, the ELSS category gives the fund manager the flexibility to follow a more buy and hold approach with stocks. A higher mid and small-cap allocation is also possible, without too many worries about sudden redemption pressures or liquidity. But then, with many tax saving funds using this leeway liberally, and maintaining high mid-cap and small-cap allocations, the category could be more vulnerable to volatile phases in the markets or bear phases than ordinary diversified equity funds.
The high portfolio PE of the category, 42.8 times by January end, is also a pointer to stretched valuations in the mid and small-cap segments. But unlike the mid or small-cap funds, ELSS funds have not bloated in size in recent years. While the category features just two Rs 10,000 crore plus funds, the average scheme size remains a manageable Rs 1,174 crore.
Here are the names and analyses of 8 funds recommended by our analysts (links below).