With returns upwards of 52 per cent for the calendar year, small-cap funds have delivered an unexpected bonanza for investors this year. But investors tempted to jump into this category now should also note that many fund managers in this category have already closed their schemes for lump-sum investments and in some cases even for new SIP subscriptions. These are clear signals that even fund managers are finding reasonably priced investment opportunities hard to come by in this ultra-competitive segment.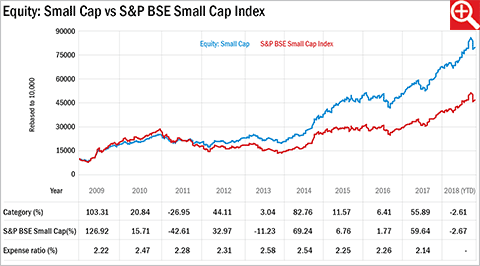 However, if you are already invested in a good small-cap equity fund, you are probably sitting pretty. Lump-sum returns on this category have averaged a 20.53 per cent CAGR in the last three years and nearly 30 per cent in the last five years on a trailing basis (as of January 31, 2018). SIP returns on investments running for the last three and five years look even better, at 27.16 per cent and 31.37 per cent on an annualised basis.
However, small caps in India typically deliver their best show in runaway bull markets and suffer their biggest setbacks the moment a bull run is interrupted. The 10 year trailing return on small-cap funds, despite the recent stellar show, is barely 14.48 per cent CAGR. The average portfolio PE of small-cap funds stands at 25 times for the category. Given the limited depth in this market segment and its vulnerability to reversals, burgeoning fund size is the key concern for existing investors, with the average fund in this segment now at Rs 2,600 crore.
We recommend the following small-cap funds: