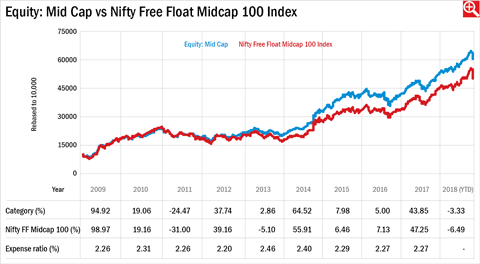 Despite warnings about mid-cap overvaluation, mid-cap equity funds have continued to deliver blockbuster returns over the last one year, outperforming the large-cap category by a good 4 percentage points. This has kept the flows coming into the category, which now manages over Rs 1.22 lakh crore (as of 31 December, 2017) across 71 schemes.
However, the volatility in the category is evident from its three-year SIP returns, at 19 per cent, beating trailing returns of 14 per cent by a big margin. On a five year basis, SIPs have delivered a 23 per cent return against 23 per cent on a trailing basis.
Despite money pouring into the category, fund managers continue to be wary of valuations. The average portfolio PE of the category, at a steep 29 times, is an indicator of this valuation challenge. Some mid-cap funds have stopped taking lump-sum flows to deal with this. Others have parked 25 to 30 per cent of the portfolio in large-caps.
These calls have made comparisons of individual schemes within the category difficult, as not all mid-cap funds are strictly focused on the exact segment of the market that they seek to represent. In the last one year, many mid-cap funds have also trailed their benchmarks. This could be on account of two factors: the bounce-back in the value style of investing since 2016 and their rising large-cap allocations.
In our selection, we have tried to identify funds which have navigated the last one year as well as longer time periods well, both in comparison to the benchmark and the category.
We recommend the following mid-cap funds:
Mirae Asset Emerging Bluechip Fund
Principal Emerging Bluechip Fund
SBI Magnum Midcap Fund