As the worries escalate about pricey Indian markets Swati Kulkarni, Executive Vice President at UTI Mutual Fund chats with Aarati Krishnan about earnings recovery, sectors to bet on and valuations.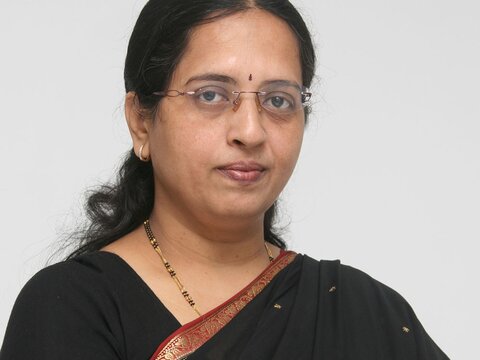 Indian bond prices have corrected lately, but the expected correction in stock prices hasn't come through. People now believe that since domestic institutions are getting Rs 1 lakh crore of flow every year, even if FIIs sell there will not be much impact. What do you feel about this? Do you think if FII selling is big, then domestic institutions can counter it?
I think bonds depend more on macro-stability. So, the 10-year g-sec, based on the consensus fiscal deficit, has already moved up.
But on the equities side, I think earnings growth is very crucial. If it picks up, the risk would be lower of large outflows. That's a big question though, and there is a lot of scepticism around it. In 2017 stock market volatility also remained low. In that sense, there is a bit of complacency. But we cannot rule out heightened volatility if central banks change course.
On the question of whether domestic institutions can support markets, there is a structural improvement in flows. One, the shift to financial savings is happening. Two, a large part of mutual fund equity inflows are through SIPs. These flows should continue to remain more or less steady. But what could happen if there is a correction is that the short term tactical flows that are coming in could vanish. Overall, we cannot rule out volatility if there are any earnings disappointments.
So are you seeing signs of corporate earnings recovery in the last two quarters?
In the September quarter, there were some festive tailwinds. There have been some improvements. But the problem we have had very year is that at the beginning of the year we always have strong growth expectations, but by the time the year pans out you have disappointments. So, this December quarter if you leave aside the growth due to the base effect of demonetisation, sectors like consumer discretionary, FMCG, and private sector retail banks have delivered strong numbers.
We think that, from a trigger perspective, earnings are yet to see the operating leverage benefit on the capacities that have been created on industrials. This should kick in when topline growth improves, in industrial, manufacturing, automobiles and utilities. I think an infra focus in the budget should benefit construction, cement, and housing.
What about the banking sector, which has such a large weight in the index? Do you think the NPA provisioning will decline incrementally from here?
Yes, I think NPA recognition should definitely be lower and we are looking at any bank where incremental slippage may be controlled. This is largely possible because of the RBI and the government coming down actively on recognition last year. Earlier, there was a bottleneck on the resolution front, this is getting addressed by the IBC and NCLT. The capital adequacy issue held back some public sector banks and they could not take adequate hair-cuts because of the issue. But recapitalisation will sort that out. So, if you look at these measures, they suggest that the clean-up in the bank balance sheets is making good progress. But we believe that now the markets should shift focus to bank profits rather than looking only at NPAs.
Active equity funds have had a tougher time beating their benchmarks in 2017, more so in the mid-cap category than large-cap category. Why did this happen?
2017 has seen increasing divergence in performance between companies and within sectors. The divergence has been stark whether you compare the performance of the PSU banks with retail private banks, or large-cap versus mid-cap IT firms. This divergence is coming out of the valuation expansion. So it has to do with stock selection. Let's say your fund had a 30 to 35 per cent weight in banking, but if you didn't own enough PSU banks, that would have hurt relative returns. Actually, one year is also too short a period to get the full benefit of strategies like value investing or GARP. Typically, people who are a little value conscious may now prefer to stay in sectors like IT or pharma, where near term growth is subdued. If you believe their issues might be resolved over FY19, you will not alter your portfolio. This stance would have given you pain in 2017.
Given that this value strategy has made some sort of a comeback in the last couple of years, do you think dividend yield investing, which has been lagging, can come back too?
We have seen a pick up in the performance of dividend yield (fund) once the value strategy has come back into the reckoning. There are dividend yield opportunities in the market to look at. Last year, we have also changed the benchmark of the fund from BSE 100 to Nifty Dividend Opportunities 50 to make the benchmarking more realistic.
UTI's MNC Fund has been a strong long-term performer. Has there been a re-rating of the MNC stocks in the last few years because of the visibility of earnings?
If you go back to the previous bull market in 2007, we had very high valuations. That was a time when the market was mainly news flow driven and infra companies were favourites. But after the correction, in the last few years, investors' preference has been for the steady performers - companies with high return ratios, low leverage, strong balance sheets etc. These are attributes which make MNC companies really stand out. These companies are net cash companies. Their growth also continued, and there was a re-rating. We at UTI continue to hold a wide variety of high quality companies that give us diversity.
A final question is about market valuation. We are already close to 26 times on Nifty PE. It is felt that this has traditionally been a risky zone to enter the markets. So, in 2018 how do you think this will play out?
We should not budget for further PE re-rating certainly. Earnings support should come up. But on the valuations being expensive, this is a worldwide phenomenon. Most global markets have done well. They are all trading at valuations that are higher than their own historic levels. India is not an exception. The relative premium of India valuation has remained steady. Having said that, a revival in earnings growth is crucial now.