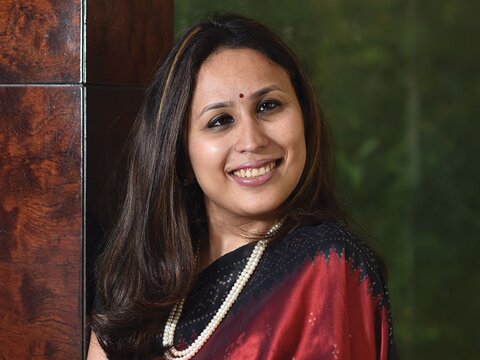 Is Edelweiss consciously focussed on HNIs or informed investors, as an AMC? Even your schemes are not positioned on the lines of other AMCs, with an arbitrage fund, absolute returns fund and so on.
I would agree that our legacy was as a niche and boutique fund-house. But we are part of a large diversified financial services group which runs an asset reconstruction business, a distressed assets business, an insurance business and an NBFC. The group has diverse investment capabilities across equity, hybrid, fixed income and credit. So, we do have plans to offer all that on the MF platform. Today, the business is more T-15 focussed. It's focussed on institutions and mass affluent HNIs. Gradually, the business will expand geographically and will have more customers. Retail presence is expanding for the group as a whole.
Our new product basket, the post-merger (of JP Morgan schemes) is very different from what it was. There are now three parts to the product menu. There is an equity basket, and there is a fixed income basket. The equity basket has two parts. The hybrid segment features the arbitrage fund, the equity savings fund and dynamic equity fund. Then there are traditional equity funds which are large-cap, multi-cap and mid-cap. Then, there is the fixed income basket.
How do the new SEBI norms on categorization affect you?
At Edelweiss AMC, the concept of true-to-label is very important. The merger guidelines that have come out ensure that schemes have very tight mandates. We already run our funds in very clear classifications, with very tight mandates. Therefore, we are one of the few AMCs who is absolutely unaffected by the SEBI norms. We have also been running a very limited number of schemes.
Your dynamic equity fund is different from others in the market and its asset allocation calls are based more on market 'health' than market valuations. Can you explain how this works?
We live in a country where the concept of value investing is celebrated. Nothing is wrong with that. But there is no rule of asset allocation that says that evaluating 'value' is the only way to do it. It is very easy for us to run a fund based on PE or Price to Book. But in our own experience, in a 2008 or 2011 kind of situation, as markets fall, the P/E ratio for the index also falls. So, you keep adding your equity exposure and as markets keep falling, you are hit very hard. Contrarily in a good market like the beginning of 2017, as markets rise, P/E keeps getting expensive, you will lower your equity exposure. Actually such value-based strategies do well in a range-bound kind of market. But our long term observation is that markets don't move 10 per cent year on year very often. More often, they move plus 30 per cent or minus 30 per cent in a year - they are volatile by nature. A momentum and health-based approach will outperform in a good year because it will have high equity allocation as markets rally. And it will also quickly cut exposure in a negative period. So, that I think is a very special approach and there was a lot of thought that went in doing this (in dynamic equity).
Edelweiss Arbitrage is one of your biggest funds. But there is a worry about size. A lot of money has been flowing into arbitrage products. Can performance sustain?
Arbitrage is core to Edelweiss. It is something we do well and thoroughly understand. Being in top quartile in the arbitrage fund category is of paramount importance to us. Yes, a lot of money has flown into arbitrage but one thing that people need to realize is that capacity expands as the markets expand. Today we are comfortable with the size relative to the industry and relative to open interest in the market. The arbitrage universe has expanded as F&O universe has also expanded. This gives us comfort. If for some reason it shrinks, we will re-evaluate fund size. I do believe it is important for funds to be run at the right size, arbitrage or otherwise.
What about the fixed income side?
Dhawal Dalal joined us about a year ago and we are very happy to have him. He is a thoughtful manager on credit. You see, in debt, Edelweiss' understanding of credit is very nuanced. We run many credit businesses like structured credit, real estate credit and we run a very large AMC business on the private credit side, for institutions and global clients like pension funds, endowments and insurance companies. With SEBI guidelines out, I see the debt category also getting cleaned up. Investors have always looked at the headline yield. For example, 9 per cent yield is better than 8 per cent, but they did not realize that 9 per cent yield carries more risk. For that extra 1 per cent extra gain, you may be incurring a potential capital risk which is probably not worth doing. We have seen our own corporate debt fund which is mainly into AAA or AA competing with A and A-minus funds. Now, SEBI has cleaned this up and in the new guidelines you have two categories - corporate debt which is double AA plus and above, and funds which are named intelligently as credit risk funds.
You have spent a lot of your career in AIF and private equity. There is a feeling today that private equity investors are getting the first shot at all the interesting ideas in equity. By the time they come to the public market, all the value is skimmed off. Is that true?
They are different platforms. The AIF is a powerful platform for innovation and carries a Rs 1 crore investment ticket size. The MF platform is for retail investors. The right product should be sold to the right investor. Let me give an example. Now, a distressed assets fund sounds to be a great idea - low valuations, high payouts. But is it right for a retail customer? I don't think so. While there are rewards, there are risks. In a bull market, everything seems rosy. In a different market, if distressed assets fund were to unwind, the same exotic features that we are talking about would then become painful. Exotic ideas should first be tested on AIF platforms and then be brought to the MF platform.
SEBI is talking about reducing fund costs and TERs. What's your view on this?
A lot of innovation can be done around costs in India. We don't like the word 'low cost'. The concept of value-based pricing has become more and more acceptable globally. So you define the value you are giving to the end-customer, and you price your services based on that. If you are in a category which is very commoditized ie where the alpha that you are generating has shrunk, do you have the right to charge high fees? For example if you are delivering 5 per cent alpha, do you have the right to charge 2.5 per cent fees? Probably not. Then again, if you are running a mid-cap fund and you have delivered 15 per cent out-performance and you believe it will sustain, do you have the right to charge more? Certainly. So, a rethink is required on costs. It is not acceptable to say that it's allowed under the regulation. Pricing has to be customer oriented.