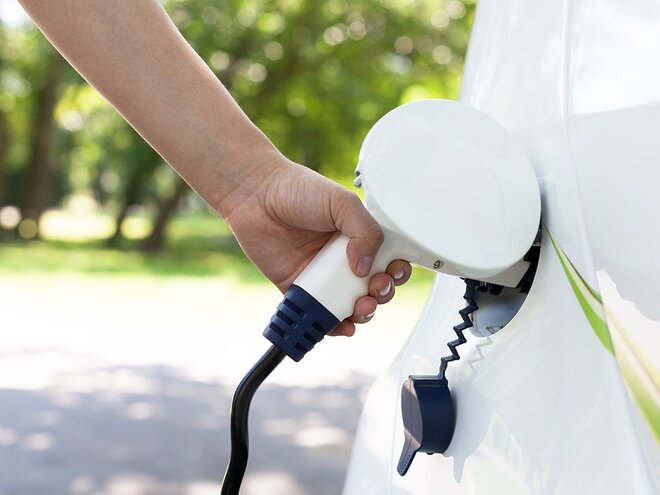 The year 2017 will be remembered as a significant one for defining India's mobility architecture. From big ticket announcements on the marque Ahmedabad-Mumbai high-speed rail project to Hyperloop, India has seized its moment in the sun to announce big plans for finding next generation transportation solutions.
But nothing has caught the imagination of the industry and policy makers quite like the government's ambitious plans for a mass scale shift to electric vehicles (EVs) by 2030 so that all vehicles on Indian roads by then - personal and commercial - will be powered by electricity. While the transformative push for electric vehicles has become a cause célèbre for India and the world, it presents challenges along with opportunities.
With Volvo's July announcement that it would phase out the internal combustion engine and manufacture only electric or hybrid vehicles by 2019, many believe India's EV moment has arrived. It won't be long before major automakers in India follow Sweden-based Volvo's lead in phasing out internal combustion engines and electrifying their line-ups to meet the 2030 deadline.
Silver bullet
There are multiple narratives in this fast evolving scenario. From solar power developers and lithium ion battery makers to automobile manufacturers of marque badges, everybody seems to have thrown their hats in the ring. India's Maharatna and Navratna companies such as NTPC, BHEL and Power Grid, all want a piece of the EV pie in order to remain relevant in the uncertain and evolving energy landscape of the country.
For energy firms, setting up a charging infrastructure is an attractive prospect, given the lucrative market potential projected to be around 90 billion units (BU) of electricity. For comparison, India generated 1,107 BU in 2015-16.
Electric vehicles are also expected to help generate fresh demand for electricity - the lack of which is weighing down on the entire power sector - and also help in resolving the stressed assets conundrum.
Any uptake in demand for power will help improve the financial viability of these stressed power sector projects. This in turn would improve the per capita power consumption of around 1,200 kWh - one of the lowest among the large economies.
India, the world's third-largest energy consumer after the US and China, is working towards building a green economy and plans to achieve 175 gigawatt (GW) of renewable energy capacity by 2022 as part of its commitments under the global climate change accord. Of this, 100GW is to come from solar. Such a shift to renewable energy makes imminent sense for India, which paid Rs 4.16 trillion to buy 202.85 million tonnes of crude oil in 2015-16.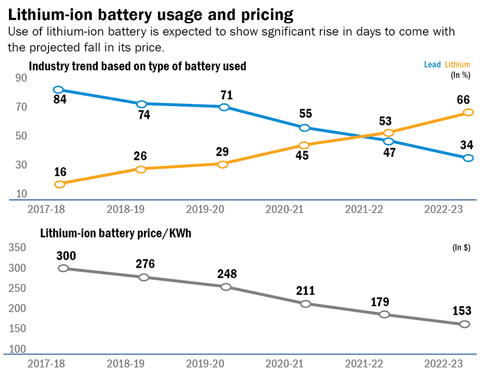 EVs as a storage
The fates of solar power and electrical vehicles in India are likely to be closely interlinked, given that EVs have batteries that can offer a storage solution to India's clean energy push.
Solar power generated during the day needs to be stored in batteries. The storage capability of EV batteries could help with grid balancing, complementing the National Democratic Alliance government's push for solar power.
With lithium battery prices having nose dived from $600 per kilowatt-hour (kWh) in 2012 to $250 per kWh in 2017, the solution is becoming economically viable. The EV industry is betting on a further drop to $100 per kWh by 2024.
With plans of reducing the cost of charging stations by half to around Rs 1 lakh each, comparisons are been made to the yellow coloured public call office booths which took telephony to India's remote corners in the eighties and nineties.
End of oil
Policy think-tank Niti Aayog has recommended offering fiscal incentives to EV manufacturers and discouraging privately-owned petrol- and diesel-fuelled vehicles. These are potentially far-reaching moves for India's mobility, energy and environment needs and could spell the end of the internal combustion engine as we know it.
India's policy mandarins have also thrown their weight behind EVs, impressed by their 20 moving parts as against 2,000 in traditional petrol or diesel vehicles.
The draft national energy policy states: "EVs are an area of huge interest to India as they hold the potential of reducing the demand for liquid fuel."
"The advent of EVs will have helped curb a rise in share of oil and environment friendly gas would substitute oil in many uses," it adds.
This could be bad news for West Asian oil economies and Russia, which have been buffeted by low crude oil prices. Any demand dip from China and India, which together accounted for half of the 1 per cent growth in global energy demand in 2016, according to the BP Statistical Review of World Energy, will also have wide geopolitical ramifications.
India's game plan
State-run firm Energy Efficiency Services Ltd (EESL) has been tasked with the job of triggering early adoption of electric vehicles. The newly-created firm, which made a name for itself by reducing the price of LED lights for home lighting by 86 per cent, floated a tender for procuring 10,000 electric cars, the largest such procurement in the world.
Tata Motors won the EESL contract, with Mahindra and Mahindra matching its bid and winning 30 per cent of the order. The vehicles will be procured at a per-unit price of Rs 11.2 lakh with the aim of laying the foundation for a mass shift to EVs by 2030.
EESL's business model is to make these vehicles available on lease to the government and its agencies for around Rs 45,000 per month, which is Rs 5,000 less than what is currently paid for petrol and diesel cars.
Sending a clear signal that India is firmly moving towards electric vehicles, the goods and services tax (GST) Council has set a tax rate of 12 per cent for electric vehicles, compared with 28 per cent plus cess for petrol and diesel cars and hybrid vehicles.
The Indian auto industry was also warned by the government in September to switch to production of vehicles running on non-polluting alternative fuels or risk being overtaken by inevitable policy change.
Investors' rush
From Finnish state-controlled energy utility Fortum, which plans to develop EV charging infrastructure in India, to billionaire Sajjan Jindal's JSW Group, which is exploring a partnership with China's Zhejiang Geely Holding Group Co. to make EVs, the list of investors drawn to India's EV sector is quite long.
Swiss stock exchange-listed Leclanché SA also plans to partner with SUN Mobility for developing battery storage solutions.
From China's Zhuhai Yinlong New Energy, which plans to set up an EV manufacturing plant in Punjab to BP Plc, which is planning to leverage its partnership with Reliance Industries to explore unconventional mobility solutions, nobody wants to be left behind.
Currently, Mahindra & Mahindra is the only automaker selling a fully electric car in the country, while others including Maruti Suzuki India and Toyota Motor Corp. offer hybrid versions.
The China factor
Despite the euphoria surrounding India's EV programme, speed bumps in the policy and corporate landscape remain. One such hindrance is that India does not have enough lithium reserves for manufacturing lithium-ion batteries. This could lead to a substantial change in the country's energy security priorities, with securing lithium supplies, a key raw material for EV batteries, becoming as important as buying oil and gas fields overseas.
This is easier said than done, given that Chinese firms are already acquiring assets in countries such as Bolivia, Australia and Chile, which have substantive lithium reserves, trying to establish a monopoly on lithium reserves. With China overtaking the US last year as the world's biggest electric car market, there have been concerns about supply shocks.
In 2010, China exploited its monopoly on the global production of rare-earth minerals and banned exports of rare earths to Japan.
Indian firms have also warned about the EV story going the solar module way, with most solar power developers sourcing modules and equipment from countries such as China, where they are cheaper.
Supply concerns have been reinforced given India's recent military standoff with China in the Doklam region of Bhutan. There have been instances in the past when India stopped giving clearances to telecom equipment imported from China over security concerns.
Apart from these concerns, India also needs to have a solution ready for electric vehicles after their battery life is depleted.
Policy conundrum
An effective charging infrastructure is required, which could take care of 'range anxiety,' and the necessary regulations around creating the ecosystem for electrical vehicles to operate smoothly.
Another issue is whether to go for AC (alternating current) or DC (direct current) chargers. While an AC charger takes around six hours to charge an EV, DC chargers are faster and take around 40 minutes to one hour to fully charge a vehicle.
Also as per the regulations for electricity sales in the country, under the Electricity Act, 2003, a distribution licence is required to distribute power from respective state electricity regulatory commissions (SERCs). Given the number of regulators involved, it makes sense for a pan-India licence but that would require a lot of heavy lifting including a comprehensive review of existing laws and regulations.
The government is conscious of the uphill task and is setting in place liberal rules for charging stations to power electric vehicles. According to the norms under preparation, government and private institutions that set up charging stations for captive use need not possess an electricity retailing licence.
Another related risk is that of EV charging leading to a surge in electricity demand, which in turn may put at risk India's already stretched electricity distribution networks.
This calls for careful planning in the backdrop of India's worst blackout that left nearly 620 million people across 19 states and three Union territories without electricity for hours together in July and August of 2012.
The Indian EV industry maintains that a lot needs to be done to achieve the 2030 target.
(By Utpal Bhaskar. In arrangement with HT Syndication | Mint)